1,000 Reasons To Celebrate
Nick Schultz reached the milestone mark of 1,000 NHL games played with his family and friends in attendance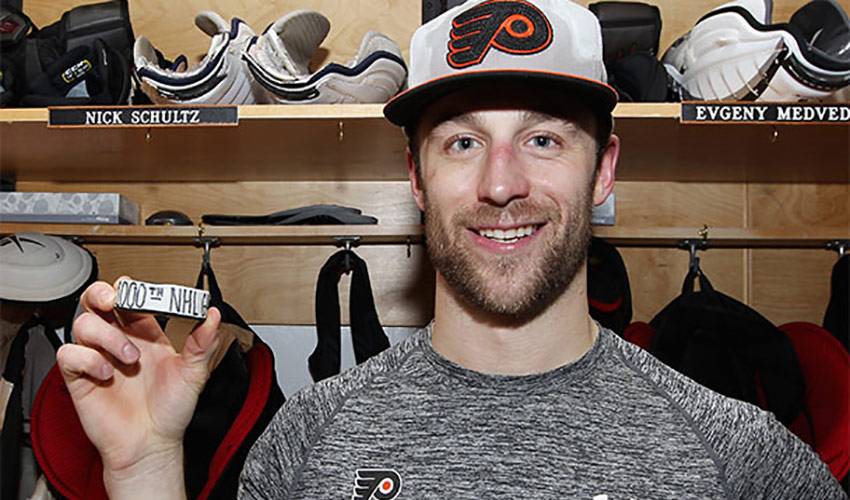 Nick Schultz has 1,000 reasons (and counting) to celebrate his enduring NHL career. There is, however, one thing of note he's eager to add to his list of accomplishments.
He couldn't have scripted his milestone moment any better: family and friends in the stands, a home win against a longtime rival (Boston), a video tribute with his family standing by his side at centre ice, and entry into the 1,000 games played club.
It doesn't get much better than that.
"It really doesn't," Schultz told NHLPA.com. "To have my mom and dad, family, and so many other people I'm close with there to see it – it's something you'll always remember."
Schultz, the pride of Strasbourg, Saskatchewan, played his first NHL game on October 14, 2001. His future wife, Jessica, was on-hand to see it. He netted his first goal on November 29, 2001 playing for the Minnesota Wild. His father was there to see it.
Fast forward some 15-plus years later and Schultz, now 33, is patrolling the blue line for the Philadelphia Flyers, a shot-blocking specialist respected for his veteran presence and team-tireless work ethic.
"There's been the usual ups and downs throughout my career, but I've been lucky to play the game I love for as long as I have," said Schultz, who has also suited up with Columbus and Edmonton. "I've met some really great people, too. I remember early on in my career, Willie Mitchell (now with Florida) was my roommate on the road. He's such a pro and really helped me. His wife and my wife are close friends."
Mitchell posted an Instagram photo to acknowledge his fellow defencemen's milestone, a picture of them celebrating after winning gold with Team Canada at the 2004 World Championships.
"That was really nice of him to do that," offered Schultz, who also noted former NHLer Andrew Brunette as having a big impact on his career. "You look back and think of all the teammates, coaches and other people that helped you reach this point and it's a long list."
A list that also includes a pair of siblings.
"I have two older brothers," he said with a laugh. "I guess they kind of toughened me up when we'd spend all those hours playing hockey outdoors."
Now, all Schultz wants is to net the ultimate team goal.
"Even before you play a game in the NHL, the dream is to win the Stanley Cup. It would be great to say you did that."