Saturday Night Special
Schultz remembers Saturday nights in Saskatchewan; now he is a part of league he grew up watching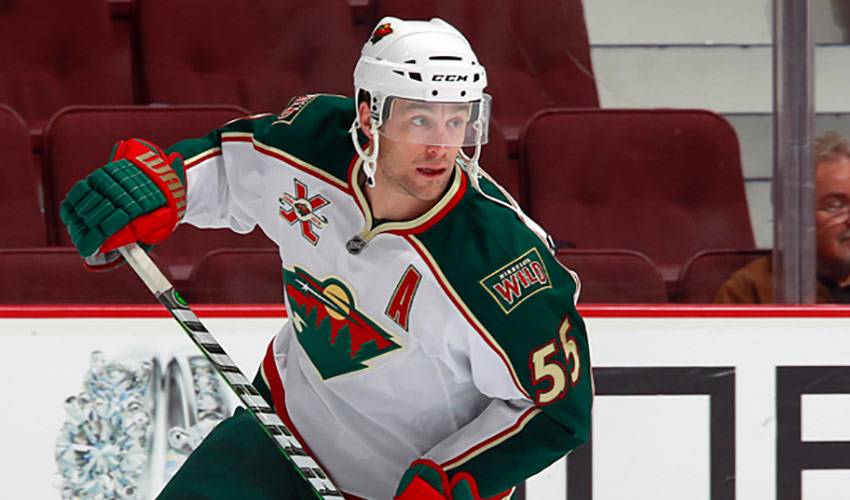 Their version of Hockey Night in Canada is a genuine celebration of the game and Saturday nights in Saskatchewan are something that Nick Schultz still fondly recalls.
Located about 75 kilometres from the capital city of Regina, with a population of roughly 800 people, Strasbourg might be a fraction of the size of the NHL cities in which Canadian teams play, but their passion for hockey is just as big.
"On Saturday nights, our family would go down to the local rink and watch the senior hockey team play," recalled Schultz, who grew up on a farm in Strasbourg. "We'd watch the games and then when we'd get back home, we'd catch the end of the NHL games."
It didn't take long for Schultz to realize his ultimate dream.
"Obviously, you think like a lot of Canadian kids," said Schultz, who went on to play for the Prince Albert Raiders of the Western Hockey League. "It's a big dream to think you'll play in the NHL. But it doesn't always sink in that you have a real shot at it until you're older and things start to progress."
It was during his time in Prince Albert when Schultz found himself thinking a little bit more about the possibility of an NHL career.
Schultz made his debut for the Raiders in the 1998-99 WHL season, playing in 58 games, netting five goals and adding 18 assists. In his sophomore campaign, he played in 72 games, scoring 11 goals and adding 33 assists.
After the 1999-2000 season, Schultz, who represented Saskatchewan at the 1999 Canada Winter Games, was named the Raiders' top defenceman and most improved player. The Minnesota Wild selected the blueliner in the second round (33rd overall) of the 2000 NHL Entry Draft.
He served as Prince Albert's team captain for the 2000-01 season, playing 59 games, scoring 17 goals and adding 30 assists.
"I did start thinking about what it would be like to play in the NHL a lot more when I was in Prince Albert," said Schultz, who appeared in 20 career playoff games with the Raiders. "I was a big Oilers fan growing up and the thought of playing in the same league as Wayne Gretzky, Paul Coffey, Mark Messier and Jari Kurri was pretty neat."
After Prince Albert's 2000-01 WHL campaign came to a close, Schultz made his professional debut with the Cleveland Lumberjacks of the International Hockey League, appearing in four games, where he scored a goal and added an assist.
The next season, Schultz made his National Hockey League debut, after making the Wild out of training camp. His first game came against Edmonton, the team he followed as a youngster. In his rookie season, the rearguard suited up in 52 games, tallying four goals and adding six assists. After the Wild's season was over, he joined the Houston Aeros of the American Hockey League for the playoffs.
"When you come in as a rookie, you really want to be as comfortable as possible," offered Schultz. "And that's exactly how I felt. I had (fellow NHLPA member) Willie Mitchell as a roommate and that was big for me. I have a lot of respect for him. Andrew Brunette and Brad Bombardier were two other guys that really helped me out, too."
Now, it's Schultz who has taken on the role of mentor. With nearly 650 NHL games played, all as a member of the Wild, he's enjoying his veteran status.
"You never really know how long you'll play when you start out," said Schultz, who has won gold twice at the World Championships, in 2004 and 2007. "It really does go quick. But it's fun when the young guys come into the league and to see their excitement at being in the NHL. If I can pass some of the knowledge along to them that I learned, I'm happy to do so."
This season, Minnesota is once again in the midst of a battle to secure a playoff berth in the Western Conference. Schultz is hoping the Wild can make their first appearance in the post-season since the 2007-08 campaign.
"There's no doubt the race is tight and you can't afford to lose ground, but we have a very dedicated group here," he said. "We know that it will take a collective effort to get there, but we have the ability to do it."
Schultz is eager to get the chance to play for hockey's most coveted team trophy.
"I'm lucky in a lot of ways when it comes to my career," he said. "It's been great to play with one team and to have an opportunity to bring the Stanley Cup here is something we'd all love to do."