Beleskey Is Clutch For Anaheim
Matt Beleskey scored the OT winner for the Ducks leaving them a win away from the Stanley Cup Final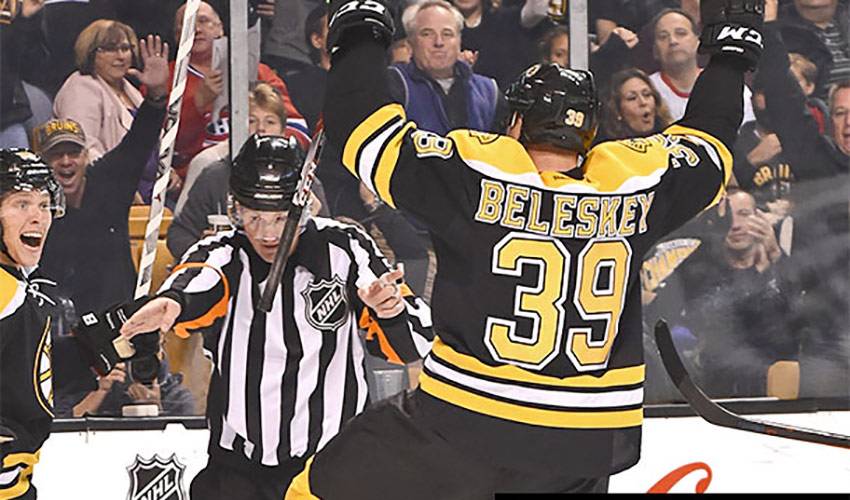 When asked what he appreciates about Matt Beleskey's game, an Anaheim teammate noted his uncanny ability to come up clutch when the team needs a boost. On Monday night, the Ducks' forward did just that.
After surrendering a late two-goal lead in Game 5 of the Western Conference final against Chicago, heading to overtime with the series tied in front of a hushed home crowd, Anaheim desperately needed someone to step up and deliver.
Only 45 seconds into overtime, it was Beleskey who took charge.
After the Ducks led the contest for nearly 52 consecutive minutes, Hawks' superstar Jonathan Toews scored twice, with 1:50 left and 37.2 seconds on the clock, to set the table for extra hockey.
Flying into the offensive zone just seconds after the puck dropped to start overtime, Beleskey fired home a rebound off a Ryan Kesler shot, hurtling through the air after he scored the winner, tumbling to the ice before being mobbed by an ecstatic and relieved group.
"It's great," said the OT hero. "That's the biggest goal I've ever scored. It's a great feeling anytime you do that, especially here at home. We're one game away from a Stanley Cup berth. That was a huge goal. It felt unbelievable."
Defenceman Clayton Stoner, who signed as a free agent with the Ducks last July, recently spoke glowingly of Beleskey, a player he's happy to skate alongside rather than against.
The duo dropped the gloves two years ago when Stoner was with the Minnesota Wild, engaging in a spirited tilt.
"I respect the way Matt battles on the ice," said the blueliner. "He plays the game the way it should be played. When he's out there, he finds a way to make a difference."
The versatile Beleskey began Game 5 on the fourth line, moved from Anaheim's second line with Kesler and Jakob Silfverberg.
"I talked to Bruce (head coach Boudreau) yesterday," said Beleskey. "He said he wanted to give them a different look, kind of balance the lines out a little more. Just kind of switch it up. It was nice to get back with them at the end. It was great to get that goal."
It really wasn't much of a surprise that No. 39 would play the role of hero.
Beleskey scored an NHL career-best 22 goals in the 2014-15 regular season despite missing 17 games due to injury.
Eight of them happened to be game-winning tallies, good enough to rank third in the category. He ranks second with three post-season winners.
On Monday evening in California, Anaheim's Mr. Clutch simply managed to continue where he left off.