Crawford At The Top of His Game
Corey Crawford's solid play has helped the Blackhawks to the brink of the Stanley Cup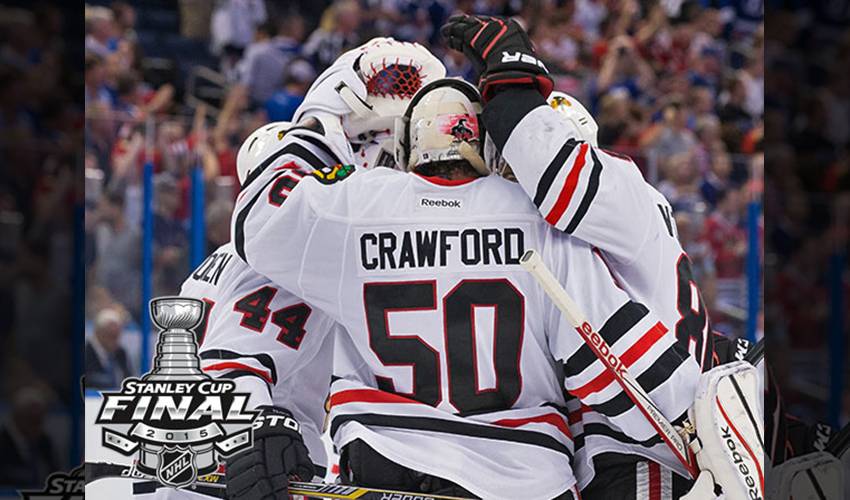 A bad giveaway could have led to disaster, but for Corey Crawford and the Blackhawks, the biggest takeaway was a pivotal win in the Stanley Cup Finals.
With Chicago and Tampa tied at two games apiece and little room for error, it was a moment that could have significantly changed the face of Game 5 of the championship series.
An errant first period pass by Crawford found the stick of Tampa forward Nikita Kucherov, who had a golden chance to strike for the Lightning, only to be denied when the backstopper scrambled back to his crease.
"I mean, you don't want to turn a puck over for a goal," said Crawford. "It was pretty close. Was able to get back and get a piece of it. But, you know, it wasn't a smart play. Luckily, it just didn't go in the net."
Early gaffe aside, Crawford was at the top of his game once again. He turned aside all 15 shots he faced in the third period, coming up clutch time and again as the Lightning buzzed in the Blackhawks' zone.
Chicago now heads home with the opportunity to win the Cup in front of their home crowd. If it were to happen, it would be the first time the 'Hawks would celebrate a championship on their ice in 77 years.
"I thought tonight was a pretty solid effort by everyone, especially the third period," offered Crawford. "Once we got that goal, everyone was coming back hard. We were able to keep things out of the slot. Any rebounds or plays into the slot, guys were there to get in and clear it. Just a great team effort I think at the end of it."
But, Crawford, who sports a 12-6 win-loss record, accompanied by a .920 save percentage, isn't willing to look any further ahead than the next task at hand.
"I think you go through the ups and downs obviously every playoff run," he acknowledged. "Didn't start out the way I wanted, but was able to stay with it. It's been great up to this point. With the chance we have now to go back to our building and have that game in our building, I think everyone's pretty excited about it. We can't get ahead of ourselves. We've got a lot of work to do here. It's going to be an even harder battle."
It's a challenge his head coach knows he's ready for.
"I thought he was solid tonight right from the outset, handled the puck well, rebound control, alert, battled," said head coach Joel Quenneville. "You know, he's been really good in the series."