Eric Fehr Is A Wanted Man
After his free-agent signing, the newest Pittsburgh Penguin is busier than normal with calls, texts and interviews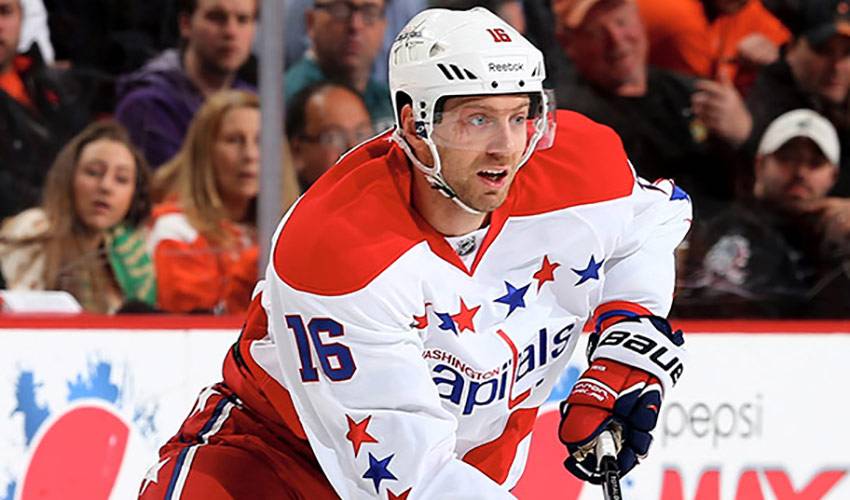 When you can't leave a message on a player's cell phone because the voicemail box is full, it's a pretty good indicator that your free agent signing has people talking.
"Well, I'm definitely busier over the past couple days than I've been in awhile," deadpanned Eric Fehr, who recently inked a three-year deal with the Pittsburgh Penguins. "I'm definitely getting a lot of calls and texts. I'm doing my best to stay on top of everything."
It's easier to understand why the 29-year-old forward has a lot on his plate these days.
Fehr enjoyed a strong 2014-15 campaign with the Washington Capitals, a season in which he scored 19 goals and recorded 33 points.
He also provided stout shutdown skills, making him an attractive addition to a Pittsburgh lineup that features some of hockey's top offensive names, including Sidney Crosby and Evgeni Malkin.
And while it's a perfect fit for both the Pens and Fehr, having to leave a team he has played all but 35 (the number of contests he played with his hometown Winnipeg Jets in 2011-12) of his career 454 career games with, is tough to bid farewell to.
"I have a lot of great friends in Washington," said the 18th overall pick of the Caps in 2003. "I truly loved my time there."
It was a place where Fehr gained plenty of experience facing off against the rival Penguins.
"They have some of the best players in the world," he said. "They play a very solid team game. You were always in for a tough game. You hated them, but you respected them."
Fehr isn't looking to radically redesign his game now that he'll be donning the Pittsburgh jersey. And that's a good thing if you are a fan of the Metropolitan Division side.
"I'm looking to play the game that got me signed," he explained. "I don't want to be something I'm not."
For now, Fehr's focus will be on working towards his return to action after undergoing elbow surgery on June 3. He's expected to recover in 4-6 months.
"It's been a whirlwind since signing, but I'm really excited about what lies ahead," he said. "I've received a lot of great messages on Twitter and elsewhere. I can't wait to get back out there and do my part to help the team be successful."
Until then, Fehr's life will remain somewhat hectic.
The biggest challenge might be in sorting through all the voicemails and text messages he's been inundated with.
"I have a fair bit of people to get back to," he noted. "And I certainly will."
It's just the type of dependability one would expect from Eric Fehr.