Landing In Winnipeg With The Jets
Eric Fehr excited about suiting up for the Jets in front of his fellow Manitoban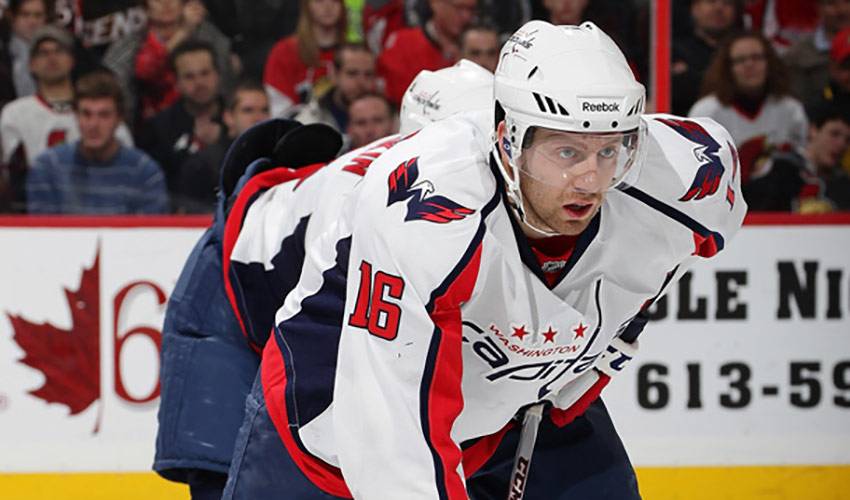 He's a homegrown talent who has plenty of fond memories of Manitoba, both inside and outside the game of hockey.
When Eric Fehr received the news he'd been traded from the Washington Capitals to the Winnipeg Jets, formerly the Atlanta Thrashers, on July 8, the 25-year-old forward couldn't curb his enthusiasm.
A native of Winkler, Manitoba, a city of roughly 9,900 people that lies about an hour southwest of Winnipeg, Fehr, who also played his junior hockey in his home province, was thrilled at the thought of returning home.
It seems others are just as happy to have him back in Manitoba.
"My phone went crazy that day," recalled Fehr, the 18th overall selection of the Capitals in the 2003 NHL Entry Draft. "It was a little overwhelming, to be honest. The whole day was a blur. All I remember was that there were so many texts and calls, that my phone died. That's never happened before."
Even so, Fehr got the message loud and clear: the city of Winnipeg is pumped about the return of big-league hockey.
The team originally played in the NHL from 1979-1996 before relocating to Phoenix. Winnipeg re-entered the league this year after the Thrashers moved from Atlanta (1999-2011).
Fehr was struck by the exuberance that has hit the city even before he was dealt to Winnipeg.
"I could sense how elated everyone was before I was a Winnipeg Jet," recalled Fehr, who played his junior hockey with the Western Hockey League's Brandon Wheat Kings, from 2000-05. "The city is going crazy and that's just great to see."
Fehr remembered what it was like to sit in the stands when his parents would take him to Jets games.
"The one thing you don't forget is how excited and how loud the fans are," said Fehr, who posted back-to-back 50-goal campaigns with Brandon in 2003-04 and 2004-05. "I went to a few games and I remember guys like Teemu Selanne, Alexei Zhamnov and Keith Tkachuk. They were fun to watch and the building was loud."
Fehr is hoping and he and the current edition of the Jets can provide the same kind of spark in 2011-12.
"This is a team with a good, young corps," offered Fehr, who scored his first NHL goal, which would be the game-winner in the Capitals' 7–3 victory over the Carolina Hurricanes, on January 27, 2007. "It's very strong at the back end. We have a good balance of veterans and youth."
For his part, Fehr, who had 21 goals in 69 games with Washington in 2009-10, is looking to add some offensive punch to the lineup.
"At the start of every season, I have confidence that I can have a positive year," said Fehr, who was limited to 52 games in 2010-11 due to injury. "I want to score goals and bring a strong style of play to the rink. This is a tough league to play in and you have to show up every night. The last couple of seasons have been slower for me than I'd have liked it to be."
Fehr should have more of an opportunity to contribute offensively with the Jets.
"It's tough in Washington because you don't have as much of a chance to be in that role," he noted. "Here in Winnipeg, I'm going to have a bigger role that way. I'm definitely excited about that. I've shown spurts of being able to score on a consistent basis in the past and I'd like to get back into that rhythm."
Before the puck drops on the Jets' season, the 6'4", 205-pound right-winger will spend as much time as he can with his family, while also indulging in one of his favourite pastimes.
"For the first few weeks after the season is over, I don't like to do that much," said Fehr. "I lay pretty low. I go up to my cabin and fish a little bit. That's something I enjoy doing."
Does he have any fish stories to share yet?
"No, I've got nothing really to boast about as of now. I was able to nab a few little perch, but hopefully, I'll catch a big one before the summer is over."
Netting an Eastern Conference playoff spot in their return to Winnipeg, however, is what Eric Fehr and his Jets teammates are really fishing for.