Chris Stewart: Super-Dad!
Chris Stewart's summer workouts include constantly trying to keep up to his twin boys, Christian and Connor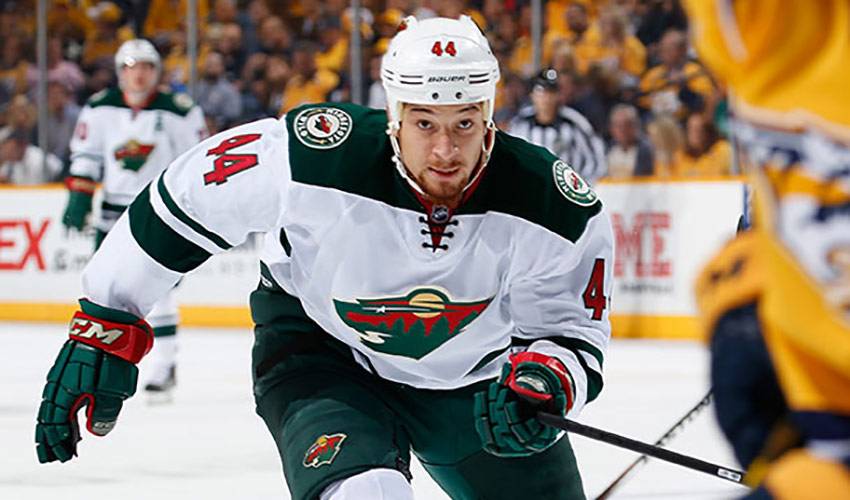 Chris Stewart's most intense summer workout has a twin-spin to it, a daily regimen that certainly keeps the 27-year-old on his toes from sun up until sun down.
At 15 months old, Christian and Connor Stewart, the twin sons of Chris and his wife, Holley, are boundless bundles of energy, a sibling duo bent on having as much as fun as possible before their bedtime.
"They're pretty active, so it's a great way to stay in shape," said the veteran of 463 NHL regular season games. "Summer is when you really have to step up. For now, there are no practices and no games, so you want to spend as much time as you can with them. They definitely keep you running around."
Stewart, who signed as a free agent with Anaheim this off-season, relishes his role as a father.
He's also quick to herald his ability to do the so-called dirty work.
"I don't mind changing diapers," said Stewart. "I can handle it. But, you know what my specialty is? Bath time. I've come to be pretty good at it. There might be the odd drop of water or two that gets on the floor, but it's all good."
Better than good, actually.
"To have two healthy kids is a blessing in itself," said Stewart. "It's opens your eyes, for sure. To be able to take care of others is a wonderful thing. Of course, it keeps you busy, but it's something you are grateful for. When you are on the road for an extended time, I'm always thinking of the kids and my family, wanting to see them. It's great to have FaceTime, so that you can see their smiling faces. You just realize there is more to life than hockey. It's been great."
Does that mean Christian and Connor will one day emulate the NHL brother act of their father, and his brother, older sibling, Anthony (who played in 262 big-league games)?
"I don't know," he offered. "My wife is six feet tall, so maybe they'll be too big for hockey. They could be first-rounders, but it might be in a different sport than hockey."
Stewart and his family will head to their new home in California at month's end, giving them a chance to get settled before the Ducks kick-off the start of their new season with training camp.
Anaheim's first regular season game falls on October 10, an away tilt against state rival San Jose.
There's a good chance, however, it won't represent Stewart's first 2015-16 road trip, so to speak.
"We live 12 minutes from Disneyland," he said. "I have a hunch we might be making a visit very soon."
Not a big deal. In fact, it's merely child's play for Chris Stewart.