Stewart bringing 'A' game to Minnesota early
It's not only wrecking ball-type body checks and aggressive forechecking skills that define Chris Stewart.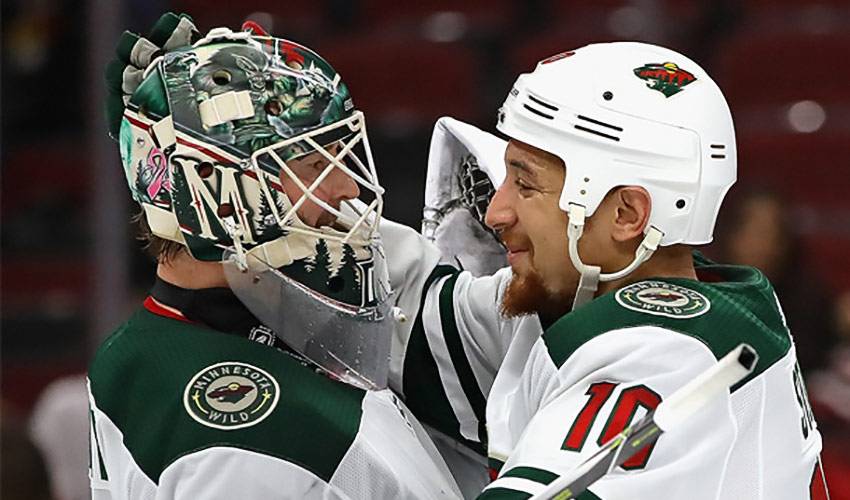 Chris Stewart has often said he looks to make a difference every time he takes a shift. This year, he's taken that approach to a whole new level.
At 6-foot-2, 242 pounds, the 29-year-old veteran patrolling the wing for the Minnesota Wild uses his size and strength to great effect throughout the course of a game, always ready, willing and able to provide his team with an energy boost.
But, it's not only wrecking ball-type body checks and aggressive forechecking skills that define Stewart.
The big man with a rocket for a shot knows how to light the lamp. He put up a pair of 28-goal campaigns, in 2009-10 and 2010-11, over an NHL career that recently eclipsed 600 games.
This season, Stewart is leading his team in scoring with six goals (on 14 shots) and eight points in seven games. He's also seen a nice bump in ice time compared to last season, averaging 13:43 so far in 2017-18 versus 10:23 in 2016-17.
"I think there are any number of ways you can contribute," said the 18th overall pick of the Avalanche in 2006. "When you take your shift, you do whatever you can in that time to create something positive. That's always what I set out to do."
Scan the goal leaders' list this season and you'll find Stewart's name among some of the League's offensive heavyweights, a list that includes Tampa Bay's Nikita Kucherov, Washington's Alexander Ovechkin, Nashville's Filip Forsberg and Toronto's Auston Matthews.
Over his hockey career – before and during his NHL days – Stewart has shown a propensity for having some offensive pop.
During his junior years with the Kingston Frontenacs, Stewart scored 37 goals and 36 goals, respectively, in his final two Ontario Hockey League seasons.
In three OHL campaigns, he racked up 91 goals and 199 points in 187 career games, along with eight more points in 11 playoff games.
And while he's thrilled to be delivering big-time offensively these days, Stewart, who played 20 games for the Wild in 2014-15 after being dealt to Minnesota by the Buffalo Sabres, remains the prototypical team player.
Team success remains his barometer of what defines a successful game and a successful season.
With injuries having sidelined key Wild players (Zach Parise, Charlie Coyle, Nino Niederreiter and Mikael Granlund) this season, Stewart will look to keep bringing his A-game in Minnesota.
"You just always hope that what you do can translate into getting those two points," he said. "That's what I try to do and that's how I always approach things."