Darnell Nurse Getting Good Grades
The young defenceman is earning high marks on & off the ice in Edmonton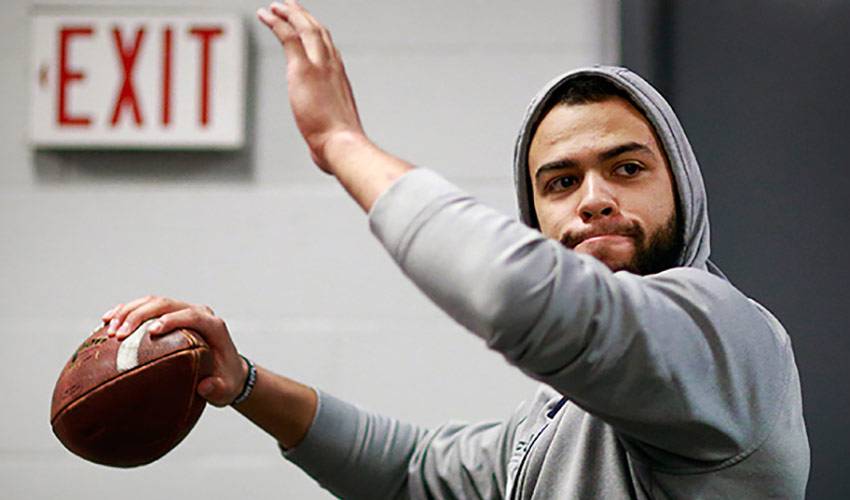 When it comes to getting solid grades, Darnell Nurse, Edmonton's up-and-coming young defenceman, earns high marks on and off the ice.
Less than 50 games into his NHL life, Nurse, who'll turn 21 in February, has given Oilers fans and brass plenty of reason to believe he will graduate to even higher levels in the coming years.
It's just what you might expect from a seventh overall pick (2013 NHL Draft), a player that combines skill, savvy and smarts, just as he displayed throughout his Ontario Hockey League career with Sault Ste. Marie.
When he wasn't being a difference maker at the rink, Nurse, who hails from Hamilton, ON, was working overtime in his Grade 12 University Prep courses.
He was named the Ontario Hockey League's Scholastic Player of the Year for 2012-13 after carrying an 85 per cent average in six Prep courses.
He joined some notable names in winning the award, a list that includes NHL stars Dustin Brown (2001-03), Steven Stamkos (2006-07) and Matt Duchene (2008-09).
"School is a big part," offered Nurse. "I think you have to be intelligent in order to excel. The guys that get in trouble are people that don't really focus in school or take other things lightly. For me as a young kid, I mean, going to school was always a priority. I couldn't play unless I had good marks. So I think the intelligence not only helps you off the ice but it helps you on the ice."
It certainly has for Nurse, who comes from an impressive athletic family.
His father, Richard, played wide receiver for the Canadian Football League's Hamilton Tiger-Cats; his mother, Cathy, was a member of the University of McMaster Marauders basketball team; his older sister, Tamika, played basketball at Oregon and Bowling Green; and his younger sister, Kia, has suited up for both Ontario and Canada in basketball.
The blueliner's uncle is former NFL quarterback Donovan McNabb and his aunt, Raquel Nurse, was a Syracuse basketball star.
There's every indication Edmonton's emerging young talent will be another Nurse sports success story.
That writing was on the wall well before his first NHL game.
Scouts spoke glowingly of his consistency and preparedness, heralded as a steady contributor committed to his craft.
"I think the biggest thing is you want to be part of the right situation where you know your best interests are going to be the team's best interests, and that's definitely the situation that I'm in," said Nurse.
And, in the near future, he could very well find himself at the head of his class.