Nurse Lending A Helping Hand
Darnell Nurse just one of many Players who will join fellow NHLPA members in charitable endeavors over the course of the summer of 2016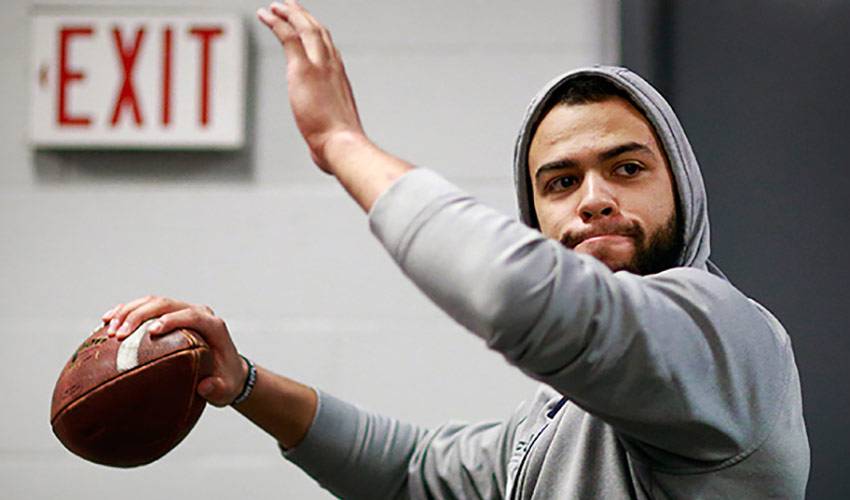 Last season, Darnell Nurse dished out 160 hits in 69 NHL games. For one day, however, Edmonton's rising star defenceman will resist the urge to lower the boom on the opposition.
"He's the kind of guy who is not going to make a lot of mistakes. He's steady and solid, and you can trust him out there. Anytime you get a guy his size, who skates as well as he does and plays a physical game, it's fun to watch."
That was the NHL Central Scouting Report on Nurse, the 6'4", 215-pound defenceman selected seventh overall by the Edmonton Oilers in 2013.
On July 9, Nurse will shelve the physical side of his game when he takes part in Wayne's Road Hockey Warriors, the annual charity event put on by fellow NHLer Wayne Simmonds.
"During the season, you play the game hard," said the 21-year-old Nurse. "Now, you get a chance to step back, have some fun, raise money for a good cause, and play a little hockey. If this was a regular season game and we were playing against one another, Wayne and I would both be trying to hit one another if the situation came up. On Saturday, we'll give each other a free pass."
Nurse, along with several other NHL players, will be at Simmonds' fifth annual ball hockey event in Scarborough, ON, just east of Toronto.
"I know some of the guys, so it will be great to reconnect," he said. "You also get the chance to meet guys for the first time. It's one of those things that you look forward to on the calendar."
Nurse likely has October 12 circled, too. It's the date of Edmonton's first regular season game, a home tilt against provincial rival Calgary. Two nights later, the Battle of Alberta shifts to the Saddledome.
Motivation won't be an issue.
"Even though it's tough finding yourself in the position of watching the playoffs rather than being in it, you can't help but tune in," admitted Nurse, who took in a fair share of NHL post-season action this spring. "Even though there weren't any Canadian teams in the playoffs, being in Canada, it's everywhere you look. It's hard not to watch. The competitor in you makes you want to be part of it that much more."
At the very least, Nurse got to see a good friend and former junior hockey teammate raise the Stanley Cup aloft.
"I played three years of junior hockey at Sault Ste. Marie with (Penguins goaltender) Matt Murray," noted Nurse. "He had a car and I didn't. So, for most of our time there, I got to sit in the passenger seat and he drove. We became close friends during our time there and I was really happy to see him win it all. I should also mention that he's a good driver, too."
Nurse is hoping he finds his name engraved on the Cup one day.
"It's what we all play for," he said.
For now, No. 25 will focus his attention on another friend, doing his part to help raise money for a worthy cause.
There's no doubt Nurse will be a big hit, just not in the way he's typically used to.