The Foligno Family's million dollar difference-maker
"It's an incredible feeling," said Nick Foligno. "We've thought about what we could do to give back for a while and this just felt right."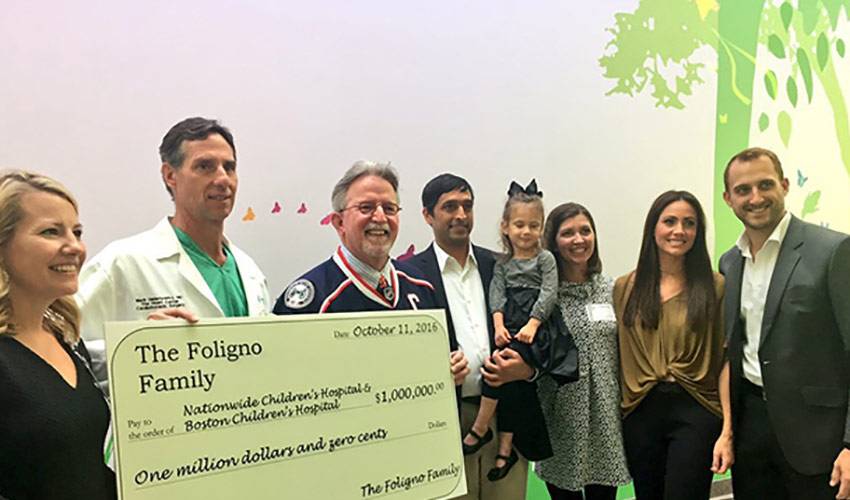 It was an idea Nick and Janelle Foligno had talked about many times before, specifically, the most meaningful way they could express their gratitude to the many who helped save the life of their now three-year-old daughter Milana.
Milana, born in October of 2013, was diagnosed with a congenital heart defect before she was even a month old. The Folignos looked to pediatric heart specialists at Nationwide Children's Hospital (Columbus) and Boston Children's Hospital to tend to their daughter's life-threatening condition.
Less than a week ago, Nick and Janelle presented each hospital with a cheque for $500,000, in a ceremony inside Nationwide Children's Hospital, home to the newly named Foligno Family Cardiovascular Research Lab.
"It's an incredible feeling," said Nick. "We've thought about what we could do to give back for a while and this just felt right. We felt like we could really make an impact the way we wanted and continue to help not only these incredible doctors who are doing amazing things in thinking outside the box for congenital heart defects, but also help other families who will unfortunately be impacted by a congenital heart defect."
Knowing that children and families will benefit from the donation holds great significance to Nick and Janelle.
"That to us was one of the most important parts," said Nick. "Janelle and I remember all the emotions you go through as a family, so we wanted to find a way to give back so it would benefit not only the hospitals and their research, but more importantly the families who will have to go on the same journey as us. We want to make sure every journey has a happy ending."
Janelle concurs.
"The most important thing for us when deciding to make a donation was to try to touch as many lives as possible," she said. "We were very blessed to have a positive outcome with Milana's experimental surgery, and we hope to be able to help many families now and in the future who may find themselves in a similar situation. It means the world to us to know that the institutions and the doctors will make such a difference for so many through their continued research. We feel very humbled by this entire experience."
It's had a profound effect on the man who wears the captain's 'C' on his Columbus Blue Jackets jersey.
"I think she's inspired me to slow down in life and enjoy everything again," said Nick. "Sometimes in this life of hockey, it can fly by from game to game and is obviously very competitive and stressful.
"But having a family and a daughter like Milana has taught me that life is precious and worth the ride, so enjoy it and take it day by day and be thankful for all you go through, no matter how difficult," he continued. "Because of that constant reminder, I believe Milana has made me a better father, husband, player, and person."
Over the past three years, the couple has lost count of how many times they've said, 'Thank you,' to those who played a part in saving their daughter's life.
On the day of their donation, they spoke those very words again.
"'Thank you' really isn't enough to express my gratitude for every doctor, surgeon, nurse or simply everyone in our support system," offered Janelle. "I would tell them that they have changed me as a person by showing me a side of myself that I never knew existed and they have given me a miracle. For that, I will be forever grateful."
So, too, is Nick, who wanted to acknowledge the backing he continues to receive from those he plays with and against throughout the NHL season.
"Thank you from the bottom of our hearts," he said. "The support we received from family and friends and doctors and nurses really gave us the strength to be there for Milana and I feel gave Milana the strength to get through it as well and continues to help her go through her journey. We are so blessed to have strong family support and as a player my hockey family is my second one, and they were a huge part of it as well."
One thing, among many, the Folignos reflected upon on October 14, Milana's third birthday.