Respect For the Uniform
NHL Players like Brent Burns, Charlie Coyle, Matt Hendricks & Nate Schmidt talk about their respect and admiration for the people who protect our freedom.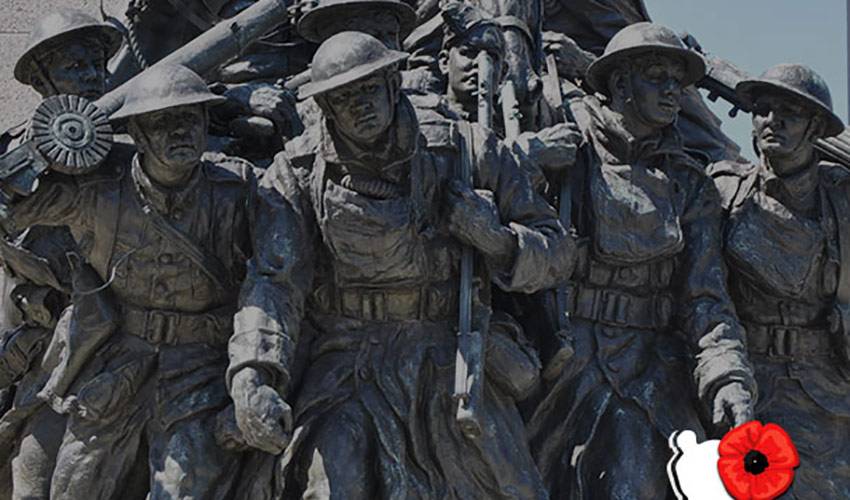 On November 11, Shane Hudella will do what he always does on that date. The former first sergeant in the Minnesota National Guard will take time to reflect on those who have given their lives for their country. He'll also acknowledge the nearly 80 NHL players that passionately support his hockey military charity.
This Friday marks Veterans Day in the United States and Remembrance Day in Canada, a memorial day on both sides of the border that honours members of the armed forces who have died in the line of duty.
For Hudella, Friday will admittedly bring about a myriad of emotions.
In the days leading up to November 11, the man who founded Defending The Blue Line – recently renamed United Heroes League – in 2009, spoke gratefully of those who assist him in his goal of helping military families who love hockey.
The nonprofit organization, which receives assistance and funding from the NHLPA, has provided thousands of families throughout the U.S. with hockey equipment, NHL tickets and other assistance.
"The ongoing player support and support from the NHLPA has been incredible," said Hudella, a father of four hockey-playing sons, and recipient of the White House's Joining Forces Community Challenge. "We currently have over 90 professional athletes involved from six different sports, 76 of them pro hockey players. These athletes give us our strength with the teams and corporate partners, but most of all they provide the magical moments when special kids and service members need a boost from meeting the pros they look up to. I think the guys appreciate that we work our butts off, like they do at practice, to deliver a gigantic mission on a pretty small budget. It also helps that we bring the players on some pretty fantastic trips during the off-season to meet men and women serving in a field environment."
San Jose defenceman Brent Burns has been a steadfast backer of United Heroes League since it was launched seven years ago.
"To be a part of this from the beginning has really been an unbelievable experience," said Burns. "Meeting the military families and hearing their stories has been my favourite part, but now seeing how much hockey has meant to them and how the game is helping them through these experiences and playing is awesome. We get to play this game we love because of their sacrifice and their families. Seeing the growth and work Shane has been in is really crazy to think about. It's just getting better and better reaching more people."
Erin Nanne, Vice President of Giving for United Heroes League since April, continues to marvel at the ease of interaction she watches unfold between players and families.
"When you put our NHL player ambassadors and military service members in the same room, you're sure to observe the mutual humility and respect for one another," said Nanne. "The athletes express their gratitude and appreciation for the sacrifices our nation's heroes make day-to-day for our country; it's no longer about the name on the back of their jersey or the team they play for - the focus shifts to taking the time to say thank you and be enlightened by the stories of the troops' experiences on the battlefield."
For Matt Hendricks, who has played with the Edmonton Oilers since 2013-14, it was an easy decision to support United Heroes League.
"My wife Kim and I originally got involved with United Heroes League because we wanted to serve our community and give back to the men and women of our military," said Matt Hendricks. "Once we got to know Shane and his staff, we dove right in. It's a tremendous organization to be a part of and it provides so much opportunity for kids. Not to mention the smiles it puts on their parents' faces. We've fallen in love with the program and are very thankful to be a part of it."
It's a sentiment echoed by other NHLPA members, including Nate Schmidt.
The 25-year-old defenceman, who has skated in 152 big-league games, including 72 contests last season, has relished his time working with Hudella and military members.
"I love working with United Heroes League because of the impact it makes on kids and military families that are trying to get their kids involved in sports," offered Schmidt. "These men and women protect us each and every day and being able to help in anyway possible is but a small part that I can do in order to help get these kids active."
While they might see their contributions in modest terms, those at United Heroes League view such efforts much differently.
For Nanne, watching players go the extra mile is the norm.
"Not only are these guys offering their name to help spread the word about our organization, many go above and beyond and their excitement is contagious," she said. "The enthusiasm that our athlete base shows has allowed for us to partner with various NHL teams because they are happy to get behind their players and support organizations like ours. A large percentage of our giving comes from our team ambassadors; we have been able to send tens of thousands of military families to hockey games throughout the years. We cannot say "thank you" enough to our professional athlete and team ambassadors."
The gratitude is reciprocal.
Whenever Charlie Coyle takes off his helmet for the playing of the national anthem, the Minnesota Wild forward is reminded of those who have served and those who still do.
"You realize that you get to play the game you love because of the sacrifices people make on a daily basis," he said. "It's hard to forget something like that."
*
For more on United Heroes League, visit http://www.defendingtheblueline.org/
To make a donation, text LEAGUE to 41444