Jaromir Jagr: 1,900 points, countless stories
The Czech Republic native has amazed wherever he's played, and we've gathered the top tidbits that represent the player that there just simply aren't enough words to describe.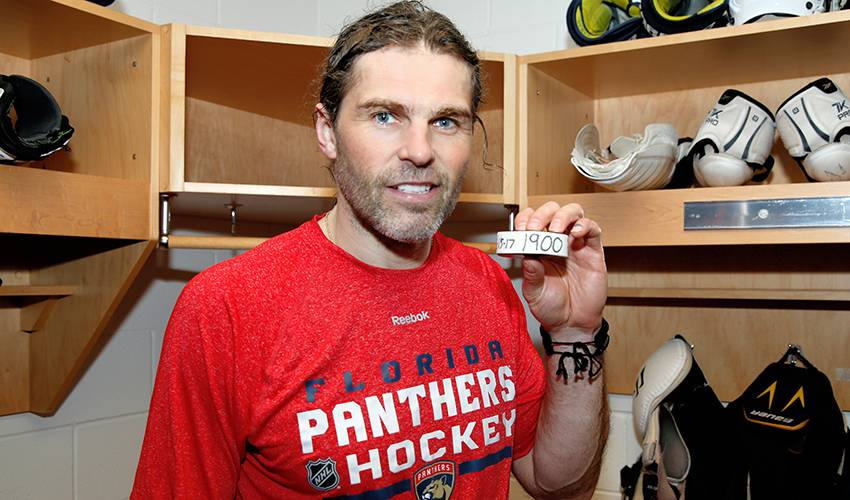 Call it the cherry on top of his 45th birthday cake.
Jaromir Jagr gave Wayne Gretzky some company as just the second player to record 1,900 points in the NHL, as the Czech winger turned 45 on Wednesday.
The living legend is currently playing the type of season that only a 45-year-old, five-time Art Ross trophy winner, in his 23rd successful NHL season - who is also a member of the exclusive Triple Gold Club - could have. That is to say, the type chock-full of records. With two Stanley Cup rings, one Hart Trophy, a Bill Masterson Trophy, and three Ted Lindsay Awards (formerly the Lester B. Pearson Award), his on ice accomplishments can do all the talking for him.
"I have always said that Jagr loves hockey like parents love their children, and that makes him special."
The Best of Jaromir Jagr
Now playing for his 8th NHL team, Jagr has become a hockey folk hero of sorts, to the point that he's even got his own travelling band of loyal fans. To say he has smooth moves is an understatement, considering he even had his own brand of peanut butter.

In this gem of a video, Jagr, with a wink, credits the peanut butter for having magical healing powers that cured his ailing groin. We're pretty sure he's joking, but he's obviously doing something the rest of the world isn't.
Whether it's peanut butter, or more likely, the rigorous workouts he's known for, Jagr has put in the work to become one of the game's greatest. Current Pittsburgh Penguin, Matt Cullen, thinks back to 2006, when the two were teammates with the New York Rangers.
"I was always just really impressed with the way that he was at the rink before I ever got there -- and I'm usually one of the first guys -- and he was always there and often doing something, whether it was in the pool working on his hands or out on the ice. I was just really impressed with his commitment to his game and improving his game. You don't see that sort of dedication in a guy, especially as it gets later in his career, and a guy who's been at the top for so long, so it was pretty impressive to see that... He would be in the pool up to here [points to chest] and he would just have his stick with maybe weights on it and he would stickhandle underwater, just to have some resistance. I didn't ask a whole ton of questions because some of it was just, 'Holy cow.' He was committed. He was a hard worker."
- Matt Cullen
Jimmy Jags: 1,000 points is so ten years ago.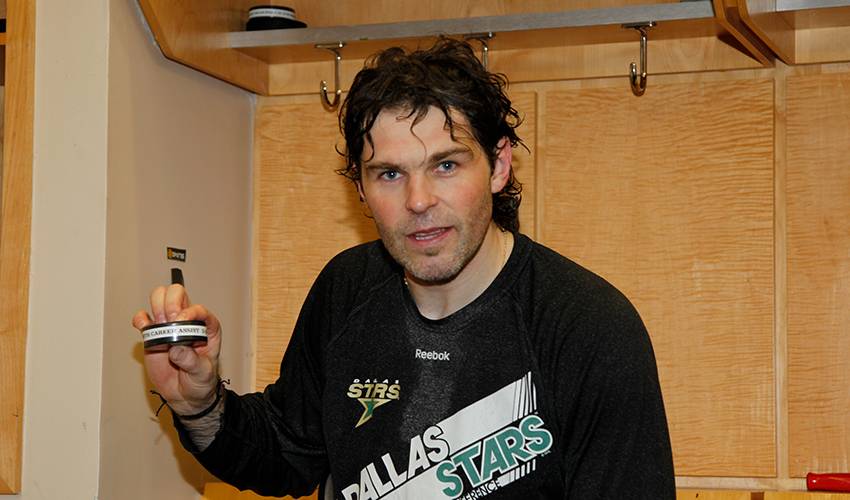 Glen Gulutzan shares a gem from his days as head coach of the Dallas Stars:
"Eric (Nystrom) is a throwback. Just like Matty Tkachuk, he was raised in an NHL locker-room and he's got a lot of pizaz," Gulutzan said, "And for whatever reason, he nicknamed Jags in Dallas. He nicknamed him 'Jimmy.' For the whole year, it caught on and Jags wasn't Jags. It was 'Jimmy.'
"Eric played with him a little bit on his line, at times. In Dallas, he had his 1,000th assist, Jaromir did. So the lights are flashing on the board – '1,000! 1,000! 1,000!' Of course, Ny isn't aware exactly that he got 1,000 assists. He's sitting beside Jaromir and he goes, 'Jimmy, do you have 1,000 points now?!?'
"And (Jagr) looks at Eric, almost disgusted, and he goes, 'I had 1,000 points 10 years ago. That's assists.'
"That puts it in perspective."
Yes. Yes it does.
David Backes, captain of the Boston Bruins, also helps put No. 68's longevity and skill in perspective by sharing his earliest memory of Jagr.
"I don't know if I've had many face-to-face conversations with him, but [my first memory is] NHL '94 on Super Nintendo as a 10-year-old. I did pretty darn good. The Penguins were dynamite in that game, and if you went across the crease as Jagr on your backhand, you scored every time. He's still doing that."
---
Pittsburgh Jags had a need for speed - off the ice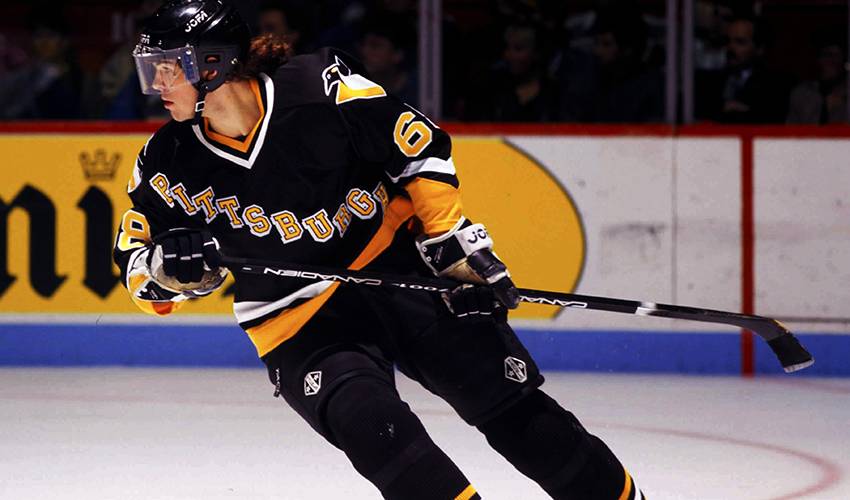 Yes, some of Jagr's arguably best days came with the Pittsburgh Penguins, having quickly won two Stanley Cups with the team with one of the game's best heads of hair. Former teammate Phil Bourque, can testify to Jagr's speed off the ice as well.
"He was a wild child," said Penguins radio analyst Phil Bourque. "That was his style. He just did his own thing.
"His bad driving habits were very well-known in town. He had a glove box full of speeding tickets, but he never paid them. And he would tick off policemen, because when he would get a speeding ticket, he would open up his glove box and just jam them in there until he had about 20 speeding tickets.
"I don't know if he ever did pay them all."
Here's hoping.
---
All-Star Jags is one classy guy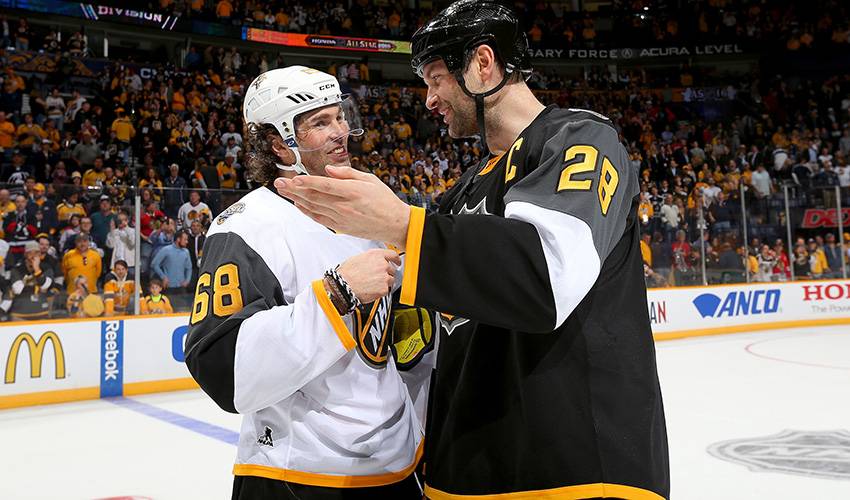 The 2016 NHL All-Star Game will always be remembered for the social media frenzy that ultimately led to, eventual tournament MVP, John Scott becoming Team Pacific captain. If you were living under a rock, or haven't read the book, don't worry, a movie is right around the corner. Believe it or not, Jagr likened his own, first All-Star appearance to that of John Scott's, and maybe that's why he had this to say after the game:
"… if I ever wanted to lose ever I'm glad I lost today because it's [John Scott] a great story. Everybody thought it's going to be a bad thing for hockey and it's turned out to probably be one of the best stories in hockey."
---
Jags on...
...his infamous workouts:
"I'd rather feel tired and strong than fresh and weak."
...his longevity:
"If you say that my legs are slower than they used to be, well, you're kind of wrong," Jagr said. "When I watch myself when I was skating 20 years ago or 15 years ago, I'm a lot quicker right now than I was then. Trust me, I've looked at the game. I've watched the tapes. It's the only way you can tell.
The league is just a lot quicker. If somebody told me I've slowed down, well, yes, relative to everyone else. I didn't slow down. Everyone else just got quicker."
---
It's obvious by now, that Jagr has got to this point in his unparalleled career due to some natural skill strengthened by a lot of hard work and dedication, but somewhat unsurprisingly, the devoutly religious winger also gives credit to the man upstairs.
"To me, age is nothing. I don't get old. I don't know why. You've gotta ask God, man."