California (and Stanley Cup) dreaming for Josh Manson
He slept for most of the plane trip home, but when he woke up, Josh Manson had plenty to smile about.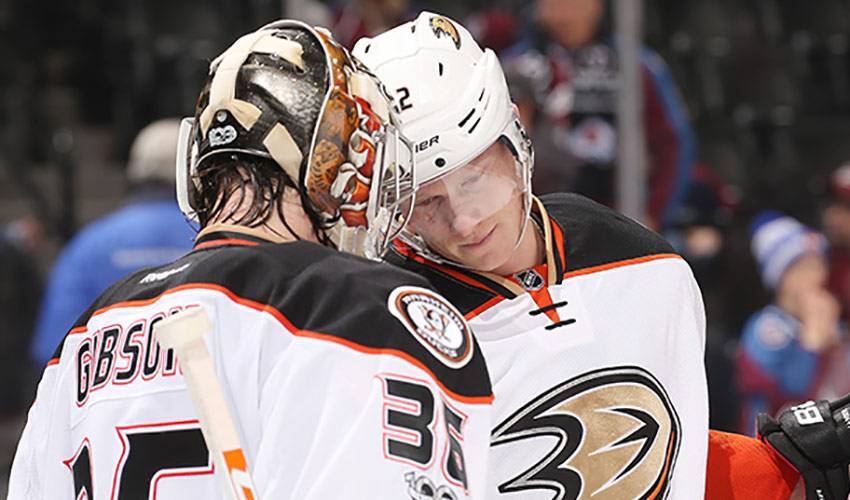 He slept for most of the plane trip home, but when he woke up, Josh Manson had plenty to smile about.
When the final horn sounded in Game 4 of Anaheim's Western Conference quarterfinal series against rival Calgary, the Ducks had punched their ticket to the next round.
And while it was a jubilant atmosphere in the visitors' dressing room at the Saddledome minutes after the series-clinching 3-1 victory, it was a more muted scene the following day.
"We didn't fly out until the next morning, so it was a little sleepy," said Manson, after Anaheim completed a four-game sweep of Calgary. "There was a fair bit of napping going on. I was sleeping, but I wasn't the only one. It's just a really great feeling knowing you've moved on."
It was made even sweeter for Manson, who had his own cheering section for all four wins.
"The win in Calgary, my family actually came out to the game, so I was able to catch up with them a bit," said the blueliner whose father, Dave, also a defenceman, played 1,103 NHL games. "My mom and dad came out to the first two home games of the series and they were at the two in Calgary, so it worked out perfectly for all four games."
It was also ideal in terms of having an extended break from the playoff grind.
Rest was the name of the game for Manson and his teammates, who are now facing off against Edmonton in the Western semifinals.
The 25-year-old defenceman took advantage of the break to catch up on his favourite TV show, took in some hockey, and enjoyed a little California dreaming.
"I watch hockey," said the Illinois-born Manson, selected 160th overall by the Ducks in 2011. "I'm a fan of hockey. I watch just to see how things are going. Other than that, you just do the things you normally do. You get some rest and let your body have a bit of a break. Obviously, the playoffs are a long journey. You just try to relax, watch a little bit of hockey and enjoy the California lifestyle.
"I hang out with the guys a lot. I like watching TV, too. I'm really into The Office right now. I don't know how I didn't watch that before. I think when you're in California it's pretty easy to take your mind off things when you have that time between series. We're pretty lucky. You can head down to the beach and just relax there."
Typically, Manson will have company no matter what he's doing.
"First and foremost, we have a great group of guys when it comes to off the ice, keeping things light, but also keeping things competitive, but friendly," he said. "And you have people on defence like Kevin Bieksa, who is such a great mentor. He's someone you turn to when you have any questions and want to know how to handle a certain situation. He's a guy you look to. He's so instrumental with helping out the young guys. So is Cam Fowler, who has also been in the league a long time and has been in so many different situations. We have some good young guys, too. It's a great mix."
Manson, who played 21:28 Anaheim's 5-3 loss to Edmonton in Game 1, hopes there are better days ahead for the tight-knit group.
"I would say I let it (first-round win) sink in for a day," offered Manson. "You work the whole year for it, so it's not something where you win and just look past it. It's cool to know you're in the second round."