Manson grateful to recharge ahead of Second Round
In between practice and preparation for the next step toward hoisting a Stanley Cup, Josh Manson is taking full advantage of family time.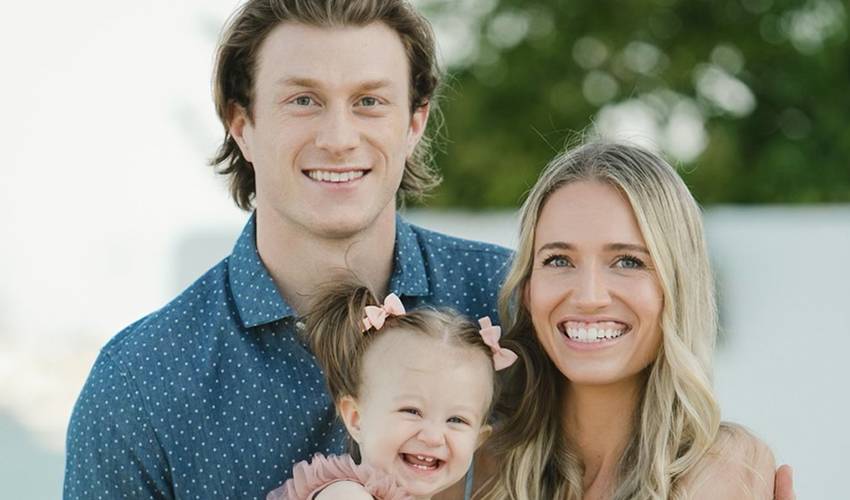 Feature photo courtesy of Josh Manson
---
Two days removed from his team's first-round series, Josh Manson was in full dad mode.
The Colorado Avalanche's four-game sweep of the Nashville Predators in their Western Conference First Round has afforded him and his teammates the luxuries of rest and time ahead of their next post-season matchup.
Manson, who came to Colorado in a trade with the Anaheim Ducks on March 14, is making the most of the break in action.
These days, a significant portion of his time is dedicated to family, namely, his wife Julie and their daughter Gemma Grace.
"It's amazing to be able to have this opportunity," Manson told NHLPA.com. "It's definitely one huge perk of being able to close out a series quickly. You can get those days to rest up the bumps and bruises, heal up and get ready for the next series. But spending time with your family, that just really helps you recover mentally a little bit, being around them and spending time together. With it being such a long, grueling season, you don't get that amount or quality of time to be together. So, any extra days you can get at this time of year is really beneficial."
Manson contributed one assist, five blocked shots and 11 hits for the Avalanche, averaging 18:40 minutes of ice time per game over the series.
While he's still focused on netting a Stanley Cup, the Illinois-born defenceman and son of former NHL blueliner Dave Manson, is enjoying his life outside of the arena while he can.
"When we came home from Nashville after the last game and you see that big smile from your daughter, it's really hard to describe just how wonderful that feeling is. There's really nothing better than that."
On this morning, Manson and two-year-old Gemma Grace are hanging out together, a day that has already included taking in a movie.
"It's Disney+, man. I think she could watch that all day if we let her. We already watched Monsters Inc. this morning. Frozen, Tangled, Moana, Cinderella – you name it, I know all the words to it."
Though you can catch him singing the praises of Avalanche teammate and Norris Trophy finalist, Cale Makar, the 160th overall pick of the 2011 NHL Draft draws the line at singing along to the catchy tunes he's equally familiar with.
"I wish it [singing voice] had progressed along by now, but it certainly hasn't. Not even close, really."
Outside of movie time, the Mansons are also enjoying the great outdoors in Denver, while mother and daughter have made a few trips to one of the city's main attractions.
"We like to go on little walks and go out for breakfast too, things like that. My wife, when we've been gone, she's been taking our daughter to the Denver Zoo, which has been great. Just being together as a family, even if you're not really doing anything, that seems to be the best time. Gemma's a lot of fun, she's doing a lot of funny things – you can probably hear her in the background – and her personality is really starting to shine. So, it's fun to watch her develop even if you're not doing anything other than that. It's enjoyable."
With Colorado's next opponent still to be determined, Manson will be ready for the next challenge that awaits he and his teammates.
In between practice and preparation for round two, he'll be taking full advantage of family time.
"I'm very blessed to have a wonderful family. If I ever need to talk, having a confidante in Julie, who played volleyball at UCLA, she understands the team dynamic and what it means to be an athlete, what you need to do take care of your body. She really is the rock of our family and helps everything move forward so that I can compete at the best level I can. She's a great mom and wife, and an amazing person."
Julie also happens to be the better volleyball player of the two.
"Oh, it's not even close. I'm not even anywhere close to being in her league."
It's one reason why Manson will stick to watching Disney movies with his daughter.
But it's far from the only one.
"Just having those moments, where you are sitting together, and having that bond, I can never get enough of that. The playoffs are such a stressful time of the year, so when you have something like that, it helps you really relax and take your mind away from the game, even if it's for a short time."