McDavid humbled by Bouchard's athleticism
Just ahead of the Rogers Cup, Connor McDavid took on his sporting counterparts in a five-event face-off at Toronto's Kew Beach Tennis Club July 26.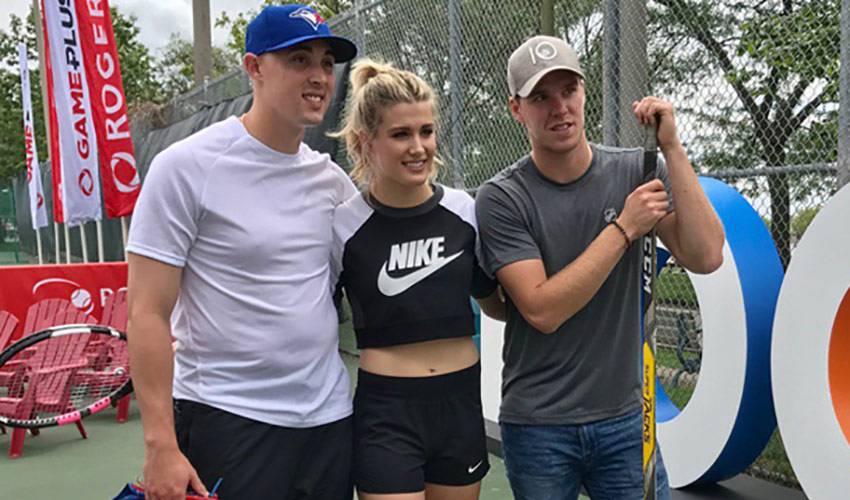 Connor McDavid didn't come out on top when he and pitching ace Aaron Sanchez fell to tennis star Eugenie Bouchard in a friendly sports competition, but the Edmonton Oilers captain was still right on target.
Just ahead of the Rogers Cup women's tennis tournament that will hold court in Toronto from August 5-13, McDavid, coming off a season that saw him win the Art Ross Trophy, Hart Memorial Trophy and Ted Lindsay Award, recently took on his sporting counterparts in a five-event face-off at Toronto's Kew Beach Tennis Club.
The first event – a hockey target shooting competition – happened to be a perfect fit for McDavid.
"I'm not much of a trash-talker," said McDavid, just prior to the start of what was dubbed the Rogers Cup 60 Second Scramble. "I can't really throw a baseball a hundred miles an hour and I can't play tennis the way Genie does, but I don't think they're going to hit the targets like I do. I may have an advantage in that one, but the rest of the them, we'll see."
Bouchard, Canada's top-ranked women's singles tennis player, had other plans in store.
The 23-year-old, who stepped up first, started out slowly, but soon found her groove and put 22 tennis balls in the net.
Up next was McDavid, who scored 30 goals for the Oilers in 2016-17. The 20-year-old managed to count 24, including a few top-shelf beauties, while Sanchez finished up with three.
The trio also tried their hand at Tennis Keep Ups, Fly Over, Skee Ball and Baseball Strike Out.
It was Bouchard, a member of the Canadian Fed Cup Team in 2011, 2013-15, and the 2016 Canadian Olympic Team, who came out on top in the 60 Second Scramble, besting McDavid (10 points) and Sanchez (6 points) with a total of 12 points.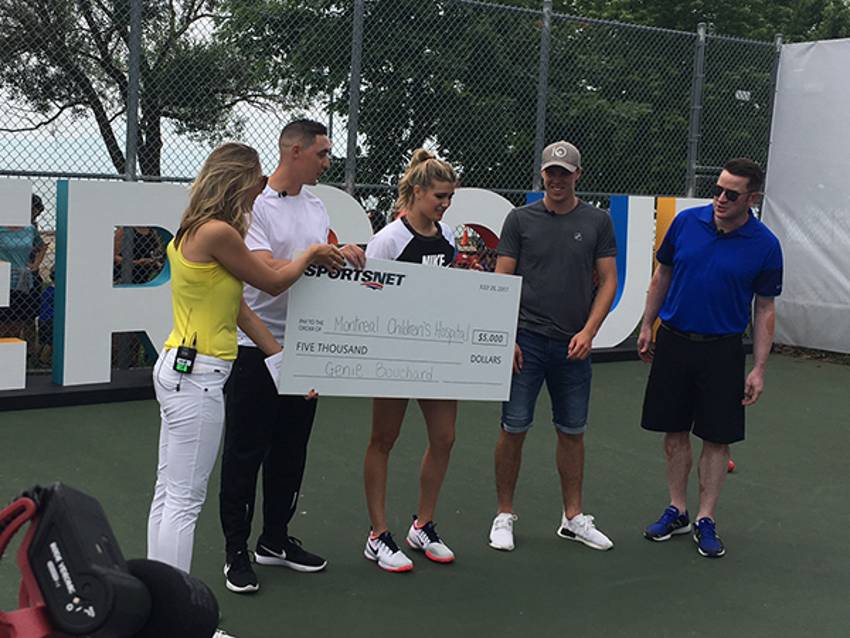 ​​
McDavid did, however, manage to eke out a win over Sanchez anyway.
Connor McDavid just beat Aaron Sanchez in a pitching competition. 😂 "I might have to" start playing hockey, says Sanchez.

— luke fox (@lukefoxjukebox) July 26, 2017
McDavid, who led the NHL with 100 points in 2016-17, was gracious in defeat.
"I'm not sure if you saw today but she's the best athlete here," said the first overall pick in 2015. "She's got to be the favourite, right? And I hope Genie does really well. I usually try to make it up (to the Rogers Cup) for one night. It's always a fun time."
Sanchez, who led the American League with a paltry 3.00 ERA in 2016, has met McDavid on a few occasions. He met Bouchard for the first time at the event.
The 25-year-old had high praise for both.
"For me, it's just cool to see their grind," said the 2016 All-Star. "As an athlete, you understand what they go through as a human being and what it takes to be at the level you want to be at. Understanding what they go through, understanding how much time you put in to be good at your craft."
McDavid, who signed an eight-year, $100 million contract with Edmonton on July 5, has been working hard at his craft ahead of the 2017-18 NHL season.
The centreman will look to be front and centre once again for an Oilers team that made it to the second round of the Stanley Cup Playoffs in 2016-17.
"It's been a whirlwind," said McDavid. "It's been a real honour to have a summer like I've had to win some trophies and have a new contract."