Kasperi Kapanen reignites his passion for the game in St. Louis
Kapanen points to his offensive contributions in St. Louis as a source of pride.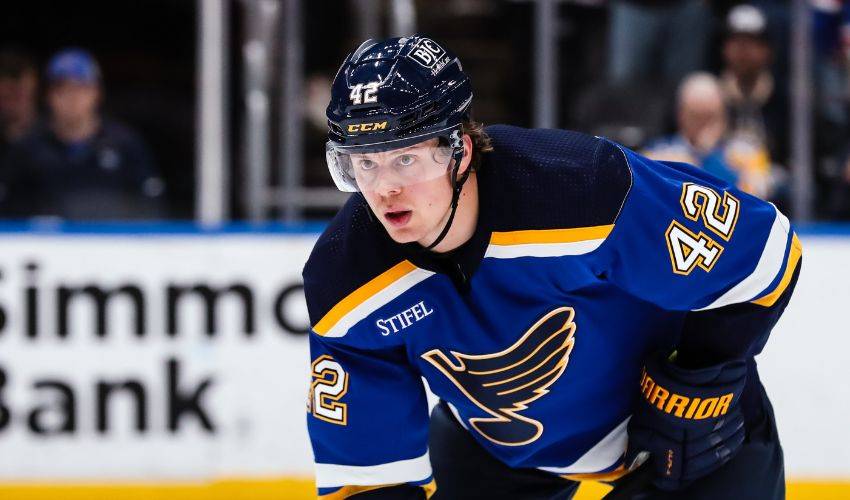 Feature photo: Getty Images
---
Even in the most trying of times, Kasperi Kapanen always kept the faith.
When he got the call he had been put on waivers by the Pittsburgh Penguins, something told Kapanen that the new opportunity would be just what he needed to rejuvenate his game.
His instincts proved to be spot-on as he took his first shift in a St. Louis Blues uniform.
"Honestly, probably the first game," said Kapanen as to when he realized it would be a good fit with his new team. "The first period, I played close to seven or eight minutes. They were just letting me go out there and do my thing. I was playing alongside great players and instantly I felt really good out there."
By the end of the 2022-23 regular season, Kapanen had recorded eight goals and 14 points after 23 games with the Blues.
"Just getting the opportunity is the biggest thing for me," said the 22nd overall pick of the Penguins in the 2014 NHL Draft. "If I'm not able to produce and play well when I'm given the opportunity, that's on me. I can live with that. But this happened and all of a sudden, you feel like you're a new player again. It's a perfect fit in St. Louis."
Looking back on the season that was, Kapanen, who came to the Blues having skated in 364 NHL games between the Toronto Maple Leafs and Penguins, points to his offensive contributions in St. Louis a source of pride as he continues his NHL career.
"I was happy to score a couple of goals. It had been a struggle up until that point, but once I got to St. Louis, I feel like I was scoring well and playing good offensively, which is obviously a huge thing."
More importantly, Kapanen rekindled his joy of the game.
Past struggles are no longer on his radar.
"I think I just caught that passion for hockey. Last year, it was a bit of a struggle before coming to St. Louis. Mentally, I think it was a struggle. Once I got to St. Louis, I caught that fire again, the passion for playing. I love the game and I will always love the game, but going to a new team and getting the spark like that is something I'm also proud of."
All of which makes for a happy summer, one that includes a trip back to Finland, specifically, Kuopio, where Kapanen will catch up with family and friends in his hometown.
Talk of his new team will certainly be a topic, but there are also plenty of family events on the calendar in the next couple of months.
"I don't see friends and family too often throughout the year, so I try to see them as much as I can. Summers in Finland are magical, so it's nice to get back those familiar things. I definitely miss my mom's cooking, that's one big thing for sure. She's unbelievable with the traditional Finnish foods. But it's mostly about seeing my siblings, my parents, and my best friends. I'm going to have my birthday (July 23) there too and a couple of family things, so I'm going to try and enjoy all of that as much as I can and then head back to St. Louis."
A place that now feels very much like home, on and off the ice.
"I'm never going to complain about getting that ice time and the opportunity to make things happen, giving me the keys to go out there and play. I really felt like I was enjoying hockey again. It was a great way to end the year."
And a great way to be optimistic about the upcoming season.
"I'm super excited. Great group of guys. The moment I found out I was coming here, coaches and staff reached out. Brayden Schenn was the first guy to reach out and he's just an outstanding person. Torey Krug, Jordan Kyrou, and a whole bunch of other guys reached out to welcome me. The coaching staff is great, and I get the chance to play and to contribute. I'm excited to work on some things now and get ready for the next season. Hopefully, it's the best one of my career."