Marcus Foligno voices support for the women's game, grateful for players' efforts
The Minnesota Wild forward is staunch supporter of the women's game, both internationally and the PWHPA.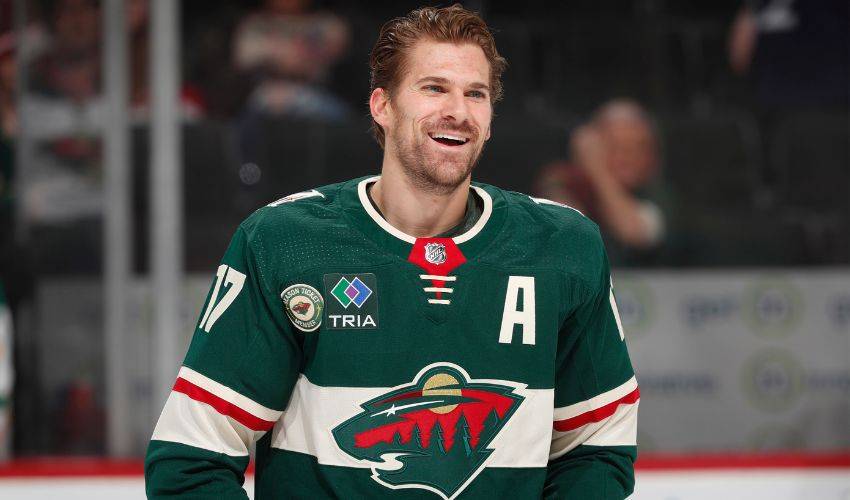 Feature photo: Getty Images
---
Marcus Foligno became a fan of women's hockey well before he played his first NHL game.
Now a veteran of nearly 750 NHL regular season contests, the 31-year-old Minnesota Wild forward recalled growing up in Sudbury, Ontario, taking to the ice in the summer months alongside both male and female hockey players, a group that included a future Olympic gold medalist and collegiate standout, along with a three-time Olympic champion.
"At a younger age, moving to Sudbury, being around Tessa Bonhomme (part of Canada's 2010 Olympic gold medal-winning women's hockey team) and Rebecca Johnston (who won Olympic gold in 2010, 2014 and 2022), two women that are synonymous with success in Canadian hockey, was a great opportunity for me. There was a league called the 'Bonhomme Summer League' that was open to both men and women. It was because of Tessa's dad that we were able to skate and keep our hands moving in the offseason in a fun format, maybe once or twice a week."
Foligno, whose dad Mike played 15 NHL seasons, and whose brother Nick is a veteran winger with the Boston Bruins, was impressed with what he saw during those camps.
"Tessa, she was probably one of the best players there. And Rebecca, she was really talented as well. To see that at a young age, it puts into your mind that girls can not only play this game, but play at an elite level. Going on to watch them win gold, two Sudbury girls who you are obviously cheering for, being on the ice with them, knowing how good they are, it was really uplifting. I was a big fan of women's hockey because of those two."
The 104th overall pick of the Buffalo Sabres in 2009 remains a staunch supporter and ally of the women's game, both internationally and the Professional Women's Hockey Players' Association.
Formed in 2019, the PWHPA currently operates under a tournament structure, featuring games played throughout Canada and the U.S. The teams feature some of the biggest names in the game, a list that includes Marie-Philip Poulin, Natalie Spooner, Hilary Knight, Sarah Nurse, Abby Roque and Amanda Kessel, just to name a few.
On March 13, it was reported the PWHPA will unveil a new pro league for the 2023-24 season.
"Being around these players and following their teams, it's been great to see them work passionately to create something sustainable for themselves and for future generations of girls to call their own. My teammate, Luke Kunin, his fiancée, Sophia Shaver, plays in the PWHPA, so my wife [Natascia] and I follow her to see how she's doing. It's really cool to see the commitment they have to the game they love and I support them 100 percent. I want to see them do well. I do idolize these athletes and what they do for hockey."
Foligno is also grateful for the players' efforts in working to provide opportunities for those who aspire to play at the professional level.
The father of two young girls, Olivia, who will turn 5 in April, and 2 ½-year-old Camila, would love to see his daughters get a shot to play the women's game at the top level.
"With the talent level of the players who are part of women's hockey, it gives my daughters a lot of role models to look up to. You are supportive of your children no matter what path they take, but if one or both take to hockey, you want to make sure there's an avenue there for them to excel and be happy to be part of something special. You want to make sure there is a league there if that time comes for them."
With the Minnesota Wild in the thick of the Western Conference playoff race, Foligno will still find time to watch the upcoming IIHF Women's World Championship.
This year's tournament is set for April 5-16 in Brampton, Ontario.
"The quality of hockey, men's and women's, the skill level is amazing. Having watched some of the women's international games – the European women have some really talented players too – you see a lot more skill and players excelling at their craft. It's really exciting to watch the games now and to see what's ahead."
While it is too early to tell whether his own daughters will follow in the skates of players like Bonhomme, Johnston and others, Foligno is looking forward to seeing Olivia and Camila embrace the game.
"We try to get Olivia out there as much as possible and she loves it. We had a birthday party with one of [Wild teammate] Ryan Reaves' kids, and it was at our team's practice facility. So, we took the kids out there, and all the girls and boys were out there skating. Olivia was loving it. Camilla, it will probably be another year before she gets on skates. We can't wait for that moment. Whether they play or not, it's nice to know they have a lot of players they can look up to."