Second year of NHLPA Assists in Action initiative highlights the importance of teamwork
The funds raised are used for critical resources at Kids Help Phone.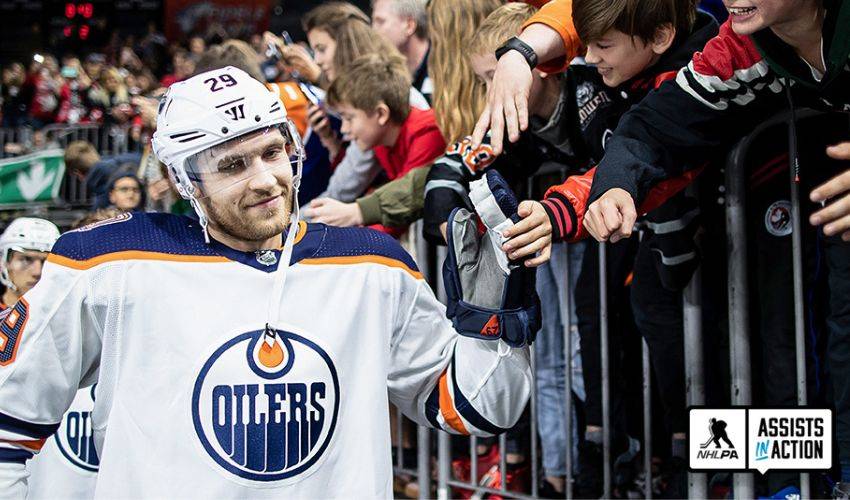 Feature photo: Getty Images
---
Although highlight-reel goals typically draw a lot of attention, the NHLPA and Kids Help Phone know just how meaningful an assist can be.
The NHLPA Assists in Action initiative, established during the 2021-22 NHL season, is a prime example of hockey teamwork, a partnership with Kids Help Phone – Canada's only 24/7 e-mental health service offering free, confidential support to young people in English and French. For every assist that an NHL player records during the regular season, $7 is donated to KHP programming. The $7 denomination is a nod to the jersey number of the late Ted Lindsay, who was the first president of the original Players' Association and a Hall of Fame forward.
"As a not-for-profit, our partners are extremely important to us," said Gayle Browne, Kids Help Phone Director, Clinical Operations, Texting. "And when that partner can bring in innovative ideas around how we can partner, sharing these creative opportunities, it's very exciting. Matching it up with assisting, telling that story, is very important. Thinking about the players themselves, the ones who are getting those assists, having that be something to lead into the funding of KHP is an amazing story. But to also layer into that the highlighting of our staff is just gold. Especially when you surround it with the word assist, what it means to support someone and assist them. It speaks to the whole idea of teamwork, the idea of coming together to provide support to those who count on us."
After a highly successful first season of the campaign that saw $102, 956 contributed to KHP, the two organizations teamed up again for the 2022-23 season. This time around, one KHP counsellor and one KHP crisis responder is being recognized monthly during the season on NHLPA and KHP social media channels for their work assisting youth, alongside the NHL forward who records the most assists for the month and the defenceman leader in the category.
"For crisis responders and counsellors in particular, people on the frontline, the person at the centre of that conversation is the young person," said Browne. "Our job isn't to solve it, fix it, or if you will, get the goal. Our job is to create the space and to listen, so the person can get there themselves. They hold all the resources and the answers they need. Accessing all of that knowledge, resources and skills can be hard sometimes, so that's where we assist. Here, it's all about supporting and listening, and creating that space where those who reach out l know they are being heard."
In total, 13,784 regular-season assists were recorded by players in 2021–22 – led by forward Jonathan Huberdeau (85 assists) and defenceman Roman Josi (73 assists). In addition, 924 playoff assists were recorded by NHL players, led by Leon Draisaitl (25 assists) and Cale Makar (21 assists) in their positional categories.
The funds are used for critical resources at KHP.
"It goes right to the frontlines," said Browne, who has been with KHP for 22 years, 14 of them as a counsellor. "You can imagine during COVID, the volume of contacts we received. It really allows us to have more people on the frontlines, more counsellors, more supervisors who can work with the crisis responders. It makes a huge difference in how we are able to support those who need us. We have several ways for people to reach out, but whatever way they choose, we don't want people to be waiting. So, funding like this is huge for us."
Just as it is for the counsellors and crisis responders working the frontlines to receive recognition for their work in helping young people who utilize all of KHP's services.
Browne is thrilled to see them acknowledged through Assists in Action this season.
"Highlighting our counsellors and crisis responders is hugely important. Partly, for people to see where the funding is going, and also so that people can see the actual people who are answering the phones, taking the conversation, what they do and what their background is. It's a way to come out from behind that curtain a little bit. I remember being on the phones and the kids who called would have so many questions because they are so curious as to what's happening on the other side of the phone. From a clinical perspective, some kids might just want to call and talk. For others, it might be a barrier to calling. They don't have any idea who the person on the other end of the line is or who the person is that is texting back. So, to showcase some of our people who do so much amazing work, I think it's wonderful. It's a nice moment for them, in a snapshot of a way."
In terms of the big picture, having the players and NHLPA shine the light on KHP, their counsellors, crisis responders and those who use their resources, can be the start of a game-changing moment, noted Brown.
"Hockey basically ties together something that is about joy and fun, but also strength-building and teamwork. The same values exist in both places. A lot of kids in Canada are fans of hockey and of particular players, so when they see them promoting and supporting Kids Help Phone, that has a huge impact. When young people think of hockey players, they are somewhat idolized. They are strong, they are skilled, and they are talented, so when they say it's okay not to be okay, that they can talk to someone and reach out, that's huge. If a hockey player says it's alright to talk to someone about your feelings, that is so impactful to the kids and to what we do."
For Browne and KHP, an assist by NHL players has become much more than a number that shows up in a box score.
In this arena, it is the result of a dedicated team effort.
"It's true of the world. Everything can't be a goal. It's just not the way it works. So, what else is there that shows people strengths and ability to work together? An assist in hockey is just that. And so is counselling at KHP. It's all about teamwork."
Supporters of the initiative can donate to Kids Help Phone by clicking here.