NHLPA Assists in Action contributes $102,956 to Kids Help Phone
A total of 14,708 assists were recorded by NHL players during the regular season and playoffs.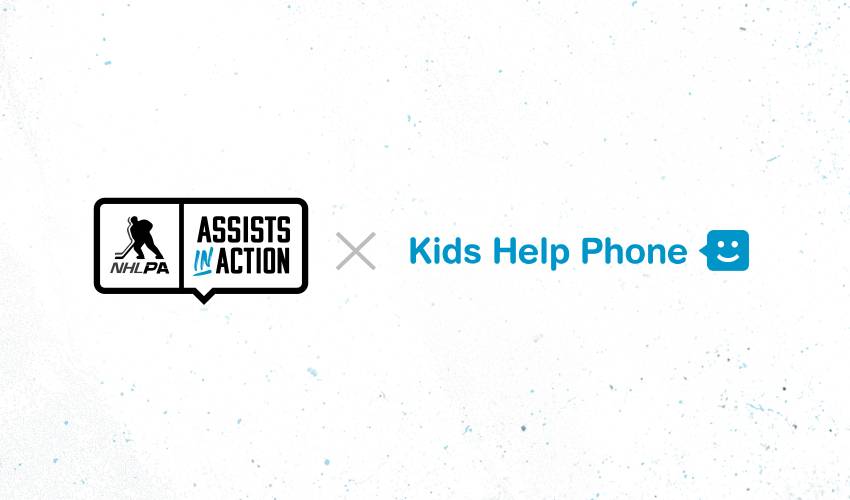 ---
NHLPA ASSISTS IN ACTION CONTRIBUTES $102,956 TO KIDS HELP PHONE
A total of 14,708 assists were recorded by NHL players during the regular season and playoffs, with the NHLPA donating $7 to Kids Help Phone programming for every assist
TORONTO (July 5, 2022) – The National Hockey League Players' Association is pleased to announce that $102,956 has been contributed to Kids Help Phone programming through NHLPA Assists in Action. In the first year of the initiative, which extended through the playoffs, the NHLPA donated $7 to Kids Help Phone for every assist recorded by an NHL player during the 2021-22 season.
"Congratulations to every single player who made this donation to Kids Help Phone possible – the sum of every assist achieved this greater goal" said Jenny Yuen, Kids Help Phone Senior Vice President, National Partnerships & Government Relations. "We are so grateful to the NHLPA for their continued partnership in raising awareness for youth mental health in Canada. Thank you for this generous donation."
NHL players recorded 13,784 assists during the 2021-22 regular season, an increase of more than 1,000 assists from the last full regular season in 2018-19. Forward Jonathan Huberdeau led the way with 85 assists in the regular season, while Roman Josi recorded 73 assists to lead all defencemen. In the playoffs, another 924 assists were recorded, led by forward Leon Draisaitl's 25 assists, while Cale Makar's 21 assists led all defencemen.
"The NHLPA has been a proud supporter of Kids Help Phone for many years, and with this program we have been able to make an even stronger connection. The players are proud to be able to turn their assists on the ice into an assist of over $100,000 to support the incredibly valuable mental health services that Kids Help Phone provides youth across Canada," said Devin Smith, NHLPA Senior Director, Marketing and Community Relations.
NHLPA Assists in Action built on past collaborations by highlighting the NHL forward who recorded the most assists each month, along with the leader among defencemen, on Kids Help Phone and NHLPA social media platforms.
Monthly Assist Leaders:
October

Forward: Ryan Nugent-Hopkins (10)
Defenceman: Victor Hedman, Neal Pionk and Moritz Seider (8)


November

Forward: Nazem Kadri (17)
Defenceman: John Carlson (14)


December

Forward: Nathan MacKinnon and Chandler Stephenson (12)
Defenceman: Victor Hedman, Quinn Hughes and Morgan Rielly (11)


January

Forward: Jonathan Huberdeau (19)
Defenceman: Kris Letang (16)


February

Forward: Mitch Marner (14)
Defenceman: Cale Makar (12)


March

Forward: Patrick Kane (21)
Defenceman: Roman Josi (24)


April

Forward: Steven Stamkos (21)
Defenceman: Victor Hedman (20)
The $7 denomination for NHLPA Assists in Action was made as a nod to the late Ted Lindsay, the first president of the original Players' Association. Lindsay proudly wore No. 7 on his jersey throughout his Hall of Fame playing career, and his legacy continues today through his namesake foundation, which raises awareness and funds to support children with autism.
Over the last five years, the NHLPA and Kids Help Phone have utilized player and hockey platforms to educate youth across the country about the importance of mental health and well-being – including as a part of NHLPA Goals & Dreams events – while drawing awareness to Kids Help Phone's life changing and saving services and resources.
Kids Help Phone and the NHLPA are focused on continuing to bring awareness of mental health resources available to the hockey community, thanks to the vital work of Kids Help Phone's professional counsellors and volunteer crisis responders. All hockey fans who would like to provide their own assist are encouraged to visit KidsHelpPhone.ca, or click here to donate.