Seven seasons in, Josh Morrissey remains grateful for his success in the game
Morrissey is having his best season to date, offensively, and enjoying the Jets' strong start to 2022-23.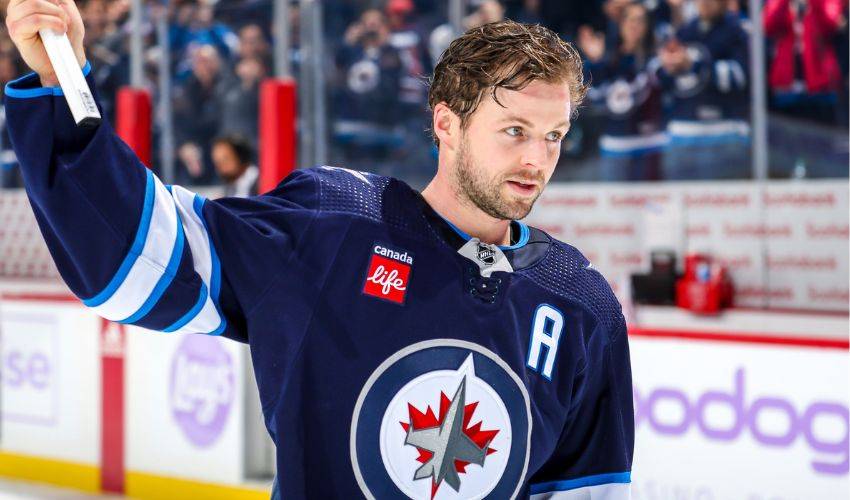 Feature photo: Getty Images
---
He first heard the words seven years ago, but for Josh Morrissey, the words have never been more meaningful than they are today.
It was at some point during his NHL rookie season when the young defenceman and 13th overall NHL Draft pick of the Winnipeg Jets in 2013, received some helpful advice from a veteran member of the team's blueline corps.
"One thing that stuck with me when I was a younger guy in the league was watching and learning from [former Jets defenceman] Dustin Byfuglien," Morrissey started. "He had a very unique perspective on life and the game. He just enjoyed playing the game. I remember at one point he said to me, something along the lines of, 'You've got to enjoy the NHL. You have to play and do your thing, but you have to enjoy it too.' And I could see that in him. When I would watch him play, he would be grooving to the music, joking with the guys on the ice, but he also had this intensity and great competitive spirit. He loved every part of the NHL, full arenas, going to all the great cities, having dinner with the guys on the road, hanging out with the guys on the plane, practicing, working on skills, competing and leaving it all out on the ice. All of those things make up what the NHL is, and he really enjoyed that and defined it."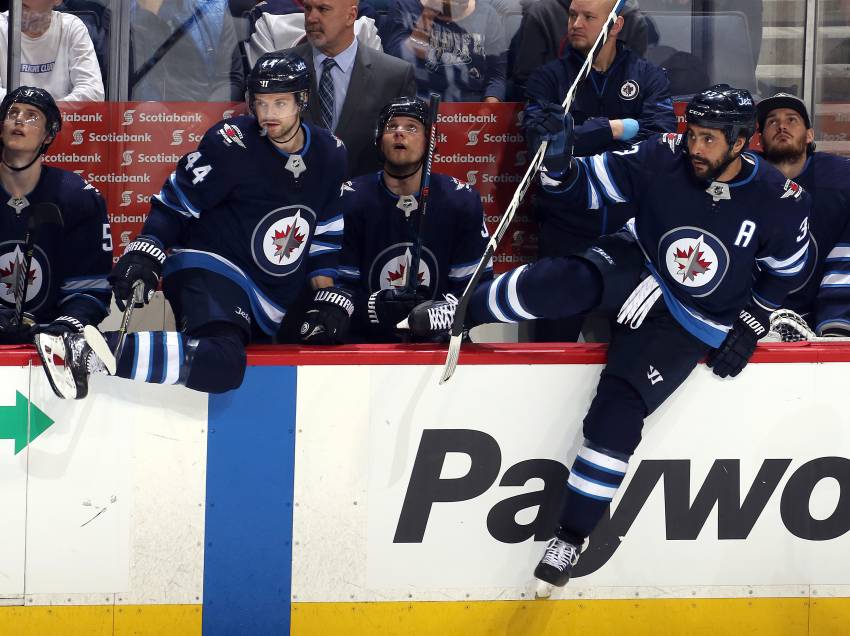 After a successful run in the Western Hockey League, first with the Prince Albert Raiders and then with the Kelowna Rockets, Morrissey started the pro side of his career with the Manitoba Moose, the American Hockey League affiliate of the Jets, in 2015-16. He also appeared in his first NHL game that same season.
During the following campaign, the Calgary native skated in all 82 games with Winnipeg and finished the year with 20 points, including six goals.
One of his most vivid memories from that first full season was a road trip to Dallas, a night he originally thought wouldn't be to his liking.
"I remember I didn't eat sushi at the time I came into the league and the first dinner I got invited on to the road, with Tyler Myers, Mark Scheifele and a bunch of other guys, and they are going to Nobu in Dallas. Of course, it's a fantastic place, but I didn't eat sushi and raw fish. So, what am I going to do? Say no to these guys? I end up going and enjoying it. The credit card game, not having a full pay cheque yet, and all of that stuff … all those great memories."
Expanding his palate wasn't the only fond recollection Morrissey has from those formative years.
For the veteran of over 450 NHL games, his rookie season was all about firsts.
"Looking back at the start of my career, honestly, it was being wide-eyed and going through all of the new experiences. You really do think of all those next experiences, your first time playing in a new arena, the first time visiting these amazing cities, the first time you played against Alex Ovechkin, Sidney Crosby or Pat Kane, the guys you grew up watching. Jarome Iginla was still playing in my first couple of seasons, and he was my favourite player as a kid."
"It's pretty crazy all those firsts that happen in your first few seasons, the learning that goes with that and the veteran teammates that helped you out, show you the ropes and help you figure out the league. Looking at my rookie year or second season, the teammates I had, the ones that are retired or no longer playing – you think of a Dustin Byfuglien and the type of character he is – who had a profound effect on me as a new player."
Morrissey's love for the game has never wavered, but over time, especially in the past few years, he has shifted his perspective on his NHL life, a near daily reminder of his affinity for all that he associates with hockey.
The passing of his father, Tom, in August 2021, also provided a new outlook on life, inside and outside of the arena.
"As a young guy in this league, it's easy to be stressed about making a mistake or things like that, but that's something I've become better at over the past few years. Everything that happened with my dad passing, the perspective that came with that has made me see things much differently than ever before. The way I treat every day, I enjoy coming to the rink, I enjoy competing, working on my game, the sights and sounds of the rink – I'm grateful for it all. Even after COVID, being able to enjoy your time together as a group on the road, you appreciate all of that more and more. I guess it's a matter of perspective, but it's all about enjoying the league and enjoying the game."
Having his best season to date, offensively, and playing on a team that has enjoyed a strong start to the 2022-23 season, Morrissey is having fun.
As much as he can ever recall having at the NHL level.
"The individual stuff is what it is, but being on a good team, and a team that is winning games and has the potential to reach the playoffs, that's what success is really all about. Playing on a non-playoff team last season, when you had a good game, maybe scored a couple of points, and your team loses, that's not rewarding. The individual stuff is nice – you'd be lying if you said it wasn't – but at the end of the day, it's the team stuff that matters. Most of the time, if the team is playing well, the individual part takes care of itself. Hopefully, we can keep our good start going and get better as a group."
Now in his seventh NHL season, Morrissey, by no means a veteran at 27, enjoys any opportunity to offer words of support or advice similar to what he heard when he broke into the league.
"I feel like a young guy. It goes by fast. You blink and now it's my seventh season. It's pretty crazy how fast it goes. And now, I go to dinner with Cole Perfetti and he's not a big sushi guy. So, there's some first for him. It's kind of come full circle for that one."
Morrissey, who won gold with Canada at the 2015 IIHF World Junior Championship and was named to the tournament's First All-Star Team, is grateful for the journey, highs and lows, and everything in between.
He's looking forward to seeing what lies ahead.
"It's very hard to get here. You get an opportunity, but you have to make the most of it. I've had great coaches, and great teammates that have made me better. I had great leadership from the guys when I first broke in, which helped me get better. Overall, I've taken the same approach every day, constantly working on my game to keep raising the bar."
"When you think you've reached the pinnacle and there's nothing else you can improve at, you're in trouble. You hear the great players in the league talking about it all the time, they are trying to find ways to up their game. And everyone can. If you can do something nine times out of 10, maybe the next time you can do it 10 out of 10 times. That's the mentality I've had. I work hard on my game in the offseason and always try to get better, and never take anything for granted."
At the same time, Morrissey wants to enjoy the ride while going up against the game's elite night after night.
If he ever needs a reminder of that approach, he thinks about that advice from a former teammate.
"You work so hard to get to this point and it goes by so fast, you have to enjoy the whole part of it. And it benefits your game that much more. It's not just the lighter side of the game, you have to enjoy competing, those battles, going up against the best players and not worrying about making a mistake. It's about leaving it all out there and going after it. That's what's fun."