Josh Morrisey saddled up for playoff action with new pal, Ace
From riding horses to being thankful for the occasional barn cat as a kid, Josh Morrissey has always treasured a connection with animals.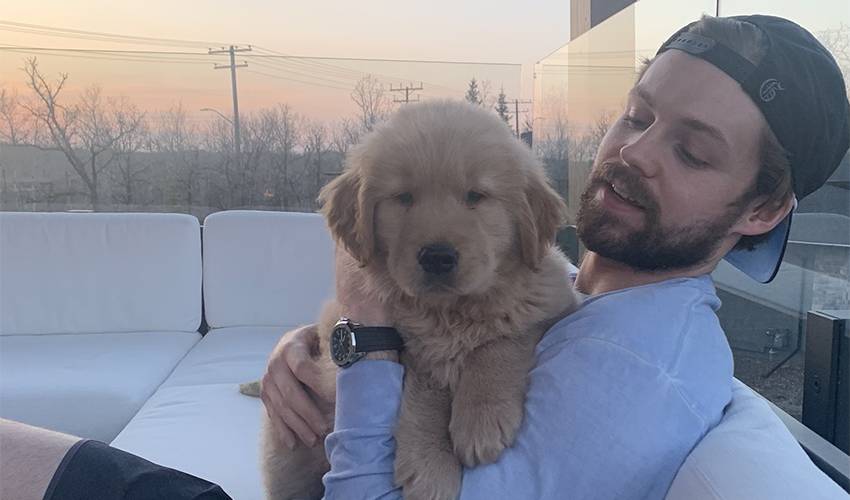 Feature photo courtesy of Josh Morrissey
---
From horse trails to chasing the Stanley Cup, Josh Morrissey has always enjoyed saddling up for adventure.
"We would ride horses as a family when I was young," recalled the 26-year-old Winnipeg Jets defenceman. "When I was a kid, I went riding a little bit with my parents before we made the move to Calgary. Those were good days. I can still recall a lot of those times."
Many of Josh's childhood memories are centred around animals, some of which didn't even belong to the Morrissey family.
"Having the horses was great and we also had a golden retriever named Morgan. There were always some barn cats that made sure mice weren't getting in too often. It was fun being around all kinds of animals, getting to see those different personalities. With the horses, I would help my dad him as much as I could, cleaning out the stalls, helping feed them, things like that."
Caring for the animals gave Morrissey an appreciation for the hard work his parents put in every day and provided him with an early understanding of the importance of teamwork. But it wasn't always smiles whenever he lent a helping hand.
"There weren't nearly as many electronics around back then – iPads didn't come out until I was a teenager – so we were always outside and doing something. I loved being around my dad, hanging out in the barn and thinking I was doing a lot of jobs. It's funny, but my dad would tell me to go work on something, like fixing a fence, shoveling, or things like that, and I'd be over there with my little tool set thinking I was working away. He would be doing all the work, but I'd be out there for hours. I'd cry when my mom would come get me and bring me in to go to bed. But those were fun times and I look back fondly on those days."
Morrissey recently rekindled his love of animals through the addition of a four-legged friend. The Jets' 13th overall draft pick in 2013, along with his fiancée, Margot, are now the proud of owners of a golden retriever they named Ace.
"When my family moved to Calgary, hockey and sports really began to take over for my brother and I so we were busy with that and school… we didn't have pets for a number of years. My fiancée and I talked about getting a dog for a while, but we kept pushing it off. Like a lot of people, I think, when the pandemic started, we had a lot of free time on our hands, and that gives you the ability to devote the time you need when you have a puppy…we've had him now for about a month and a bit. It's all we can handle, but it's a lot of fun."
Fun is also a consistent theme in Morrissey's life on and off the ice these days. After a first-round series sweep over the Edmonton Oilers, the Jets are in the Second Round of the Stanley Cup Playoffs against the Montreal Canadiens.
"You want to make the most of any opportunity you get to play for the Stanley Cup. Obviously, it's been a unique season in a lot of ways, but you're grateful to be in the playoffs. I feel very lucky to go to the rink every day."
It's not quite the animal farm he was used to, but Morrissey now has Ace to help him escape the pressures of playoff hockey.
"Growing up, it was great to have that experience of being around different animals. They always made you smile. And now that we have Ace, it makes coming home from the rink, whether it was a good or bad game, a little more fun. With the weather getting a little better, it's nice that we can take him out for a walk and try to teach him a few little tricks. It's nice to have that connection to animals again."
If the Jets go on to win the Stanley Cup, Ace will be ready for his photo session with hockey's iconic trophy.
"That would be pretty special, for sure. Let's hope for that."