Johnson savoring first trip to final as longest-tenured Av
Erik Johnson is doing all he can to make the most of his first trip to the Stanley Cup Final.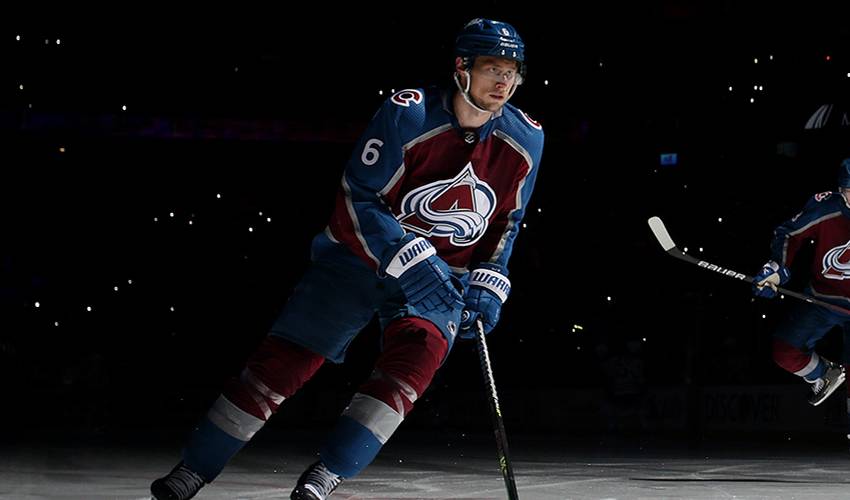 Feature photo: Getty Images
---
If good things do indeed come to those who wait, Erik Johnson could be in for something special.
Prior to this year's run to the Stanley Cup Final, the 34-year-old defenceman from Bloomington, Minnesota, had made a grand total of 28 NHL playoff appearances. From 2014 to 2018, he didn't see any playoff action.
This season, however, the first overall pick of the St. Louis Blues at the 2006 NHL Draft finds himself in unfamiliar territory.
"The goal, for as long as you can remember, is to play for the Cup," he told NHLPA.com. "Obviously, that's what you always dream about, even before you make it to the NHL. And every year that you're here, you want to have that experience more and more."
The road to his first Stanley Cup Final appearance has been a long one, dotted with 857 regular-season games and 42 postseason appearances that ultimately resulted in watching other teams vie for Stanley Cup glory.
Before this season, the furthest Johnson had been in the playoffs was the 2018-19 Western Conference second round, where Colorado lost the series to the San Jose Sharks in a heart-wrenching 3-2 loss in Game 7.
From a 2016-17 team that posted a league-worst 48 points, he and the Avalanche have since climbed their way up – finishing as last season's Presidents' Trophy winners and this season's Western Conference champions en route to the chance to hoist hockey's greatest team prize.
So, if it seems like Johnson is enjoying the ride this time around, he most certainly is.
Before the final, Colorado had posted a 12-2 mark in the playoffs, including a perfect 7-0 on the road.
The blueliner, and longest tenured Avalanche player, has rave reviews for the balanced approach he and his teammates have taken in the postseason.
"Everybody knows their role," said Johnson. "All egos are checked at the door, and everyone is pulling the same rope."
It's a formula that has been highly effective for the Avalanche, a team seeking its first Stanley Cup crown since 2001 and third in franchise history (Colorado also won it all in 1996).
Johnson has been laser-focused on his role and what he can do to deliver Denver another championship.
Off-days or in between series, the 6-foot-4, 225-pounder is doing his hockey homework, scouting the opposition and looking for ways to gain the upper-hand against his rivals.
"I'm really just studying everything. 5-on-5, pre scout. 6-on-5, the powerplay, penalty kill, the other goalie. The key is to be as fully prepared as you can be, to make sure you feel as comfortable as possible when you step on the ice."
Averaging 16:53 minutes of ice time in this year's playoffs, Johnson has been largely paired on the blue line with Bowen Byram, who just turned 21.
Despite a 13-year age gap and an entirely different style of hockey, the two have formed a formidable duo, a combination of experience and youth, physical play and offensive savvy.
The two are also tight off the ice, where good-natured barbs fly back and forth on an almost daily basis.
"He's been playing forever," Byram joked to reporters.
When it comes to his personal on-ice blueprint for success, Johnson has crafted a simple, yet effective post-season game plan.
So far, it's been near perfection.
"What it all comes down to for me is treating every play and read with the utmost importance. That's the main priority whenever I take a shift."
It's one piece of the puzzle, Johnson hopes, that ultimately pays off with him and his teammates hoisting the Cup aloft.
"No matter how long you've been in the league, you always wish to get that chance. That's what you play for. I couldn't ask for a better group of guys to be playing with."