Travis Boyd focused on making the most out of every opportunity
Fresh off signing a two-year contract extension, Arizona Coyotes forward Travis Boyd is thankful for the opportunities that have come his way.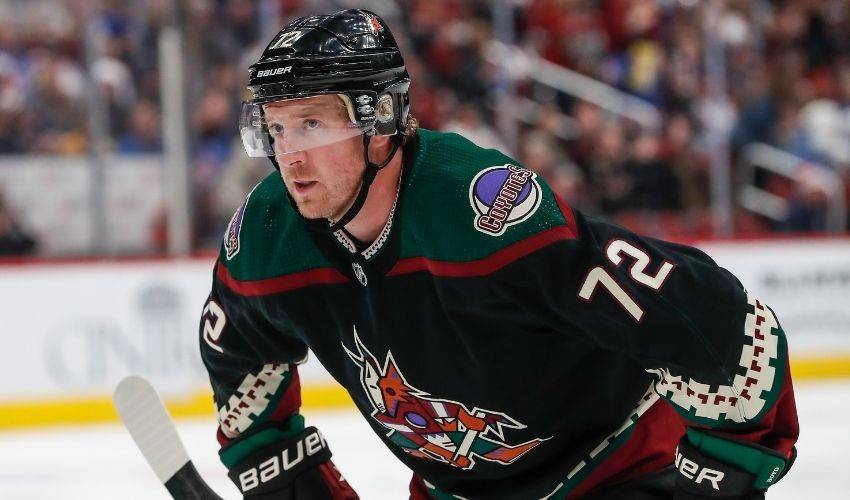 Feature photo: Getty Images
---
Making a meaningful difference is par for the course these days for Travis Boyd.
The exact moment of when he knew it was going to be his most memorable NHL season to date is hard to pinpoint, but the Arizona Coyotes forward, who is fresh off inking a new two-year contract extension, continues to be thankful for the opportunities that continue to come his way.
"I can't recall a certain game or time when I thought it could be a good year. Going into the season, there were opportunities for me, and I was just focused on doing everything I could to make the most of them. That's what I was looking for," explained the 28-year-old forward who is closing in on 200 NHL games. "You always hope for those chances and when they do happen, you go after them. I was able to get that, and I think I've taken advantage of it. That's something I'm proud of because it's hard to get opportunities in this league. You think about how many good players there are, and how long good players play for, and there's not many spots open. For me to stick with it as long as I have, I'm really proud of that."
Boyd has already set a slew of career-best marks during his first year with the Coyotes, highlighted by his 12 goals and 27 points this season. He is also seeing the ice more than he ever has at the NHL level and continues to be counted on in a variety of different ways.
The Minnesota native, selected by the Washington Capitals in the sixth round of the 2011 NHL Draft, is also showing off his versatility on a nightly basis.
He points to his early days in sports as laying the foundation for that well-rounded skill set.
"I played baseball, soccer and hockey," recalled Boyd, who suited up with Washington, Toronto and Vancouver prior to signing with the Coyotes as a free agent last August. "I also played golf. I was always really busy. I remember when I was a kid, especially those early teenage years, when sports really started amping up, there were a few summers where I had three sports in one day. I did everything I wanted to do and enjoyed every single second of it. I think everyone should play multiple sports as a kid. You learn a lot from playing other sports and can really apply that to the sport you end up sticking with."
Playing soccer, Boyd noted, continues to have a big influence in his hockey career.
"With some sports, you could probably find some easier comparisons to hockey, but I think about all the years I played soccer growing up, and how many times a game now, in hockey, I end up using my feet, not just to skate, but to catch a pass, or kick it over to somebody, or corral a pass and kick it to your stick – things like that, they apply to other sports, whether you think about it or not. I think being able to take what you've learned from other sports is like adding another tool to your belt."
During his early NHL days, Boyd, who played his collegiate hockey at the University of Minnesota, made a conscious effort to be a player that could be called upon consistently to make an impact.
"Looking back at my career, early on, I worked to develop other areas of my game – being able to play on the wing, being able to kill penalties – that's kind of the product of my journey to where I'm at," said the forward, who made his NHL debut with the Washington Capitals on December 4, 2017. "It's definitely paying dividends for me now, where you contribute in different ways, and your team can look to you to do different things on any night."
That blueprint for success has paid off with Boyd's best NHL season to date.
His efforts certainly haven't gone unnoticed with his recent contract extension.
"He is a versatile, skilled centre who has been a great addition to our forward group and we look forward to having him on our roster next season," said Coyotes general manager Bill Armstrong when the Coyotes announced Boyd's contract extension.
It appears versatility might run in the Boyd family.
His daughter, Hayden, is already showing a flair for variety with sports.
"We all go golfing together, which is nice. We take our daughter out with us, and she'll play a bit. If not, my daughter loves to swim. We have a pool in our backyard, so it's pretty easy to take a few steps outside and go for a swim. I'm pushing golf, but we'll see how she takes to that. She does gymnastics too, a couple times a week, which she likes as well. That's what is so great about sports when you're a kid. It teaches you so many lessons about life. I don't care what it is, as long as it's something for her to like and practice at, to understand how if you work hard that you'll get better at something."
Hayden has the perfect role model to look to.
"I'm a big sports guy and I still am. I just want our daughter to go out and try things, whether they stick or not."
So far, Hayden seems like she's enjoying her time on the fairways and greens – at least one part of life on the links.
"My favourite part is riding in the golf cart," she offered.
If Hayden does make it to the LPGA ranks one day, Boyd would jump at the chance to be her caddie.
"That wouldn't be a bad life at all. I could definitely handle that."
For now, Boyd will focus his energies on the ice, looking to build upon a breakthrough season.
No need to ask if life at the rink and on the home front is good these days.
And not only for himself.
"The biggest thing I've experienced this year is that once you get opportunities, you start making some plays or scoring some goals, all of a sudden you get more confidence. I've always said that confidence breeds more confidence. So, to re-sign down here, it's obviously huge for my family too. It gives us some stability in our lives for a few years. We all love it here."