Newhook siblings credit competitive nature to their collective hockey success
When it comes to their hockey careers, siblings Abby and Alex Newhook are each other's biggest fans.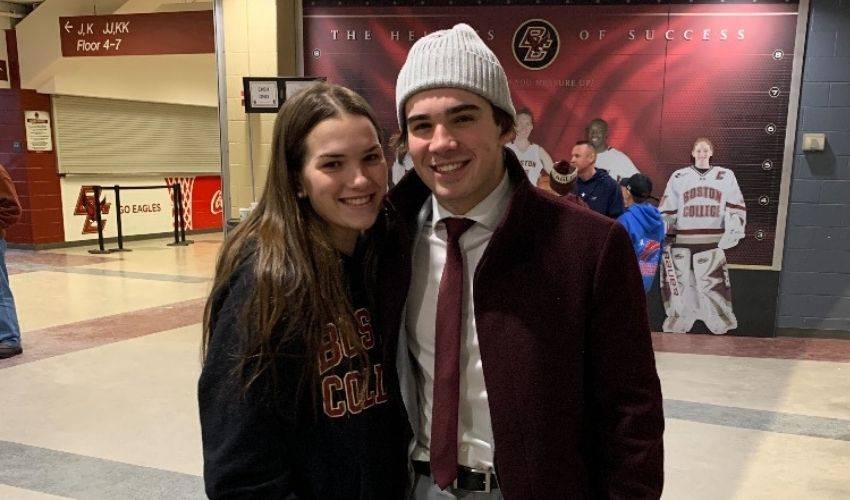 Feature photo courtesy of Abby Newhook
---
The days of a sibling rivalry between Alex and Abby Newhook are long gone.
Mutual admiration is what the 21-year-old Colorado Avalanche forward and his 18-year-old sister – a rookie standout with Boston College – are all about these days.
It wasn't always that way for the St. John's, Newfoundland, natives.
"We've definitely become closer over the years," said Abby, who recorded 32 points, 17 of them goals, over 34 games in her 2021-22 NCAA rookie season. "It's something that usually happens over time. When we were younger, we were still close, but there were times when we did get a little aggressive with one another. We weren't those siblings that used to fight all the time, but I would say I was the instigator."
Whether it was playing hockey in the basement or on the street, things could get rather spirited at times.
"We would play a checking game where I would line up against the couch and he would run at me and try to knock me over," continued Abby. "I was definitely super competitive with him. In street hockey, I remember he won the game once, and I might have put my stick to his face."
Alex, who's enjoying a breakout rookie season for the Avalanche with 23 points in 51 games, including four game-winning goals, chuckled at the recollection.
"Oh yeah. It got pretty competitive when we would play in the basement or on the street."
Errant elbows and sticking infractions are no longer an occurrence between the pair.
Instead, the forwards, who once played minor hockey together, have become each other's biggest supporter.
"We have a really close connection," said Alex, who also starred for Boston College prior to his NHL career, earning the 2019-20 Tim Taylor Award as the NCAA Division I Rookie of the Year, the first player from the school to do so. "She was always around the rink when I was growing up, and we actually played on a team together for a little bit. We have a great bond and it's nice to see her become successful in her hockey world, and to share in that together."
Abby, who captained the 2020-21 Tabor Academy women's hockey team, also fondly recalls those days playing alongside her older brother.
"It was awesome. I was the youngest by a couple of years, but Alex was always very inclusive. It was all of his friends, so it was great for me to look up to him and to them. He always looked out for me on the ice and the locker room, everywhere really. At a young age, that was cool to see. He's been a role for model for me growing up and he still continues to be one."
Alex, drafted 16th overall by the Avalanche in 2019, rates his sister's game very highly.
At the NHL Draft, Alex was tasked with filling out a questionnaire designed to give insight into his personality.
One of the questions posed, "Not a lot of people know that I ..." His response? "Have a sister who is better than me at hockey."
Fast-forward to the present, and it seems he still feels that way.
"Just watching her throughout the years, her hockey IQ and hockey sense is really strong, and that's fun to watch. Not everyone has that, so to see her make plays not a lot of people can at her level, it really is amazing. She's been so consistent and has always found a way to be a top player at whatever level she's been at. It speaks a lot to her character and work ethic."
Abby, who also excelled at soccer, softball and lacrosse, offered up similar high praise for Alex.
"His speed is just unbelievable. Once he gets going, he just separates himself from the other players. Just being my brother and seeing him play in the NHL, is so cool too. He's just a lot of fun to watch. I would say we're both power forwards. My shot is kind of like his. He's definitely a lot faster than me, but I'm working on that. We both see the ice well and we both work well in the corners and are good playmakers."
When their respective hockey seasons are over, the siblings spend a fair bit of time together back home on Canada's East coast.
Perhaps the only squabble these days occurs when the bill comes.
"We love going out for brunch," noted Abby. "When we're home in the summer, we're usually training together. When we're not, we'll go out for brunch or supper. I guess a lot of it revolves around food. We like to go golfing too. He's a lot better than I am because I just started, so it's not that competitive yet. But I am working on my game."
Their respective competitive nature has provided a big assist to both siblings in their hockey development.
"I knew coming into things that this was a really strong team [in Colorado], and my mindset was to try and contribute any way I could," said Alex. "Before the season, I focused on what I can do to be a contributor, to be successful and a difference maker on this team. I found myself in a role where I could do that and be part of that success. And when you have the support of so many people, like my parents and my sister, that makes all the difference in the world.
"I wouldn't be here if it weren't for them and their support," continued the centreman. "My mom and dad have been so supportive and made a lot of sacrifices for me. I left home at 14 – I don't think a lot of parents would do that – because they saw what I wanted to do and where I wanted my career to go. They allowed me to do that. My dad coached me a lot when I was young and he played, so he's been a huge role model for me. He still is today. My mom and my sister have always been in my corner too. I consider myself very fortunate to have all of that support."
As does Abby, who is chasing several of her own hockey goals, collegiately, and otherwise.
"Short term, with my Boston College team, I'd love to win the national championship, win the conference or the Beanpot – that would be awesome. Long term, I would love to play on the [Canadian] Olympic team one day. There's lot of work that has to be done, but that's been a dream of mine forever. Shorter term, on that side of things, getting invited to the U-22 Team Canada camp this summer is another goal."
For Alex, the ultimate goal is to lift the Stanley Cup.
He feels he is on the right track with his teammates.
"I've had great experiences with the guys, who have been really welcoming to me, especially last year, coming in from college. We've had a lot of guys who have taken the college route to the pros. A lot of those guys who have been in that situation in years previous know that path. Guys like Cale [Makar], [Tyson] Jost, [J.T.] Compher, they showed me the ropes coming in. The veteran guys have been great too, knowing what it's like to be in the league and helping rookies out in any way. The leadership is amazing. We have such a diverse leadership group and that was something I noticed right away. I'm happy to be part of this group."
And happy to know he'll have one of his biggest fans cheering him on.
"I really enjoy the chance to watch her play, to see how amazing she is. She's always been there for me and that means a lot."