After setting an Olympic scoring record and capturing gold, Sarah Nurse reflects on the journey to Beijing
The recent gold medal victory has further fuelled Nurse to inspire a new generation of players to chase their hockey dreams.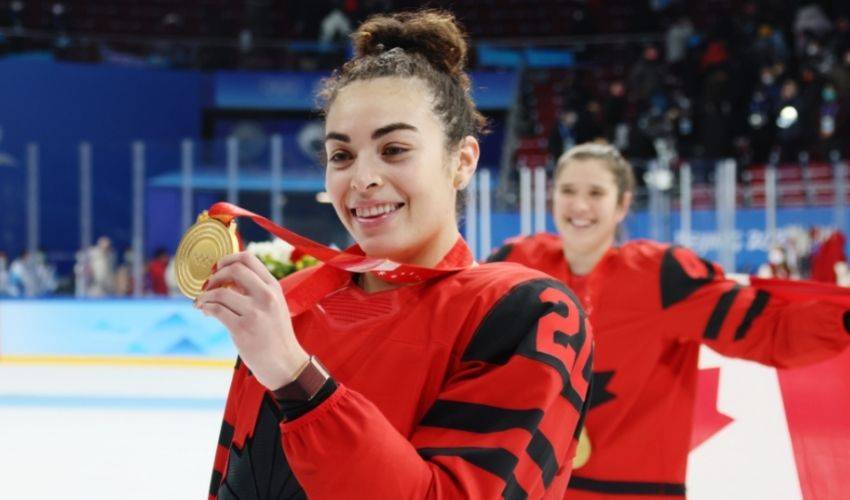 Feature photo: Getty Images
---
There is no need to ask Sarah Nurse if life is good these days.
After what one of hockey's biggest stars accomplished at the recent Winter Olympics, her ear-to-ear smile isn't about to fade any time soon.
Nurse was a key member of the Canadian women's team that defeated the United States 3-2 in the gold medal game in Beijing. The winger, who won silver at the 2018 PyeongChang Olympics, notched a goal and an assist in the deciding game.
"I keep going back and forth, sometimes I sit here and think about it, and I'm reflecting. I think, 'We did that. We just won a gold medal.' And then I'll look at my gold medal and say, 'Is this really mine?' I think I've gone back and forth a lot, where it feels very real and then other times, it feels just like a dream."
The reality for Nurse is a dream come true, winning Olympic gold as a proud member of the Canadian National Women's Team.
The recent gold medal victory is just one of the many things the Hamilton, Ontario native has managed to accomplish.
Aside from becoming the first Black woman to win ice hockey gold at the Olympics, Nurse's 18 points now tops the list for most points ever recorded in a women's Olympics tournament, surpassing Hall of Fame legend Hayley Wickenheiser's 17 points in the 2006 Olympics. Nurse also recorded 13 assists to net another record for most assists recorded in a single Olympic tournament.
"Every step along the way throughout the journey in Beijing, we felt the love from Canada," started Nurse. "To be able to bring back a gold medal to this country, to all of the people who have supported us, it's so, so special. All of the messages that I received, from family and friends, from people I had never met before, they were all so meaningful.
"I think there are so many moments that come to mind when you look back on this. Obviously, throughout the [gold medal] game, you think of certain plays you were part of. But honestly, when I think about us winning a gold medal, I think about so many moments throughout the season that came to fruition, and it all seemed to make sense. Looking back at the beginning of the tournament, we knew we were going to leave Beijing with a gold medal. That's not trying to be cocky, that's just how confident we were as a group … we knew we were leaving Beijing with a gold medal."
Nurse, who first dreamed of that moment at the age of seven when she watched the Canadian National Women's Team strike gold at the 2002 Salt Lake City Olympics, brought back more than just a tangible reminder of the victory.
The win further fuelled her efforts to inspire a new generation of players to chase their hockey dreams.
"I've been vocal about this, but in 2002, that was the first time I saw women's hockey, so I saw Hayley Wickenheiser and Jayna Hefford crash into the net after they won the game. I think of that inspiration and that I'm able to speak these days with Jayna, who is the leader of the PWHPA [Professional Women's Hockey Players Association]. It's a full-circle moment. I know that 20 years from now, there is going to be an entire Team Canada of girls who watched our game, who will one day be able to say, 'You were the team that inspired us. You were the team who sparked our Team Canada dream.' I think that's the beauty of all this, the fact that it's such a close-knit women's hockey community that is going to keep going for generations to come."
It's one of many reasons why Nurse, who serves as a player representative on the PWHPA's board, which represents over 200 of the top female hockey players in the world, is passionate about continuing to grow the women's game.
"We see the numbers of little girls playing hockey increasing and I think that's absolutely amazing," Nurse told NHLPA.com last March. "We want to see it increasing, but the reason we want to establish this professional space is so that we don't put all these little girls in sports and then say, 'Here, you can play sports, but there's a cap on your career. I hope you had fun.' Creating a professional space is going to encourage more girls to join because they see it. They see their role models and they see they can achieve it."
Nurse and some of her teammates will face-off against some of their Olympic rivals when they take on Team USA, co-hosted by the PWHPA and the Pittsburgh Penguins, on March 12 in Pittsburgh.
The game will offer the 27-year-old a chance to meet and speak with young female hockey players hoping to follow in players like Nurse's footsteps.
Those interactions are something the former University of Wisconsin standout gladly makes time for.
"I look at each of my [Olympic] teammates and we've each had a different path, all have different stories to where we are today in 2022. It's so important for all of those stories to be shared and to be told because they do make up the greater story that was this team and this run. I hope the legacy that myself and my teammates can leave behind is really going to be a great one and one that inspires the next generation."
Whenever she does have conversations with kids, she will likely offer up one particular piece of advice given to her by a Canadian hockey icon.
"It was in the last few years, actually," said Nurse, whose cousin, Darnell, plays defence for the Edmonton Oilers. "I was doing an event with [Hockey Hall of Fame inductee] Cassie Campbell-Pascall. She's such an incredible person and an incredible player. She was able to be in and around our team this season, in an advisory-type role. She said to the group, 'Believe that you belong.' For me, that really hit home. There were so many times where the faith may be wavering or the confidence may be wavering. If you have this belief that you belong in any room you're in, any space, and you just believe in yourself, great things will happen."
Exactly as it has for the person who has set the gold standard as the perfect, pay-it-forward role model.