Sarah Nurse, dedicated to PWHPA vision, pushing for change
When she's on the ice, Sarah Nurse brings game-changing skill as an elite athlete. When she's off the ice, she brings that same drive to leveling the playing field.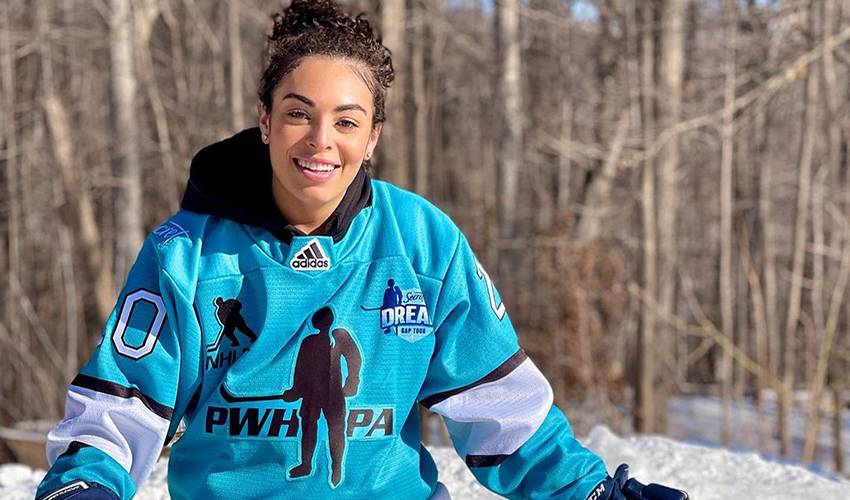 Feature photo: Instagram / @nursey16
---
When she's on the ice, Sarah Nurse brings game-changing skill as an elite athlete.
When she's off the ice, she brings that same drive to leveling the playing field.
Nurse's hockey resume is outstanding. In her Olympic debut at PyeongChang 2018, she earned a silver medal with Team Canada and a year later won bronze at the 2019 IIHF World Women's Championship. She won gold at the 2013 IIHF U18 Women's World Championship, and she was a collegiate standout for the National Women's Development team as a three-time NCAA Conference Champion and 2015 WCHA Most Outstanding Player Award recipient.
It would be understandable if any conversation with the 26-year-old Nurse involved at least some mention, however fleeting, about some of those accomplishments.
But that's not what drives the well-spoken native of Hamilton, Ontario.
What fuels her passion is making the game more inclusive – now and for the future female hockey players who will follow.
Nurse is one of many prominent talented players of the Professional Women's Hockey Players Association (PWHPA). She also serves as a player representative on the PWHPA's board for the over 200 top female hockey players in the world who banded together to create the association in May 2019.
The association's second installment of the PWHPA Dream Gap Tour recently got kicked off with a pair of games in Somerset, New Jersey, and the iconic Madison Square Garden in New York City. The tour's most recent stop was in Chicago March 6 and 7 with games played at United Center.
As noted on the PWHPA website, its mission is four-fold: to promote, advance, and support a single, viable professional women's ice hockey league in North America that showcases the greatest product of women's professional ice hockey in the world; to provide a united voice to players advocating for the creation of a sustainable professional league; to coordinate training needs and programming opportunities during the current season, and to collaborate with like-minded organizations to make hockey more inclusive for women today and for the girls of the next generation.
"For us, when the PWHPA was originally established, we were very passionate about moving our game forward in the professional space," Nurse told NHLPA.com. "There are so many amazing opportunities at the grassroots level. There are more female hockey players playing the game than ever before, but where we're really lacking is in the professional atmosphere.
"We've had leagues that have been termed professional before, but we don't believe there is a true professional hockey league right now. We want that professionalism for us and for the next generation. As a professional athlete, there are certain things that implies and entails when we are referred to as that. It's almost not fair because we are regarded as professional athletes, but we're not treated as professional athletes. We established the PWHPA because we want to see true professionalism for women's hockey."
Having someone with Nurse's hockey experiences along with other notable players who are part of the PWHPA, has helped expand the scope of the association and their objectives, both in the short and long term.
Since the NHLPA was announced as a premier partner in 2019, the association has attracted key corporate sponsors, including the likes of Secret, Sonnet Insurance and Bauer Hockey.
"I know that we're all on the same page at the PWHPA. We're a very united front. I know we're all in the business of winning hockey games and winning championships, and that will always be a part of our careers that we love, but it's ultimately for the next generation. For the longest time, that's what we've really been doing it for, those little girls that have been coming to our games for years and seeing the impact we have on them. It's pretty incredible in knowing that we are all working as hard as we can."
Nurse, who scored 76 goals and recorded 137 points in 160 career U.S. collegiate games for the Wisconsin Badgers, views those efforts as a labour of love.
While the challenges are many, Nurse acknowledges there is reason for optimism when it comes to the goal of creating a sustainable women's hockey league.
The end goal for women's hockey, she noted, is correcting a familiar ending for those who play it.
"We see the numbers of little girls playing hockey increasing and I think that's absolutely amazing. We want to see it increasing, but the reason we want to establish this professional space is so that we don't put all these little girls in sports and then say, 'Here, you can play sports, but there's a cap on your career. I hope you had fun.' Creating a professional space is going to encourage more girls to join because they see it. They see their role models and they see they can achieve it."
Nurse is an exemplar of the ideal role model, a person whose passion for the game along with her ability is matched by a commitment to pushing for change in women's hockey.
Her impact on the sport hasn't gone unnoticed.
Last year, in a partnership with Mattel and the Hockey Canada Foundation, Tim Hortons sold Barbie dolls, featuring Nurse and her teammate, Olympic standout Marie-Philip Poulin.
All sales from the limited edition dolls were donated to support girls' underrepresentation in youth hockey through the Hockey Canada Foundation.
"When I was growing up, a lot of my teammates and a lot of women in sport had that tomboy stereotype when they were kids. I actually didn't have that. I was the kid that loved dresses, I loved pink and I loved Barbies. I would get them for Christmas and I loved playing with them. But that wasn't cool for girls who played sports. So, I just want certain things like this to empower girls, to like whatever they want, to do whatever they want to do… because they can do anything.
"If they want to play sports and they want to wear a pink dress after the game, they can absolutely do that. For me, I only saw Barbies wearing dresses. I never saw a soccer-playing Barbie or a hockey-playing Barbie. This just really opens the door to different types of inclusion. To see themselves in a doll is really special."
Nurse remains dedicated to the PWHPA's vision, encouraged by a wider acceptance of women's hockey, but fully aware of the hurdles that stand in the way of a viable professional league for players to call their own.
Much like her on-ice persona, she's not afraid to work overtime to attain the ultimate goal.
And she's willing to speak up for what she believes in.
"I think that hockey has to work a little harder than anybody else because of the demographics right now. The barriers to entry are so tough because there's a huge cost when it comes to hockey. Ultimately, we need to change the face of our game. We need to have women in positions of power. That's how you're going to bring new experiences and new opinions into the game. When you have different experiences around the table you can be really successful. We've seen that diversity creates successful businesses and corporations. I think the face of hockey needs to change to look inclusive so that we attract more people. We all talk about hiring practices. Why don't we hire more people of colour? Why don't hire more women? Well, are those people applying for the jobs? Do they feel welcome? That's something that needs to be addressed as well."
If she ever feels the need to bounce ideas off someone, all she has do it is keep it in the family, so to speak.
Darnell Nurse, her cousin, is a mainstay on the Edmonton Oilers blue line and an NHLPA Player Rep for his club.
The cousins were recently part of the Everyone Deserves A Team series, a joint initiative between Sonnet and the NHLPA Goals & Dreams fund, which surprised kids from youth programs across Canada through a series of virtual meetings with some of hockey's biggest stars.
"We've had conversations and we're two hockey players that have had similar experiences," said Nurse, whose other cousin, Kia Nurse, is a star basketball player competing in the Women's National Basketball Association. "Darnell and I have been able to accomplish some pretty great things, so conversations I've had with him have been very cool, about where we are in the world. We've done some promotional things together, Zoom calls with young kids, and having some great chats with them. We get to answer back and forth which is fun. It takes you back to when we were kids and all the fun we had with our teammates, the fun we had playing the game we love, which is the way it always should be."
Nurse wants the very same thing for female hockey players.
"Having the professional league is key, but the respect of girls in the game has been increasing over the last few years. It still has a long way to go, but there is a respect and acceptance of female athletes that we've never really seen before. It's really starting in the hockey world. I think we're a little bit behind compared to other sports, but I definitely see that wider acceptance of females playing hockey. That's very encouraging."