After the Buzzer | Patrice Bergeron
Boston Bruins captain Patrice Bergeron on his role as a leader and who has helped him out along the way in After the Buzzer.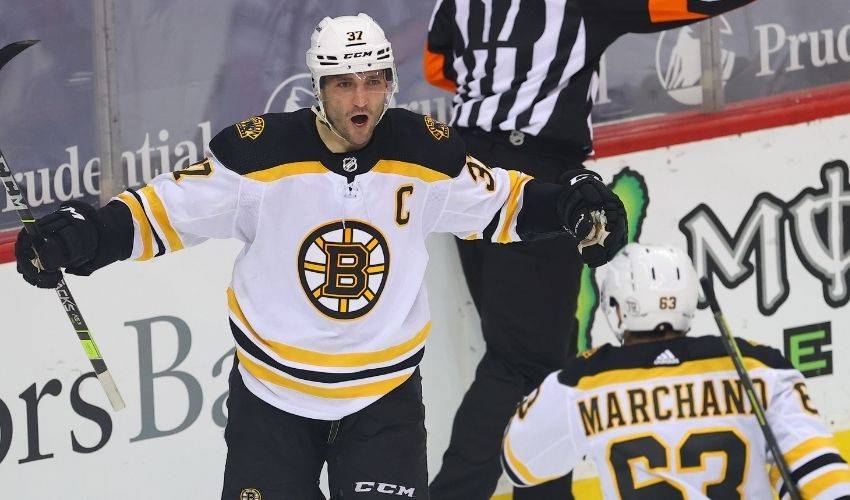 Feature Photo: Getty Images
From their bond with fans to their efforts in the community – and everything in between – 'After the Buzzer' is a weekly series taking readers beyond the rink to shine a light and provide insight on players' lives away from the game.
---
Patrice Bergeron's trophy case just got a bit bigger, but the Boston Bruins captain doesn't see his latest honour as an individual accomplishment.
The 35-year-old veteran of 1,143 regular-season NHL games recently stopped by NHLPA.com to talk leadership, tying for top spot in a NHLPA Player Poll category this season, summer plans and more.
MAKING HIS MARK
Bergeron was recently named the 2021 Mark Messier Leadership Award winner – an award which recognizes a player who exemplifies great leadership qualities to his team both on and off the ice during the regular season. Although the trophy now has his name on it, the 2011 Stanley Cup Champion and four-time Selke Trophy winner sees the award as a true team effort.
"It's a tremendous honour. It's one of those things where you realize how much support you have from your teammates and from your leadership group. It's been great to be a part of that. Learning from them and working to achieve our goals together has been a great experience. It's humbling and it's accepted with a lot of humility. There are a lot of people that have helped me receive this award."
HELPING HAND
Bergeron has plenty of praise for Boston alternate captains Brad Marchand and David Krejci, and he credits the leadership qualities the duo brings to the team.
"They have been a tremendous help to me and everyone on the team. I want them to lead in whatever way they want to lead. I want them to be themselves and I think that's how you can be successful as a team, to connect with them and have everyone feel comfortable. This award, it really isn't an individual award."

WORDS OF WISDOM
A long-time alternate captain, Bergeron was given the "C" by the Bruins on January 7, 2021. The announcement prompted recollections of helpful advice he has received over the years from his fellow players.
"Mark Recchi told me one time, 'Just speak with your heart.' When it's time to say something or whenever you want to say something, if your gut is telling you it's time to do that, trust that feeling and speak with your heart. I think that's the one thing that really stuck with me. I also had other people tell me to just be myself, to not overthink things. That only really helped me too."
CATCHING UP
Bergeron will be making the most out of the offseason – a chance for him to hang out with his wife and kids and reconnect with family and friends he hasn't seen for a while.
"There is definitely going to be a lot of dad time this summer, which will be great. We'll just find some fun things do together. We're also going to go home. We haven't seen our parents and siblings, nieces and nephews in a year, so it's going to be nice to get to see everyone again and have that opportunity to spend that quality time with one another again."
TIE GAME
To say that tying one of the best players in NHL history, and a former teammate on Team Canada, in a particular category in the 2020-21 NHLPA Player Poll is meaningful to Bergeron would be a huge understatement. It was an NHLPA Player Poll first when Bergeron and Sidney Crosby tied for top spot in the 'Who is the most complete player?' category, each receiving 23.78% (112 votes).
"The first word that comes to mind is humbling. I consider Sid the best player in the world for a long time. The way that he competes, the way that he plays, the way that he handles himself on and off the ice – just to be in the same category is humbling. It's flattering coming from your peers and the guys you battle against night in and night out. It's one of those things I have to thank Brad and David [Pastrnak] for… for making me look good."
PARTING SHOT
"My family has been very helpful. Growing up, I had my parents and brother helping me and teaching me important values as I started my career, which gave me the opportunity to spread my wings and find my way. I also have the love and support of my wife and my kids. It's been very important to me and something I cherish and am grateful for." – Bergeron, on the importance of his support network.