Patrice Bergeron's annual Pro-Am raises $425,000 for Quebec charities
Players from across the league turned out to support close friends Patrice Bergeron and Sam Gagné at the Gagné-Bergeron Pro-Am.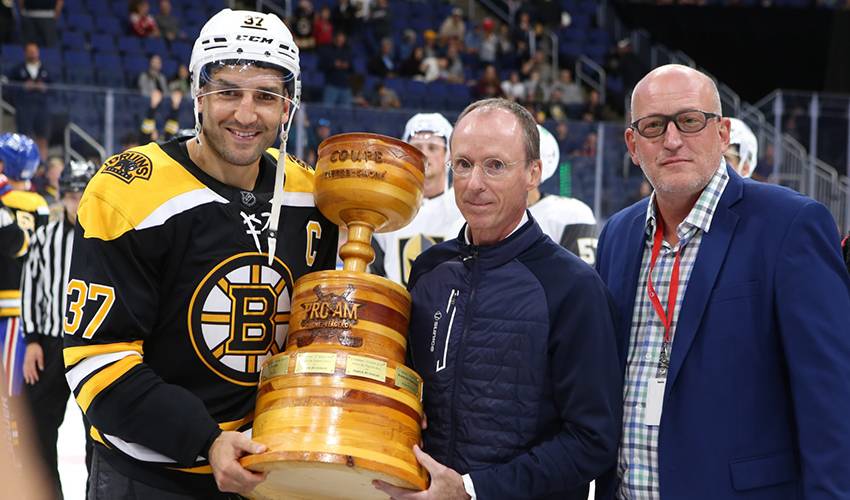 Feature photo: Marc-Andre Talbot Photography
---
Just like his game, Patrice Bergeron's annual charity event always manages to deliver.
Co-hosted alongside former NHL player Simon Gagné, the Gagné-Bergeron Pro-Am, which just completed its 12th edition – officially 14, if you include the two variations of it due to the COVID pandemic in 2020 and 2021 – saw 20 NHL players, Bergeron included, gather in Quebec City to raise funds and awareness for a quartet of causes.
"It was a great success," said Bergeron, who will play in his 19th NHL season in 2022-23. "We couldn't be happier with the way it all turned out. It really couldn't have gone any better."
Players from across the league turned out to support close friends Bergeron and Gagné.
Marc-André Fleury, Jonathan Huberdeau, Phillip Danault, Pierre-Luc Dubois, David Perron, Alexis Lafreniere, Thomas Chabot, David Savard, Jonathan Marchessault, Nicolas Roy, William Carrier, and Jack Eichel were just some of the names that attended and took part in a hockey game alongside amateur players.
"A lot of guys showed up, some big names," said Bergeron. "Even though it's not their event, everyone gets involved and wants to give back and are very generous with their time. When you start out in the NHL, you realize the importance of giving back, wanting to be part of that and wanting to give back, to make an impact. Giving up a small portion of your time can make a huge difference. That's what makes the event successful, the players being there, to take time from a busy schedule and come to a charity event to raise as much money as possible, to help kids, families and the community."
And that they did, in front of nearly 8,000 fans at the Videotron Centre (Le Centre Vidéotron) in Quebec City. The two teams wore the colours of the Vegas Golden Knights and Boston Bruins, the latter squad led by Hockey Hall of Fame defenceman and former Bruin, Ray Bourque.
Between the two 25-minute periods there was a musical performance by Jonathan Roy, son of goaltending great Patrick Roy.
Festivities got underway in the afternoon, at Place Jean-Béliveau, where those who turned out were treated to games, music and entertainment. Players also signed autographs prior to puck drop.
"Seeing the smiles, it makes you realize why you are doing this," said Bergeron. "If you ever need a reminder, and I don't think you do, it's a great gift to see the reaction of the kids and their families."
Over $425,000 was raised through the event, money that will be directed to help sick and disadvantaged children through a few initiatives: Pignon Bleu, Leucan, La Fondation Philippe Boucher and Fondation Maurice-Tanguay.
"That money will make a real difference in the Quebec region and we're extremely happy with it," said Bergeron, who was named the Bruins captain in January 2021. "It's important to help others whenever and wherever we can. It's always impressive to see the response and involvement the guys have. They want to do it and I'm very grateful for that."
A record five-time winner of the Frank J. Selke Trophy as the league's top defensive forward, Bergeron is proud of how the event has evolved over the years.
"It's actually 14 years, when you factor in the ones that we did in 2020 and 2021, different events from what we normally do. Since, we couldn't do it in person, we had an online version. We still raised some significant money, but it was really nice to have been able to see people in person again. … we did $425,000 this time. It's amazing to see how it has grown so much. We're really happy with it and with those who work so hard behind the scenes to make everything run smoothly, and the players coming out to support it. It's been a great ride."
Not unlike his impressive hockey career.