Gabriel committed to growth, allyship along push for positive change
Kurtis Gabriel is pushing for change, but he's also committed to growth as an ally.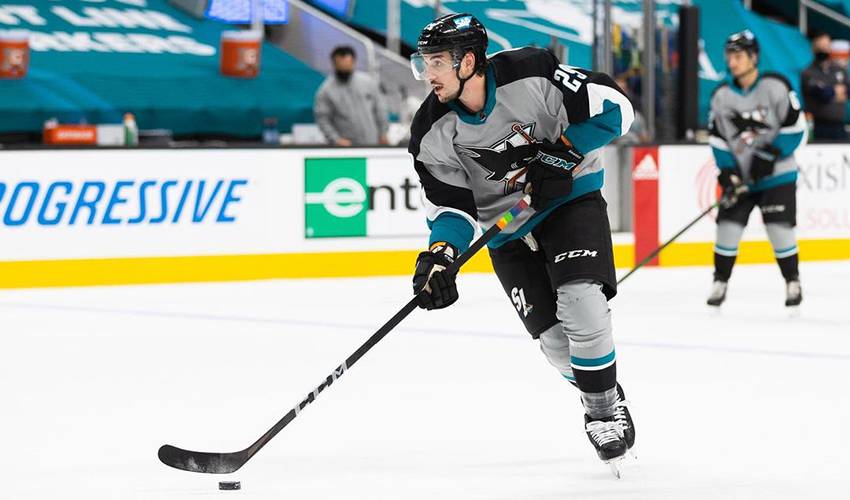 Feature Photo: Getty images
---
Kurtis Gabriel takes a momentary pause before he shares the words that best define his mission.
"What this all comes down to for me is truth and love. That's what is at the heart of it."
The 28-year-old winger for the San Jose Sharks knows he walks a fine line with his efforts to effect change on a wide number of fronts, including LGBTQ+ inclusion, social justice and advocating for mental health awareness. His hope in educating others on a variety of issues comes with a caveat, specifically, that Gabriel would like everyone to know he's still educating himself.
"I don't want to come off as a know-it-all," said the 81st overall pick in the 2013 NHL Draft by the Minnesota Wild. "What I want, more than anything, is to continue listening to others, learning more about people and their struggles and having open dialogue on how we can work together to make meaningful changes."
A major presence on social media, Gabriel, who lost his father to suicide when he was 10, uses his accounts to connect, amplify and share information with fans and the hockey community.
Often found sharing awareness for LGBTQ+ causes and participating in events, Gabriel doesn't shy away from engaging in conversations or using Pride Tape on his hockey sticks year-round.
The Newmarket, Ontario native, who often promotes mental health awareness on his social pages, has also assisted Black Girl Hockey Club and will auction off his skates for the Sharks Foundation during their Juneteenth auction June 17-19 with proceeds going to a diversity-focused non-profit organization.
Gabriel's efforts led to him being named a finalist for the 2021 King Clancy Memorial Trophy – an honour he shared with fellow NHLPA members P.K. Subban and Pekka Rinne, who ultimately won the award presented annually to the player who best exemplifies leadership qualities on and off the ice and made a noteworthy humanitarian contribution in his community.
"I was working out and saw my phone with a lot of messages coming through," Gabriel said of finding out he was a finalist. "It's pretty cool and it was completely unexpected. ... This is really for all the people I try and support with my platform. I'm just trying to use myself as a vessel for these issues."

Admittedly, there have been occasions where Gabriel has felt he could have interacted better in his social media posts.
On May 25, he took to Twitter to apologize for a comment he made. He immediately reached out to professional hockey player J.T. Brown and his wife, Lexi, to apologize. The apology was accepted by the Browns.
"While not my intent, in reflection I see how that was wrong," Gabriel's post read. "I need to do a better job of slowing down in these moments and ensure that my intent and execution match my desire to contribute positively. I promise you I'm learning and growing. I'm sorry and will do better."
It was an eye-opening experience for Gabriel.
"The people that are the most upset with me, who understand these issues deeply, are the ones I want to be hard on me. I want to be able to fully recognize my privilege and better amplify and support people, without centering on myself. I value all their opinions. Wanting to lend your support to these issues is one thing, but how to execute it properly, and be the best for those who live it every day, is another. Like anything worth doing it is a challenge, but very worth it."
Gabriel sees everything in his world, on and off the ice, as a learning process.
"That's what life really is and I think a lot of people get away from that. Everything we do should be approached with a growth mindset. It should never stop. Whether it's your own life, with family, friends and relationships, or your career – the key is to constantly learn."
Despite the ups and downs that come with the territory, Gabriel remains undeterred in his push for change. While he sees plenty of reasons to be optimistic about the issues he fights for, he's also aware there's much more work to be done.
"Jonathan Kliment is an East Coast play-by-play announcer. He came out, I believe it was 2002, and he said he's seen so much change as far as visibility. That's what I kind of base things on – there has been change, but there needs to be more of it. That's encouraging, and it only inspires you to keep going forward and maintaining that momentum.
"I'm encouraged by how out there everything is. I wasn't as plugged into it in the past, but it seems like more people are aware of some of the most important issues we face in society. I believe it comes down to whether you want to be on the right side of history or not. People who hold on to bigotry, ignorance and hate … they're just going to be pushed into smaller and smaller groups. What it comes down to is truth and love. Why can't those things be adopted by everyone? … We shouldn't even have to talk about these issues, but we are."
Gabriel feels a responsibility to play a role in those conversations. He's humbled to be in that position.
"The compassion that people have shown me stands out for me. The people who realize I make mistakes but know that I am trying to do the right thing. I think we can all be more loving and compassionate. At the end of the day, that's what is going to be a key in creating change."