Gabriel optimistic for future of inclusion
For Kurtis Gabriel, adulation was the last thing he was looking for.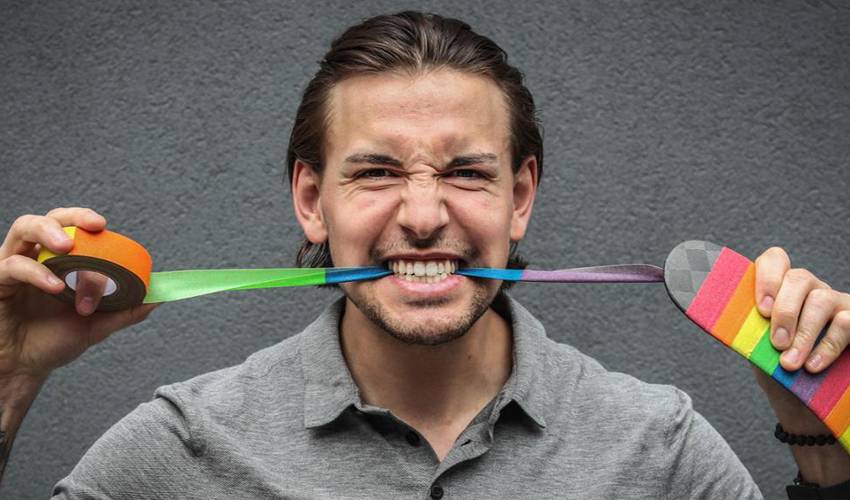 For Kurtis Gabriel, adulation was the last thing he was looking for.
When he took his first shift with New Jersey on February 25 at Prudential Center, Gabriel hit the ice with multi-coloured wrapped around the top of his stick as part of the Devils' third annual Pride Night.
Typically, players warm up during their Pride Night with rainbow-coloured tape, but switch to the traditional solid colours for the game.
Gabriel's decision to keep the more colourful look made an impact on and off the ice.
The 26-year-old scored the winning goal in a 2-1 victory against Montreal, but that wasn't what most people were talking about after the game was over.
With his show of support, Gabriel became the first NHLPA member to use Pride Tape in a game – a gesture he hadn't expected to generate much buzz.
After the win, he made his way back to the locker room and eventually picked up his cell phone. What he saw was dozens of messages, some from his family and friends congratulating him on his goal, with many others acknowledging his kind act.
"We had the Pride Night with the Devils, and I decided to put on the tape for the game," recalled Gabriel. "Didn't think much of it… to me it was a small thing. I didn't plan anything. It just goes along with what I believe and what I live every day. But it also helped having my girlfriend's friends who are a same-sex couple. I've seen one of them go through some struggles. I really felt for her. For me, it's about standing up for people that feel like they've been treated differently and unfairly."
The response to his show of support still takes the new Philadelphia Flyer aback.
"You don't do something like this for attention," said Gabriel who kept the tape on for the rest of the season.
"It just came about. It was very natural and organic. I was happy to see it take off a bit and mean a lot to a lot of people. It was nice to have people reaching out, people I played with when I was in Minnesota, and people I've met since. It's great to keep the conversation going toward more inclusion."
Gabriel hopes that dialogue continues to expand within NHL circles and beyond.
"Jeff McLean [co-founder of Pride Tape] said that hopefully one day we don't need the tape. That's the ultimate goal. It's about moving forward and maybe in five or 10 years, we can look back and say, 'Wow… this was really an issue?' Hopefully people can look back on it like that."
Gabriel credits his mother for instilling the values he carries with him to this day.
"It starts being raised by mom, who taught me to treat everyone equally and treat everybody the way you want to be treated. Growing up, it was about wanting to be a good person and have good morals."
He sees reasons for optimism when talk turns to acceptance of the LGBQT community.
The Ontario native admits there's a long way to go for it to become a reality, but he's seen signs that it's heading in a positive direction.
"I think the hockey community is one of the more accepting places. Hockey players have a reputation for being great guys. From my point of view, it's been very good in the NHL and I haven't had any backlash from any players or comments from guys I played with. Everyone is entitled to their own views, but the more we educate, the more we'll make it better."
The former third-round draft pick by Minnesota in 2013, who'll keep the tape on for the 2019-2020 NHL season, is happy to play his part.
"It's somewhere along the lines of embarrassing that I'd be getting attention for this. It's not exactly that word, but it's somewhat similar. I just feel that it's the right thing to do," offered Gabriel who participated in the Pride Parade in Toronto June 23.
"There's division in society about this, but hopefully we keep working at it. It's kind of weird talking to people about it sometimes. It's like, 'It's the right thing to do, nothing else to say.'"