Robertson brothers in lockstep
Jason and Nick Robertson have developed their game in lockstep – and share a similar message of inspiration to others hoping to achieve their goals.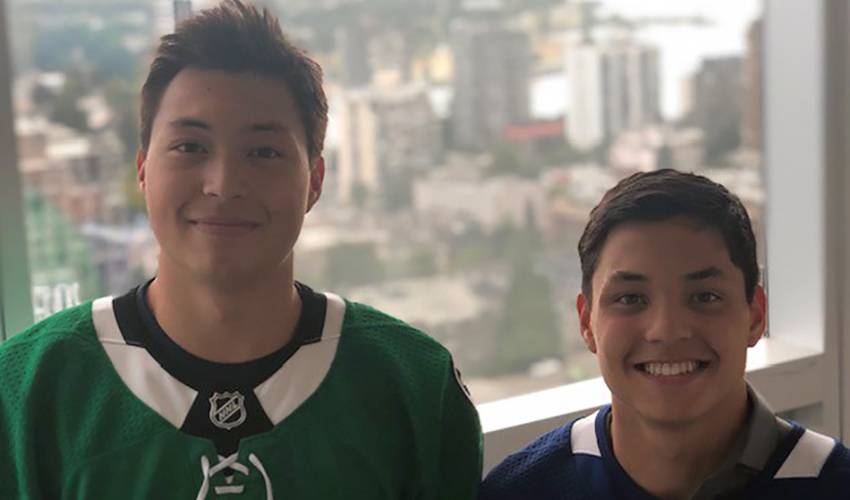 Feature photo via NBCNews.com
---
The clock is ticking and the Robertson brothers are in go mode.
Having played hockey most of their lives, Jason and Nick Robertson are well-tested in the art of coming up big in crunch time and bringing their respective A-games when everything's on the line.
In this instance – a scene from two years ago – the siblings were very much the definition of teamwork by efficiently working to get their house in order.
Literally.
A FaceTime call with their parents was minutes away and the place they shared was in disarray.
Their biggest task at that moment: making the sure the kitchen was spotless.
"We lived together for four months in 2019 during the summertime when we were training," recalled Jason. "I think the majority of the time we didn't keep the place that clean. Whenever it would get to a certain point, we'd look at one another and say, 'Okay, we have to take care of this.' We ended up getting a meal service near the end of the summer, but Nick would do most of the cooking."
"I was the one who stepped up to clean the kitchen," remembered Nick. "When my parents FaceTimed us, they always told us to show the kitchen. So, I wanted to make sure it looked good. It was always pretty dirty. It would be an off day, and we'd say, 'We've got to clean this place.' We'd do that and then by dinnertime it was a big mess again."
Jason's recollection of his contributions to post-cooking tidying is a little hazy.
"I don't know if I helped clean up," he said with a laugh. "I think I would be the one who would judge it."
Cleanliness might not be their forte, but hockey most certainly is.
As young kids growing up in California, Jason and Nick, along with older brother, Michael, the game became a major part of their lives early on.
The siblings very looked the part of pro hockey players whenever they would attend Los Angeles Kings home games with their parents, Mercedes and Hugh, who were season-ticket holders.
Donning helmets and holding mini sticks, when the trio weren't in their seats watching the action, they were creating some of their own by playing a spirited game of hockey in the concourse during intermissions.
The siblings began their hockey life in Burbank before the family moved to Michigan in 2010, which led to more opportunities to elevate their hockey talents.
Hugh would be up before sunrise to take his sons to nearby Farmington Hills in Michigan for them to skate. Mercedes, who was born in Philippines, and moved to California as a youngster, made sure everything was in order for practices and games.
Not long after the move to Michigan, Jason, now 21, and Nick, 19, caught the attention of hockey scouts across North America.
The paths they would take to net pro hockey careers were strikingly similar.
"When I ended up going to Toronto for my minor midget year with the Don Mills Flyers, it kind of set a path for Nick," said Jason. "The year after, he moved up to Toronto looking to get drafted to the OHL. Once I got drafted to the "O", he got drafted to the "O". I played in the OHL, and then he played in the OHL. I got drafted to the NHL and then he was drafted to the NHL. I'm not saying he followed in my footsteps, but there was a foundation that my parents were familiar with. And it worked out for both of us. I know Nick and I are very grateful for how things did work out."
The brothers faced off against one other eight times throughout their Ontario Hockey League days.
"All of it was amazing," said Jason. "To have that opportunity in the OHL, it's something you always think about, especially having our family in the stands for each game. Those are great experiences."
Both brothers eventually heard their name called in the second round of the NHL Draft. Jason was selected 39th overall by the Dallas Stars in 2017, and two year later Nick was taken 53rd by the Toronto Maple Leafs.
In 2019, Jason earned silver with the Team USA at the world juniors, with Nick making his tournament debut the next year as the youngest player on the American squad in 2020.
Jason, a serious contender for the 2021 Calder Trophy as the NHL's top rookie, was a steady performer for the Stars throughout the regular season with 45 points in 51 games.
Nick, who has skated in six NHL games with the Maple Leafs this season, after scoring a goal in four games during the Qualifying Round last summer, continues to make his mark with the Marlies, Toronto's American Hockey League affiliate.
"Both of us being drafted, not a lot of brothers can say that," said Jason. "That's a big moment, a big memory for us."
There are many others, including away from the rink.
"Our lives have been all around hockey," added Nick. "One of my favourite memories that I have is all of us going to school together. When we were in California, we were all in the same school in Pasadena. I just remember being happy when I'd pass Jason, seeing him, or seeing him at assembly, then training together in the afternoon. Seeing him and my other siblings throughout the day at school is a favourite memory of mine."
Respect between Jason and Nick goes well beyond the hockey arena.
"We've always trained together – skating, practicing and all of that," said Jason. "We have different personalities, but we have always had a close companionship. Nick, he is more intense than I am. He's just a great person, a competitive, driven guy, who has an amazing work ethic in whatever he does.
"He's always willing to put the work in. You see why he would make such a great teammate. Whenever he plays, he's focused on doing whatever little things to help his team win."
Nick offers up similar praise for his older brother.
"He's just a chill guy. He has a face that says he's never down about anything or that nothing ever affects him, whereas I can be quite the opposite and make it pretty well known when something isn't going my way. He's always been a person that can bring me up. He helps me embrace life outside of hockey, whether it's showing me a funny Instagram video or just having a fun conversation.
"His IQ on the ice is unbelievable, the way he thinks the game is at a high level, and I try to learn from him. He might not be the fastest guy, but he's so smart. That comes over time and hopefully I can be like him when I get to his age."
Although the differences between the two, hockey or otherwise, are many, Jason and Nick have similar visions when it comes to the topic of being role models.
They wholly embrace their Asian heritage, but want to inspire others hoping to achieve their goals.
Whenever they are afforded the chance to have a quick chat with a young hockey player, both brothers are happy to offer up a word of encouragement, share a shortened version of their NHL stories or dispense some helpful advice.
"I think we have such a unique background, but we want to be a role model for everyone," said Nick. "Toronto has a big Filipino community, so if I'm able to help grow the game for young Filipino kids, I'm happy to do it. We're blessed to have the background we do, but I'd also like to grow the popularity of the game by being a role model to everyone."
Jason views it through the same lens.
"It's not just necessarily for hockey, it can be about anything when you speak to kids," offered Jason. "I think it's important to focus on everyone. It doesn't matter who you are or where you're from… kids need to feel that encouragement to succeed in whatever they want to. To help them in some small way to fulfill their goal, whether it's hockey or something else, is important to us."
As is the day Jason and Nick finally get to play each other wearing NHL jerseys.
Judging by the tone in their voices, it's a scenario they think of often.
"Obviously, we don't know the schedule for next year or beyond, but when the time comes that Dallas plays Toronto and we are out there, it would be the ultimate," admitted Jason.
They haven't seen one another, in-person, since last May. That will change when they resume their roommate life once again this offseason.
"We've always had each other's backs and we've always encouraged one another to work hard and achieve what we wanted to do," said Jason. "Hopefully, the world can return to the normalcy we knew before COVID and Nick and I can get back to training together and living together."
As for keeping the house tidy, this time around, the brothers are committed to upping their game.
"We haven't seen each other in a year, but we're going to be back together over the summer," offered Nick. "To be living under the same roof again, it's going to be a blast. I think we'll be better at keeping things much neater this time."