After the Buzzer | Warren Foegele
With the Summer Olympics just around the corner, Warren Foegele explains which sport he'd try to medal in and more in After the Buzzer.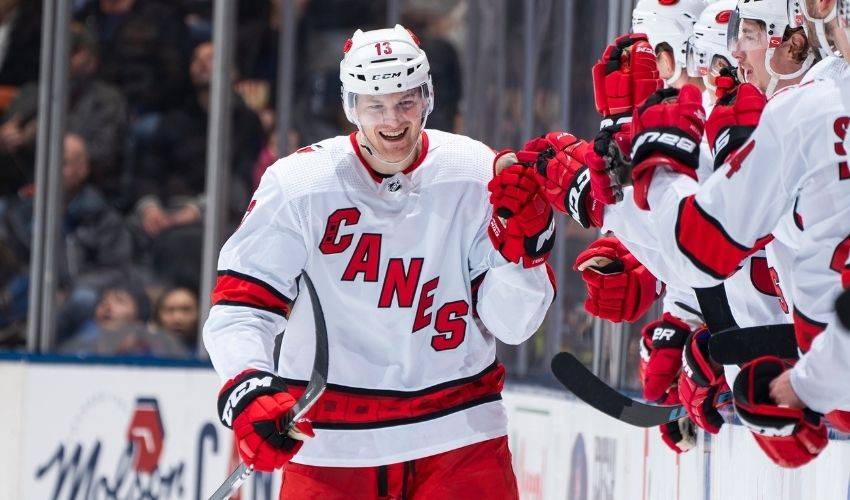 Feature Photo: Getty Images
From their bond with fans to their efforts in the community – and everything in between – 'After the Buzzer' is a weekly series taking readers beyond the rink to shine a light and provide insight on players' lives away from the game.
---
Which video game still tops Warren Foegele's list? The Carolina Hurricanes forward's answer won't come as a big surprise.
Foegele stopped by NHLPA.com to talk his favourite music genre, the best part of his golf game, which Summer Olympics sport he'd like to take a shot at and more.
COUNTRY GUY
Foegele might not know who he's listening to all the time, but the 25-year-old forward definitely likes what he hears when it comes to getting his music fix.
"You know what? I'm not the best person with names when it comes to music. Honestly, I just enjoy listening to country music. I have the country station on whenever I can and it just keeps me at ease, helps me stay positive and I feel like it's easy for anyone to listen to. I say that's my go-to, but before a game, I change the tunes for that.
"I think everyone likes it [country music]. On practice days when we're in the dressing room, it's usually on the country station. It's kind of hard to please everyone, so I think country is kind of the common ground."
HE'S STILL GOT GAME
When he was growing up just outside of Toronto, Foegele enjoyed any chance to get into gaming mode with a sport he knows well.
Although he doesn't play as often as he once did, the 67th overall pick of the Hurricanes in 2014 still likes to take his best shot at winning.
"I'd probably go with NHL as my favourite video game. I always loved playing it. I would play with my brother and my friends. Now, I don't play as much as I used to because we're playing [hockey] so much, but I still play it. I like playing with other guys. It's cool and I've always been a fan of it."

As for the team he'd represent?
"Each year, it kind of changes when you're younger. I was a huge Brad Richards fan growing up, so I always wanted to be Tampa Bay."
COURT & COURSE
Which sport does Foegele enjoy watching the most? Which sport does he enjoy playing the most? His short game in one of them is pretty impressive.
"For watching, I'd go with basketball. I'm a huge NBA fan. I really love how the players share their personalities and opinions on things."
"For playing, I'd go with golf. I think the best part of my game is putting. We went out to Pinehurst [North Carolina] a couple of weeks ago and we did a scramble. My putting was huge for our group to win, which was a great feeling."
RUNNING RINGS AROUND THE COMPETITION
Admittedly, he wouldn't be podium-bound if he were given the shot at Summer Olympics glory, but Foegele would try and give his competition a run for the money.
"[Laughing]. That's a tough one as to which event I'd go for at the Olympics. I feel like I always want to watch the stars in track and field competition. I remember that you always wanted to see Usain Bolt run and Michael Phelps swim. I'm not sure which event I'd choose if I was given the chance to participate. I'd go with a track and field event. It's pretty crazy to see how fast these athletes can run."
QUESTION PERIOD
If he could select one celebrity to sit down and chat with, Foegele would opt for one of the NBA's greatest all-time talents.
The only problem? He'd have a lot of questions for the four-time NBA champion and MVP.
"I would go with LeBron James. I would really like to meet him. I don't know if I could ask just one question. I'd probably have a million questions. I would want to know how he stays so consistent to be the best. What does he do every day? How does he do it for so many years? I'd definitely have a lot of questions for him."
PARTING SHOT
"I was only there for a year, but my favourite memory outside of playing hockey was when we had a Lee Brice concert. We got to have an outside party – the whole school – we got to hang out with him and then go to his concert. That was a lot of fun." – Foegele, on his fondest non-hockey recollection from his University of New Hampshire days.