Foegele stepping up for 'Canes in playoffs debut
If you didn't know the name Warren Foegele before the Stanley Cup Playoffs started, you certainly know it now.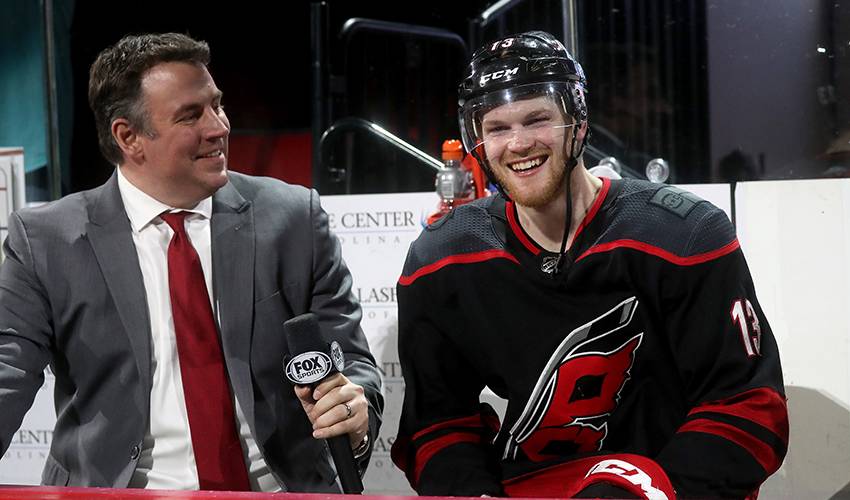 Eleven games. Five goals. One game-winner. Nine points. If you didn't know the name Warren Foegele before the 2019 Stanley Cup Playoffs started, you certainly know it now.
As far as NHL post-season debuts go, the 23-year-old Foegele, who just completed his first full big-league campaign, is having an excellent one.
The Carolina Hurricanes left wing has been outstanding through two post-season rounds. Averaging 14:47 of ice time, the Markham, Ontario, native has been making the most of his minutes, creating consistent offensive chances while snuffing out the opposition's opportunities.
"I'm really happy for Warren, he's a great kid," said Glenn Stewart, associate head coach with the University of New Hampshire's men's hockey team. "It's awesome to see him having the success he's having. But I'm not surprised. For the short time we had him here at New Hampshire (39 games in total, starting in 2014-15), we saw that he had a lot of talent. He was young, but you could see that he had a chance [to make it to the NHL]."
After being recalled from the American Hockey League's Charlotte Checkers for two games in 2017-18, Foegele produced a goal and an assist in his NHL debut against the Ottawa Senators on March 26, 2018.
After recording 10 goals and 15 points in 77 games with Carolina this regular season, Foegele flew under the radar heading into the playoffs.
Not anymore.
When he isn't scoring, Foegele, drafted 67th overall in 2014, is doing the little things – like blocking shots, using the body – that have put the Hurricanes in the Eastern Conference Final, where they'll take on the Boston Bruins.
"He had the raw talent, with the speed," recalled Stewart. "I always thought his skating was his biggest asset. I think he just learned to carve out a niche for himself, as far as getting ice time. I think he's really learned and developed, knowing what to do with whatever it takes to get in there. That's the kind of kid he is."
Game-winning goals, like the one he scored against Washington in Game 3 of the Eastern Conference First Round, are certainly nothing new for Foegele.
Of his 28 AHL tallies in 2017-18, nine of them were game-winners, tops in the league.
During his time in the Ontario Hockey League, from 2015-2017, he appeared in 31 playoff games. In nine post-season games in 2016 with the Kingston Frotenacs, Foegele had eight goals and two assists. With the Erie Otters, he notched 13 goals and 26 points in 22 contests. It was at the conclusion of that 2016-17 playoffs that Foegele was awarded the Wayne Gretzky '99' Award as the MVP of the OHL Playoffs.
"It's nice to see him excelling, especially at this time of the year," said Stewart. "Just a great kid, very soft-spoken. I remember taking him under my wing because he's a Toronto guy like myself. But he was an awesome kid and a great teammate."
Stewart is enjoying every opportunity he gets to watch Foegele contribute to the 'Canes success story.
"It's nice to see that he's been able to put everything together and to be a factor at that level. I always thought it was a really good draft pick by Carolina when they took him."