Focused on what he can control, confidence follows Kunin to Nashville
No stranger to adversity, Luke Kunin doesn't concern himself with what he can't control.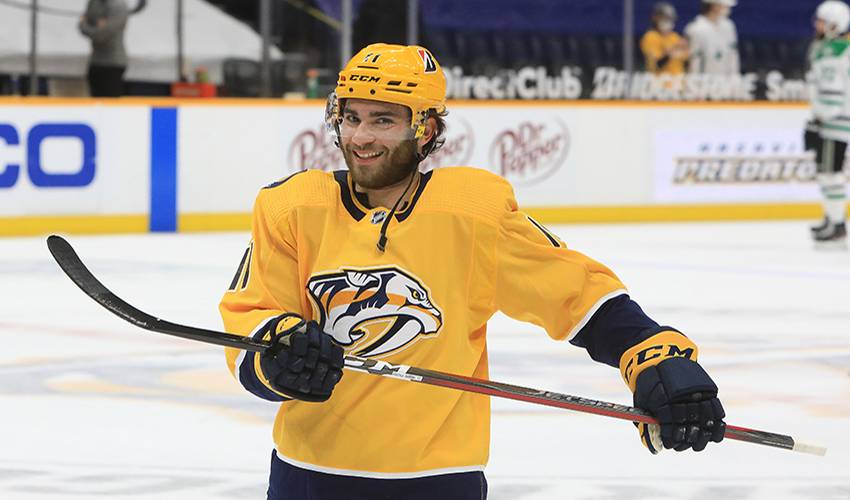 Feature photo: Getty Images
---
It would be completely understandable if Luke Kunin felt a little bitter about some of hurdles he's had to overcome in life and hockey. But he's not.
He's dealt with diabetes since he was in the sixth grade, spent considerable time on the sidelines after suffering a torn ACL in 2018 and recently suffered a gruesome ear injury.
None of it, however, has fazed the 23-year-old Kunin in the slightest.
"Obviously, with injuries, it's an unfortunate part of the game. I guess from a young age I was always taught that you have to battle through certain situations, whatever it happened to be," said Kunin, in now in his first season with the Nashville Predators after a trade from the Minnesota Wild in 2020.
"It could be in your life away from hockey or the game itself. My dad would always joke around with me and say, 'It's a long way from the heart.' And I think that's how I went about things like that."
It was something the forward was recently reminded of after he was struck in the ear by an errant puck April 6.
"With that puck to the ear, my thought was to just throw a goofy little ear cover on it and keep playing. I think most players in this league are going to do whatever they can to keep playing and I think it's what makes it the best league in the world."
When Kunin tore his ACL, the injury ended his season and kept him out of game action for nine months. He set his mind on the recovery process and getting back on the ice as soon as he could – self pity wasn't an option.
"You're going to have adversity throughout your career in some way. It's all about how you handle it, how you take those situations and what you do with it. It's what defines you as a person and a player. When I got hurt with my knee a few years ago – it was an unfortunate situation – I didn't let it affect me too much. I just focused on what I could control and that was to all the things that would allow me to come back healthy, to get better and to play at the level I wanted to be at."
Kunin's blueprint for on-ice success has served him well.
In 2019-20, with the Minnesota Wild, he posted career-best marks in goals (15), assists (16), and points (31).
The former University of Wisconsin captain and five-time gold medallist for Team USA has carried that strong play over to the Predators this season. In a five-game stretch from April 19-27, Kunin recorded four goals and five points.
"It takes a little bit of time to find your role and to have success in this league. I thought last year in Minnesota that I found that. I would say that was really the first time you could look at it and know that you were really playing your game and feeling comfortable all the time, finding that consistency. I think that's carried into this year with Nashville."
Another reason behind Kunin's impressive play is his ability to remain undaunted by anything, even a puck to the ear, whenever he takes a shift.
Being in the moment, noted the 15th overall pick of the 2016 NHL Draft, is the key.
"It all comes back to worrying about the things you can control. For me, it's how hard you work on the ice and your preparation before games, giving your all in practice... the list goes on and on. It's tough when things aren't going well, but if you're finding other areas of your game that you can improve on or doing other things to help the team have success, that's the way you go about it."
The Missouri native has felt right at home in Nashville from the moment he was dealt to the Predators this past October.
"Within that first week of being traded, Ryan Johansen reached out and says that I can stay at his place. He was the first guy to take me under his wing. But it's just an unbelievable group of guys here. Great leadership with [Roman] Josi, [Ryan] Ellis, [Mattias] Ekholm, Pekka Rinne – it's a great group and I've been very fortunate. They've been great to me and made me feel comfortable. It was an easy transition. It's been awesome and we're having a lot of fun. We just want to keep playing well and get into the playoffs."
Thank you to the entire @mnwild organization and fanbase. It was truly an honor to play in the State of Hockey. I pumped to join the @PredsNHL and can't wait to get down to Smashville! #forsmashville

—

Luke Kunin (@lukekunin9) October 7, 2020
For his part, Kunin will continue to do what has served him well throughout his entire life.
"Any tough times that come your way, you just deal with it and keep that positive mindset."