Luke Kunin offers support to kids living with Type 1 diabetes through own fund
Kunin launched the Luke Kunin T1D fund last November to provide support to kids living with Type 1 Diabetes.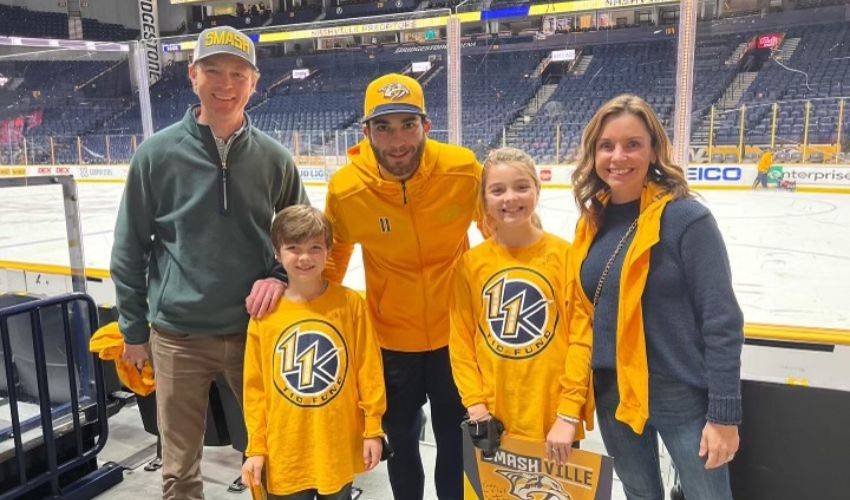 Photo courtesy of the Nashville Predators
---
Luke Kunin's approach to living with Type 1 diabetes has always been a team effort.
From the moment he was diagnosed at age 12, the newly acquired San Jose Sharks winger has been fortunate to have many people, including family, friends, coaches and others in his corner.
According to the Mayo Clinic website, Type 1 diabetes, once known as juvenile diabetes or insulin-dependent diabetes, is a chronic condition in which the pancreas makes little or no insulin, a hormone the body uses to allow sugar (glucose) to enter cells to produce energy. Treatment is directed toward managing the amount of sugar in the blood using insulin, diet and lifestyle to prevent complications.
Kunin's own experience with diabetes prompted the centre, who had become an ambassador for the Juvenile Diabetes Research Foundation (JDRF) during his days with the Minnesota Wild, to launch his own initiative – the Luke Kunin T1D fund – last November while he was a member of the Nashville Predators. The fund invited kids from the Tennessee chapter of JDRF to attend Predators games as Kunin's guests.
"When I started this – it had been in the works for a while – I wanted it to be something where we could help as many kids and families as possible," said the Missouri native, who played his collegiate hockey at the University of Wisconsin. "This is a cause I care deeply about. This was the first year and it was awesome. Through the foundation, I was able to meet a lot of people and get to know them when we brought them out to games. I really enjoy having those conversations with the parents and kids I meet. I think we both take away some important things from those interactions."
Just like Kunin did long before he skated on NHL ice.
His chat with former NHL player B.J. Crombeen, who also has Type 1 diabetes, had a huge impact on Kunin.
"Right when I was diagnosed, I ended up talking to him. Who knows where I would be if I hadn't talked with him. I might not be playing in the NHL. That one conversation did a lot for me. And that's what I want to do with my foundation, is to help kids and families, answer any questions and just be there for them with whatever they need. There are a lot of great things we want to do, but it's been going great so far."
Kunin will look to keep that momentum going in his new NHL city.
On July 8, Kunin was traded from the Nashville Predators to the San Jose Sharks, providing a new opportunity for him to eventually meet more people living with diabetes, and the chance to have more meaningful conversations about the disease.
"The main thing is to help the kids that are going through it and answer any questions they may have. I want to show them they can do whatever they want. That's always going to be a goal for me."
In mid-August, in Otero, Florida, Kunin's parents, Mark and Sheri, will be on-hand for the annual Type 1 Timer Hockey event.
The non-profit organization, which partnered with Kunin's foundation, is the only hockey camp in the United States developed specifically for those living with Type I Diabetes. T1T delivers a camp experience to hockey players living with Type I Diabetes, along with an opportunity to improve hockey skills as well as offer education and support.
Kunin got to know Megan and Geoff Hoffmann, the couple behind T1T, during his time playing for the University of Wisconsin. The Hoffmans became involved in the diabetes community when their oldest son, Henry, was diagnosed Type 1 diabetes.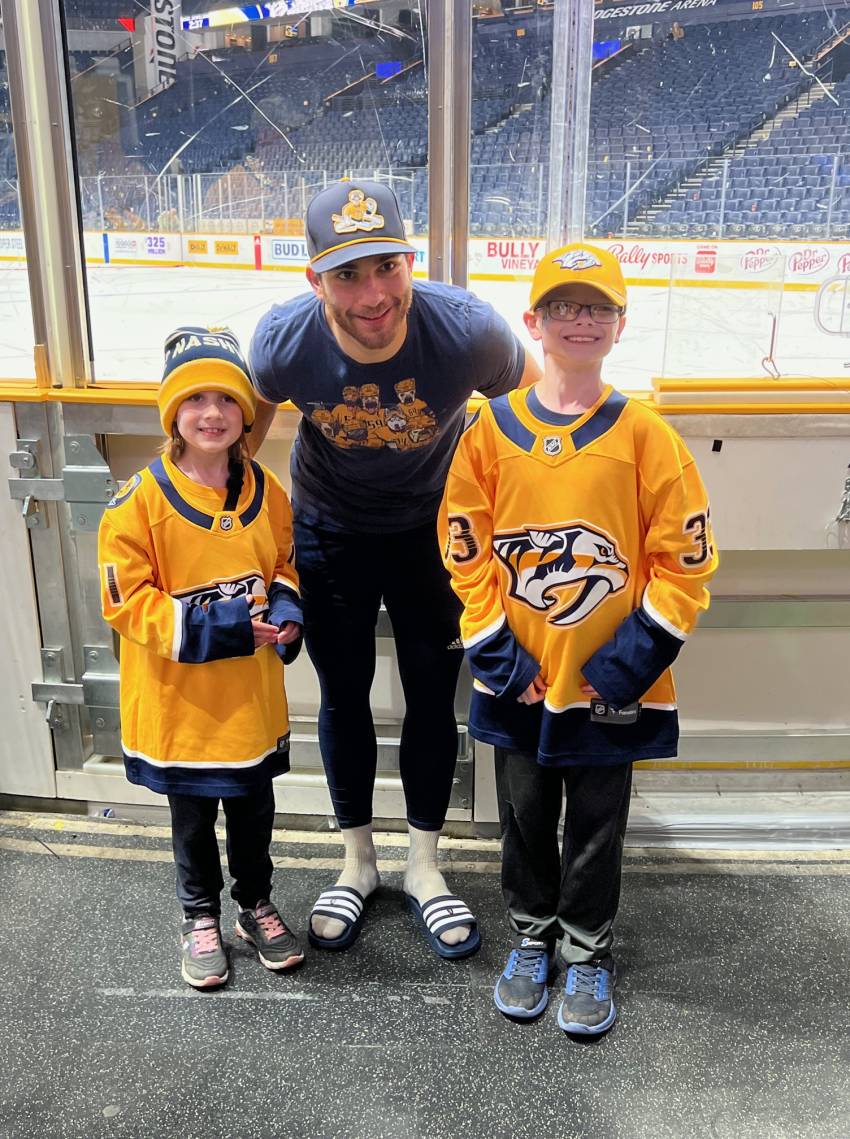 "When Henry got diagnosed, I ended up getting to know Geoff, Megan and their family through that. Geoff started the hockey camp and asked if myself and my parents could come out and help, talk to the kids and do whatever we could. My parents talk to other parents and do whatever they can to be available to help."
A busier off-season than he's used to might mean Kunin won't be able to make it to the camp.
Whether he's able to be there or not, the 15th overall pick of the Minnesota Wild in the 2016 NHL Draft will continue to champion the fight for more recognition of Type 1 diabetes, while reaching out to as many kids and families as possible.
In many ways, the foundation is a platform for Kunin to provide the support and encouragement he received from his parents and Crombeen.
"My parents, they have been huge. No one was overly familiar with diabetes, so it was a big learning curve for all of us. Whether it was checking my blood sugar in the middle of the night because I was tired after practice – my mom would come in and check my sugar level, making sure it wasn't too low or too high – there are a million different things they've done to help me. My family and my siblings, I was very lucky to have them help me whenever I need it. Speaking with B.J., it really changed my outlook about hockey. It gave me hope. As much as I took it on myself and wanted to do it, you still need people to help you. It's a real team effort."
That's one of many talking points for Kunin whenever he meets kids and families whose lives have been impacted by Type 1 diabetes.
He's hopeful those he speaks with can take away something positive from their time spent together.
"With the kids, I want to leave them with the message, 'Don't let it stop you from doing what you want to do. It shouldn't stop you from playing sports or doing whatever you want to do.' I wanted to play hockey and I didn't let it get in my way. You have to learn how to deal with it and live with it, so that you can chase whatever your dream is. With the parents, they are such a huge part of it, especially when the kids are younger, and they take a lot on themselves. I tell them stories of what my parents did. Fortunately, advances in technology have made things easier in terms of testing and things like that. I just want the parents to know it's important for those who have diabetes to have a good team in your corner, helping you out as you deal with this. You can't do everything on your own and you need to have others standing with you."
It's what helped Kunin reach his childhood dream.
Now, 251 regular-season games into his NHL life, he's more dedicated than ever in helping others achieve their own goals and dreams.
Through the foundation that bears his name, Kunin is both humbled and happy to find himself in a position to help.
"Being a professional athlete, it might help these kids, who might be doubting themselves, believe they can achieve their own goals. After a good conversation, you can see the kids are a little more excited and they are asking questions. After seeing how happy they are, it really does make me feel grateful to be in a position to have that connection. It's easy for me to be able to do that and I enjoy it so much. It is special."