From the stands to the ice, Moore lives out the hometown dream day-by-day
Trevor Moore used to watch his hockey idols at Staple Center, now, he calls them his teammates – something he doesn't take for granted.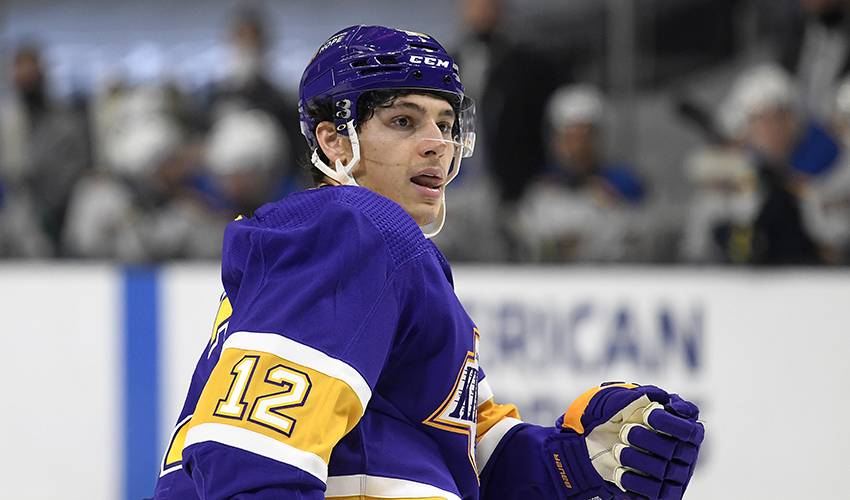 Feature photo: Getty Images
---
Trevor Moore has never taken his dream hockey scenario for granted.
He was a fixture at Staples Center long before he ever skated there, an avid fan of the Los Angeles Kings who marveled at seeing his favourite NHL players put on a show for the home crowd.
The young hockey fan from Thousand Oaks, California, often thought of what it would be like if he one day achieved his goal of sharing the same ice as his idols.
He knew the odds of playing in the NHL would be a major longshot – as for it happening with the Kings, he couldn't even fathom the thought.
"I loved watching the great players on the Kings. I don't remember a specific game I went to that stands out in my mind. I grew up watching [Anze] Kopitar, [Drew] Doughty, [Dustin] Brown and [Jonathan] Quick, all those guys. I just remember seeing Kopitar in practice doing that same shootout move he's done his whole career. You remember those things. Those are the important moments in your hockey life that you remember and make you really fond of the game. It's where your passion comes from. You sit there in the stands and think about what it would be like to play in the NHL and what it would feel like to play for your home team."
Now that it has become a reality, the 25-year-old Moore, who was dealt to the Kings from the Toronto Maple Leafs last February, isn't letting his good fortune dominate his thoughts.
"I try not to think about too much," said the undrafted forward, who signed with Toronto as a free agent in July of 2016. "When I first got traded here, it was pretty special. This past summer, my family had brought it up a few times, just how cool it is and just how random it is that I end up getting back here. I feel very lucky, but I really don't think about it that much. When it comes to my hockey career, I look at it from a day-to-day view. The number one goal for me is to help the team as much as I can."
And that's exactly what Moore has done.
As for playing with his childhood idols, it's been anything but a disappointment for the former University of Denver standout.
"It's definitely been special, but you can't let it overwhelm you. The guys, they are super genuine and humble. I've been really lucky."
They say you have to be good to be lucky, Moore has arguably been both. Less than 100 games into his NHL career, the forward has been a steady force at both ends of the ice for his team.
In his past four games, the 5-foot-10, 185-pounder has scored a pair of goals as part of four points and has been an effective contributor on the defensive side. The versatile forward learned the benefits of playing a rounded game during his collegiate days with the Pioneers.
"I learned a lot. Our coaching staff was excellent. I learned that in the NHL you have to find new ways to be effective and help the team. Not everyone is going to go out there and be a goal-scorer, a top-end player. There are a select few players that can do that. Whether it's on the penalty kill, being a tenacious fore-checker or a guy who wins those puck battles – all those things are so important when you play at this level."
Moore takes great pride in being a two-way player.
"If you are going to go out there and be a goal-scorer, you better score a lot. There are some very talented guys out there that are doing that. If you're not scoring a lot, you're not going to get the ice time if you aren't playing 200 feet. I think throughout my career so far, it's been about taking care of your own end and to help drive play. From there, you get more ice time and more opportunity when you earn that trust."
For Moore, preventing a goal is equally as rewarding as scoring one. The most impactful plays, he noted, are oftentimes the simplest ones.
"Even a puck possession shift in the other team's zone, when they have their top players out there… that's an awesome feeling. When they don't get to do their own thing, it's a new form of defence we try to implement."
When Moore isn't putting the puck in the net or keeping it away from the opposition, you'll often find him enjoying the great outdoors in the Golden State.
He always has company, both of the two-legged and four-legged variety.
"I like to go to the beach a lot. My fiancée [Monique] and I take our dog for a lot of walks. We go to the dog park, which is probably my favourite thing right now. That's always fun. [Teammate] Kurtis MacDermid has a golden retriever and we'll go to the dog park quite a bit. Our dogs are good buddies. You can't do too much now because of what's going on with the pandemic, but it's always great to get outside and enjoy the fresh air."
Life, inside and outside of the arena, is treating Moore well these days.
It's no wonder he feels right at home whenever the puck drops.
"I have to keep playing my game and act like I belong. Like I said, the number one thing is for me to do whatever I can to help the team be successful."