Byfield looking sharp in strong kick off to 2023-24 season
Quinton Byfield is going on record – he's bringing back the bow tie and is equipped to stand out everywhere he goes with the Los Angeles Kings this season.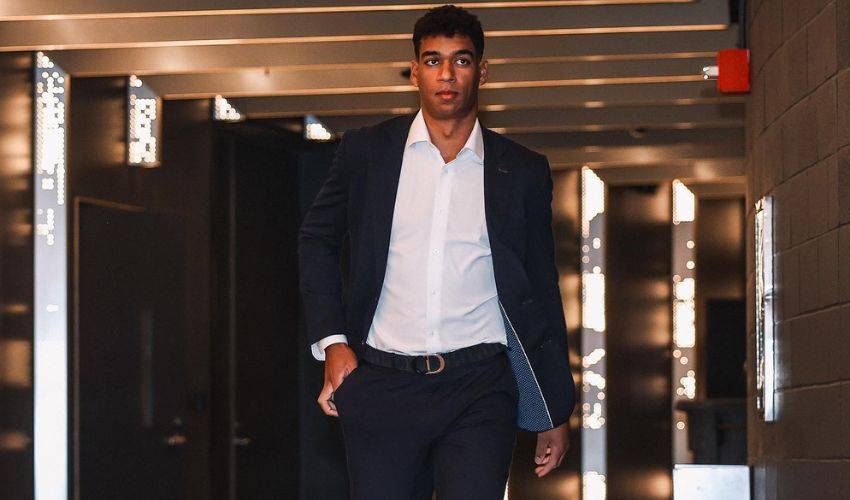 Feature Photo: IG / @LAKings
---
Looking sharp on and off the ice is always top of mind for Quinton Byfield.
The Los Angeles Kings forward is working hard at just that as he enters his third full NHL season armed with a skillset he didn't know he had.
Developed along a 2022-23 postseason campaign during which he picked up his first Stanley Cup Playoff goal, among four points recorded over six appearances, Byfield's primary personal goal to start 2023-24 was to build upon last year's accomplishments.
"Playoff hockey is obviously different from the regular season," the 21-year-old told NHLPA.com. "It's cranked up and there is a lot more physicality in the game. Every battle is so important. I learned that my versatility from playing centre – I was playing wing in the playoffs – could help the team when we were matching up against the other team's top lines and played a more defensive role against those guys as well. I learned that I could play both sides of the puck."
All of that helped set the table for Byfield's off-season preparations, which he credits his teammates in part for helping to execute.
"The end of last year gave me confidence, getting the trust and ice time, and getting to play with two amazing players," Byfield said in reference to linemates Anze Kopitar and Adrian Kempe. "If I can get the puck to them, you know good things are going to happen."
After a quick off-season vacation to reset, Byfield returned home to Toronto and jumped right into his training regimen.
In between the hours spent in the gym, he dedicated time to another sport, one that became a daily staple in his life.
"The other thing I do in the offseason is golf every day. It's improved over time. It wasn't great at the start. I've only been keeping track of my scores for a year or two now. It's improved over the summer," offered Byfield.
"After the season, I like to take a little bit of time off where you don't have an alarm clock set. But then I like getting right back into the swing of things. You get that little break and then you want to get right back out there again."
All of it – whether it was training time or teeing off – provided the second overall pick at the 2020 NHL Draft with optimism ahead of a fresh season.
"I was really looking forward to getting into camp and getting off to a good start. There is a lot you can learn from the players we have here. We have a bunch of guys who have been around for a while, and I watch what they do on and off the ice. Each day, every practice, they are trying to get better. It's good to watch those guys. You can always pick up something.
"When I came into the league, I was a centre. Playing with Kopi, watching how he plays defensively, the way he makes all the little key plays and his patience, you learn a lot from him and I try to introduce some of that into my on-ice style."
Style is something Byfield knows plenty about, giving himself the opportunity to rock a variety of eye-popping looks wherever he goes.
When Los Angeles hits the road, Byfield heads to the local mall when time permits.
"Whenever we're away from home, I like to go to the different malls and do some shopping," he said with a laugh. "I don't own many colourful shirts. It's mostly black and white. Usually, it's joggers or jeans to go with it. With dress clothes, I like to get a little more stylish. I don't know how I would rate myself, fashion-wise. I think I have a pretty good fashion sense."
Byfield hands out top style marks to his teammates, including a pair of forwards.
"On the team, there are some very fashionable guys. Kempe is up there for sure. He's always looking sharp. [Pierre-Luc] Dubois, I like his style. It's a little different, but it's nice and it suits him."
On the Kings' recent trip to Melbourne for the 2023 NHL Global Series, Byfield had the opportunity to visit Australian streetwear clothing and accessories retailer, Culture Kings.
He also had a helping hand when it came to picking out some new clothes.
"Culture Kings is outstanding. They have a bunch of different brands. The staff was really helpful. Getting to go with Kempe was great, to pick some things out and to give each other advice as to what to wear."
It was one of many highlights from the trip Down Under.
"The Australia experience was amazing. In my lifetime, I don't know when I would go to Australia. But to go there and to play hockey was awesome. The fans are great, and it was something I will always remember."
Byfield's passion for fashion has also led to a collaboration with Better Gift Shop, a Toronto-based clothing store, and Sherwood Hockey, on a line of clothing and baseball caps.
"I got to do a photo shoot and rocked this Sherwood t-shirt that I love. I wear it quite a bit."
Byfield will also be wearing something else more often this season whenever he heads to the arena.
He is looking to go retro with a certain accessory that he once used to sport.
"I used to wear bow ties, so I am going to bring that back this season. And yes, I will go on record saying that."
Outside of personal fashion statements, Byfield is hopeful he and his Kings teammates can make a statement of their own in 2023-24 after back-to-back First Round Stanley Cup Playoff exits.
"We know what we are capable of, and we are focused on taking that next step. Everyone is on the same page and ready to take on that challenge."