Watson reflects on recovery process after meaningful visit
Austin Watson exhales slowly before he starts to answer. He doesn't shy away from telling his story.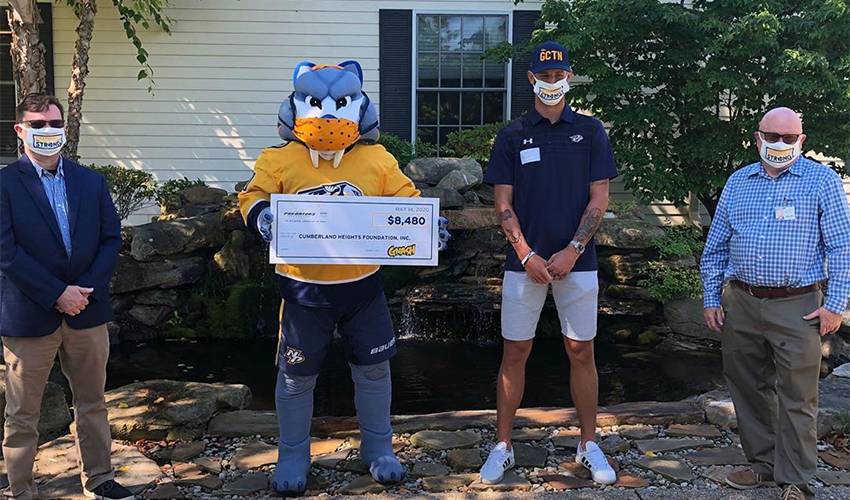 Austin Watson exhales slowly before he starts to answer. "That's a heavy, deep question. What have I learned about myself? I've learned that I cannot and do not control everything in my life."
The 28-year-old forward with the Nashville Predators is in a good place these days.
But it hasn't always been that way for the likable left-winger.
"For me, it's something that's a part of my daily life now, and something that I've been going through and dealing with since 2016," said Watson, of his battle with anxiety, depression and addiction. "Early on in recovery – I've been to a couple of different treatment centres – I had to come back in the room, so to speak, a couple of times. But now that I have got some stability in my life and in my recovery, I think it's important for people like myself, or others who have platforms, to talk about it, to share their experience, strength and hope."
And so that's exactly what Watson did, via a recent Instagram post.
Watson shared a photo of himself standing outside Cumberland Heights, an alcohol addiction treatment centre that operates over a dozen outpatient recovery centres in Tennessee.
Cumberland Heights is one of several community service and charitable organizations that have received grants through the Nashville Predators Foundation.
Watson, the 18th overall pick of the Predators in 2010, doesn't shy away from telling his story.
His hope is that his personal journey can act as inspiration to others.
"For anyone who is struggling, they might need to see that, and be okay with where they are at in their life, and know it's okay to ask for help, that it's okay to struggle, and they aren't the only ones going through it. I think the platform that guys like myself have, playing in the NHL, and being a public figure, someone who is seen around the community in the Nashville, it's good to speak openly about it every once in a while."
When he does open up, Watson holds nothing back.
"Getting to the point where you admit to having a problem was the first step for me, as it is for a lot of people. I didn't get it right away. I think there can sometimes be a common misconception that once someone admits they have a problem and then get some help it will fix what's going on. I had that misconception myself. Sometimes it will stick right away, but oftentimes it takes a couple of tries."
That wasn't how it played out for the native of Ann Arbor, Michigan.
His recovery was anything but a straight line.
"Mine didn't go that way. Everyone's story is different. I had to go back to treatment two other times, and really got honest where I was at in my life, which is what got me to where I am today. When it did get a bit easier when I was honest with myself, to accept that recovery and abstinence is the only way I can go about my life. Getting to that point has made it so much easier."
Support, from several circles, was a game-changer in Watson's recovery.
Looking back, the six-foot-four, 204-pounder acknowledged he had plenty of people in his corner, even if he didn't realize it at the time.
"I've had support from day one, back when I went to my first treatment centre. I probably had support before that, but didn't know I had it. People were pushing me to get help for a problem that I didn't think I had. I've been so blessed with support from immediate family, friends my teammates – the guys have been so great about being there for me. They've made my every day life and my hockey life easy. The organization, they've been so good with me, even in times where I'm sure there were decisions to be made. They've stuck with me just like my teammates and the Nashville community has stuck with me. I owe a lot to all of them for me being able to come out on the other side and be in a good place today."
He's hopeful there are even better days ahead.
"The only thing that I do control is my actions and what I do with the time and the opportunities that are put in front of me. Stopping trying to control people, places and things – for me that has been really monumental. It's not always easy. I don't accept everything for how it is every day. I get frustrated and I get upset about different things. The more I can accept my surroundings and what has transpired in my life and career, just do the best that I can every day, one day at a time – it's made everything so much easier."
It's also helped Watson develop an appreciation for all the good things in his life, big or small.
"Absolutely. During a time like this, where we are all dealing with a worldwide pandemic, and there is so much uncertainty in the world, it's been a blessing for that mindset to be a mandatory thing for me. We're hopefully going to get back playing soon and I can't wait. I've been able to spend time with my daughter, which I wouldn't have been able to do during the season. I've been able to talk to people that I normally wouldn't have had the chance to. I'm really enjoying everything."
Watson is reminded of it the moment he opens his eyes each morning.
"I live a blessed life. I play hockey in the NHL and that's pretty cool. That was my dream growing up. Waking up, thinking about all the good I have in my life and the good people in it, the ones who continue to support me… being able to enjoy every day is an awesome feeling."