A socially distant visit boosts Dubois and grandparents' spirits
Pierre-Luc Dubois' fan base just got a whole lot bigger.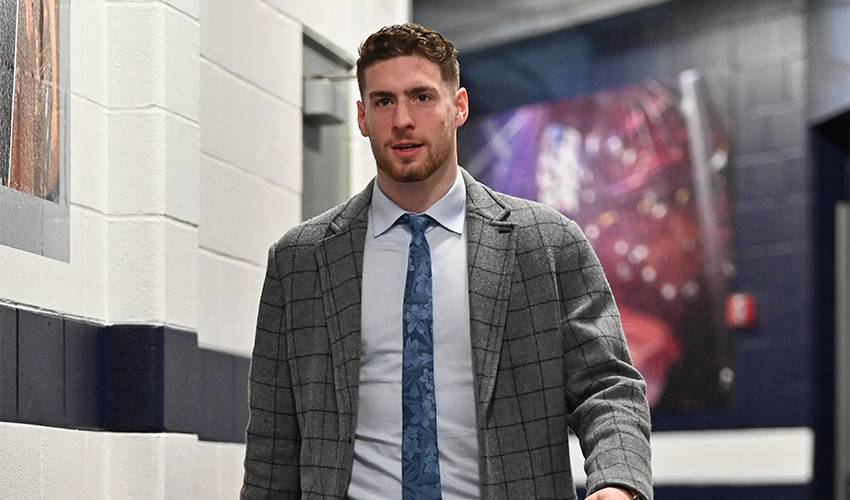 Pierre-Luc Dubois' fan base just got a whole lot bigger.
As one of hockey's rising young stars, the 21-year-old centre from Sainte-Agathe-des-Monts, Quebec, has already built up a solid number of supporters.
Expect that number to grow… but not because of something he did on the ice.
After reading that Canadiens defenceman Jeff Petry and his wife, Julie, had opened a $2,500 tab at a pair Montreal restaurants for hospital workers to enjoy free meals, Dubois, in his third NHL season, was motivated to give back during the COVID-19 crisis.
"I saw what Jeff what had done, donating meals to hospital staff, and I thought, 'What could I do?'"
What Dubois did was provide food for people in his NHL city, Columbus, and in his home province of Quebec.
He paired up with teammate and good friend Oliver Bjorkstrand, and a pizza chain, to donate over 600 pizzas to workers at 29 Columbus-area Kroger grocery stores.
In April, in concert with the Independent Grocers Alliance, Dubois donated more than $2,000 worth of food baskets to nearly two dozen apartments at Residence Julie-Viger, a senior home in Saint-Basile-le-Grand, Quebec.
His grandparents, Pierre and Lise, call Residence Julie-Viger home.
"I talk to my grandparents a couple of times a week, and they were saying how much their lives have changed, just like everyone else's has. They have to go to the grocery store between seven and eight in the morning because they're at risk. I thought maybe I could help them out with their groceries, and why not include everyone in the building because everybody else is going through this, not being able to see their friends and families.
"I know it's not changing their lives, but if you can just help them out for a week – I tried to put as many things in the basket as possible that could last for a longer period of time and not expire quickly. Even if it's for just a few meals, I think that will help in some way."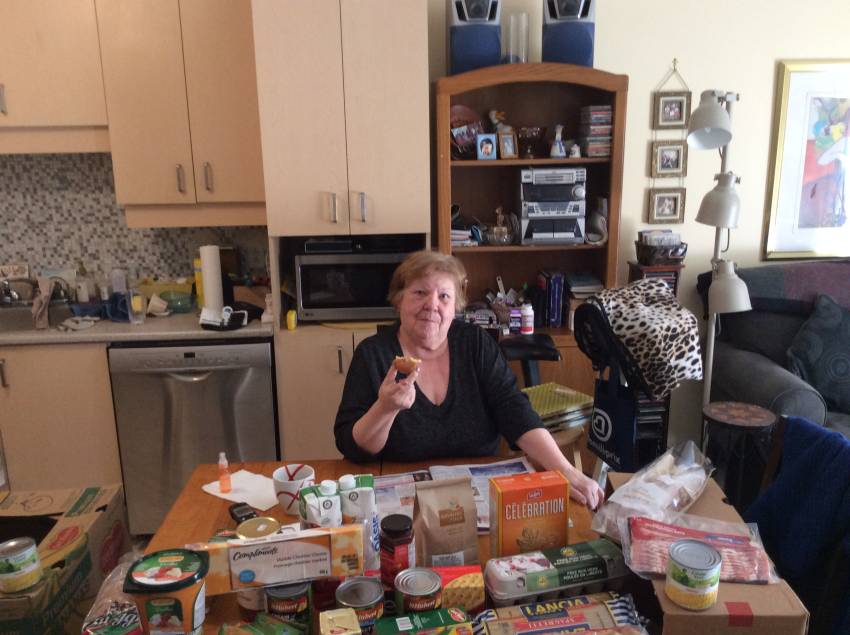 His grandparents certainly appreciated the gesture, as did their neighbours.
Dubois recently had a chance to see Pierre and Lise in person.
"They're doing well. I had to stay outside. They're on the first floor and they have a little balcony, so I stood there and talked to them through the screen door. It was good. My grandma was really happy."
And also eager to share a particular thought.
"She said she can't stand my grandfather anymore, so it's good that she got to see me," Dubois said with a laugh. "We had a nice talk. Talking on the phone is one thing, but seeing the person – I hadn't seen my grandparents since last summer – it was really fun to be able to talk to them."
With the 2019-20 NHL season on temporary pause, Dubois, who was on the cusp of recording his third consecutive 20-goal campaign, wasn't the beneficiary of any friendly hockey advice from his grandparents.
If he were playing, however, it would be quite a different story.
"My grandma is the typical, 'just have fun, enjoy the game and everything will work out' type of person. My grandfather is that old school-type hockey person. He'll tell me things like if a guy is on me too much, give him a cross-check or something like that. He's always said Gordie Howe is his favourite player because he knew how to score, how to be physical and could do everything on the ice. It's fun to get his opinion on things."
Whatever the advice, Dubois is grateful to have his grandparents' support.
Not surprisingly, he's built up quite the following at Residence Julie-Viger.
"All of my grandmother's friends, they talk to her about me playing. Once or twice a week, they'll get together for coffee. Her friends collect the hockey cards from Tim Hortons and when they get one of me, they give it to my grandma. She's extremely proud.
"My grandfather has always been a big hockey fan. He's always asking questions, just wanting to know how things are going, how my teammates are doing – things like that."
As for himself, the third overall pick in the 2016 Entry Draft has been managing well throughout the pandemic.
He speaks with his teammates on a regular basis.
"We have our group chat that we're on quite often. We had a Zoom call a week or so ago, just to catch up and see how everyone is doing. I'm living just outside of Montreal now, working out in the backyard because everything is closed. I'm staying in shape the best I can. It's a weird time, but I'm trying to find stuff to stay busy."
That would include refining his culinary skills and learning a new language.
When it comes to cooking, Dubois relishes the opportunity to make a nice meal. There is, however, one thing that he has very little patience for.
"I love cooking. I've always liked to cook. Cleaning is a different part of it. When I'm in Columbus, I don't cook very much because I have to clean up everything. I cooked for (Alexandre) Texier on our team a couple of times this year because after I make the meal, I make him clean up. It's a win-win."
Dubois is also learning to speak Italian.
While he's far from being fluent, the forward will have some new phrases to share with his teammates when hockey returns.
"I'm on week six of that, so we'll see how far we can go with that one. Elvis (Merzļikins) speaks Italian, so hopefully, I can hold a conversation with him after this is all over. I love languages and I was thinking of what I could learn. I speak French. Italian, French and Spanish are kind of in the same family. There are a lot of Italians here in Montreal, and I love Italian food and the culture. And since Elvis speaks Italian, I thought why not give it a try. It's been fun."
Looks like Dubois' expanding fan base is ready to add some new members.