Dock Talk with Killer is must-see IGTV for a very worthy cause
It was supposed to be, at least early on, a one-hit wonder.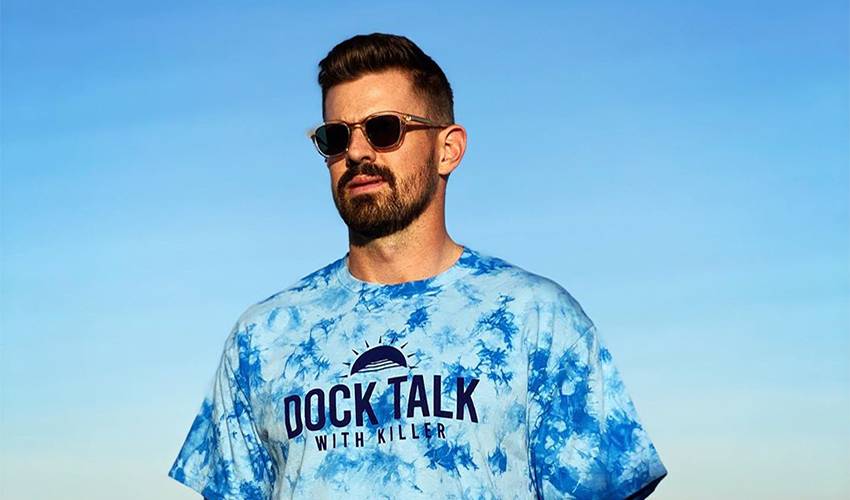 Tom Brady and Rob Gronkowski starring on Alex Killorn's wildly popular "Dock Talk with Killer" Instagram Live series? You just never know.
It was supposed to be, at least early on, a one-hit wonder.
When the 30-year-old Killorn, in his eighth NHL season hosted his first episode of "Dock Talk," a series that gives fans the inside scoop on the lives of current and past Tampa Bay Lightning teammates, the man with the mic figured it would be a one-and-done.
Not so fast.
There are now two episodes of the Q&A completed (with at least one more to come),
"At first, it was something funny to do," Killorn told NHLPA.com. "Our media person wanted me to do something, sending out a [COVID-19] message or video to all the fans. I saw about 20 or so videos of other players doing that and I figured I'd do something of my own. I thought, 'Maybe I'll do a Q&A from my jet ski.' From there, I decided I'd go out on the water and visit some of my teammates, and ask questions of [Steven] Stamkos and [Victor] Hedman. So, that's what I did. And it's become this fun thing."
It's also become a must-see thing.
Despite the odd hiccup, including a dropped mic, and possible shark sighting, the show is receiving glowing reviews from players, media, and hockey fans.
Having an impressive guest lineup undoubtedly helped "Dock Talk" increase in popularity and viewership numbers.
Along with Stamkos and Hedman, other Tampa teammates, past and present, have made an appearance.
Killorn, a former standout on the Harvard men's hockey team, has interviewed current Lightning players Ryan McDonagh and Mikhail Sergachev, as well as former Tampa Bay defenceman Dan Girardi, and forward Ryan Callahan.
"First off, I would say he is pretty brave to be on a jet ski and try and conduct these interviews all while be on the open ocean water," McDonagh weighed in.
"But he is giving great, unique content and that's what he brings to our team as well... a unique skill set that bodes well for both the offensive and defensive sides of the game."
It doesn't hurt that Killorn also comes bearing gifts.
Sergachev nabbed a cat-themed fanny pack and gift card. Girardi received some soothing relief for his ankles. Callahan netted some treats for his dog, Levi. Hedman was given an autographed trading card, and a Harvard t-shirt. Stamkos was gifted a dozen eggs and disinfectant wash, while McDonagh was handed toilet paper and a bottle of wine.
The players also received "Dock Talk" T-shirts, which are available to buy on the Lightning's online team shop.
With $30,000 of Killorn's $50,000 goal raised so far, all proceeds will go toward the Hillsborough Education Foundation to assist children who are unable to afford meals and/or obtain the necessary tools for online classes.
"We have some really good guys lined up for the next episode. The fact we've been able to help out and sell these t-shirts… the amount we've sold is crazy. It's been a fun little thing that's helped benefit some people."

Now that he has a bona fide hit on his hands, Killorn would love to land two of pro football's biggest legends, namely, the Tampa Bay Buccaneers new dynamic duo of Brady and Gronkowski.
Piloting his jet ski, Killorn delivered viewers a look at Brady's new home in Tampa, when he was on his way to interview Hedman and McDonagh.
He's hoping to book the GOAT and "Gronk" on "Dock Talk."
"I have Tom Brady right down the street. He would be phenomenal to have on the show. It would be great to have him on, just a fun, playful interview. You guys have seen it. It's a pretty easy interview and there are not many difficult questions. I think "Gronk" would be great as well. Those are two big-name guys that could potentially be on."
Outside of NFL megastars, Killorn mentioned TV actor-producer-director-writer Larry David ("Curb Your Enthusiasm") as another personality he'd love to interview.
The 77th overall pick in the 2007 NHL Entry Draft is also looking to have a doctor appear on "Dock Talk."
His sister, Katie Killorn, and her husband, Paul Savage, are both doctors living in Toronto.
"I have so much respect for the frontline workers and all of the unselfish work they are doing. I would tell them to keep up the good work because without them we'd be a lot less safe."
As for how many more "Dock Talk" episodes he foresees, Killorn isn't quite sure.
The good news is that the Nova Scotia-born, Quebec-raised left wing appears open to keeping the show going.
"We have one more planned, for sure. If I can find guests – next week I'm probably going to some football and baseball guys in Tampa – there could be more. Even if the guys don't live on the water, we could find a spot to do the interviews."
Such is the life of an influencer.
"There are a lot of components to this. We have great fans and they love watching us play. They can't watch us now, so to be able to get them any kind of content – they've been super happy. And then to give back to Hillsborough, who are going to be able to provide supplies and resources to kids that are living under the poverty line, that's been a really special part of this."
Perhaps "Dock Talk" is the start of a post-hockey career calling for Killorn.
How does "Late Night with Killer" sound?
"Either that or an HGTV show," he said with a laugh. "I don't know. That's the angle I'm trying to work."