From the links to the rink with Alex Killorn
Little did he know it then, but Alex Killorn was fit to be tied after he teed off with PGA star Henrik Stenson.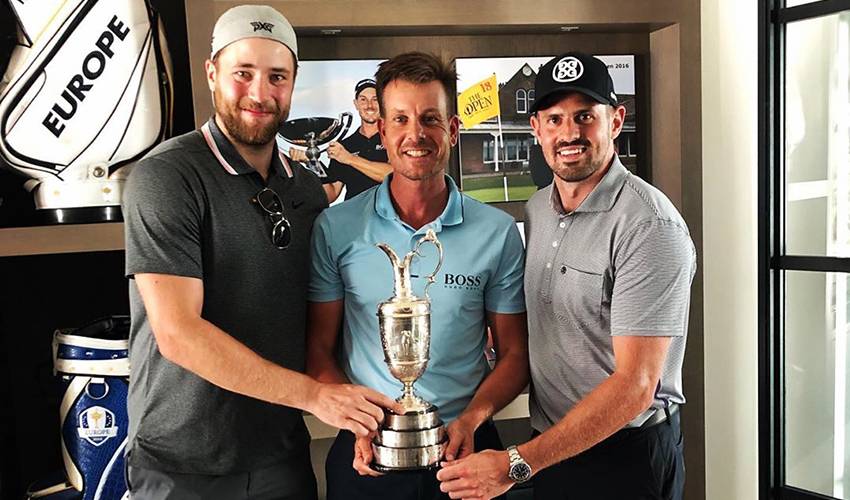 Little did he know it then, but Alex Killorn was fit to be tied after he teed off with PGA star Henrik Stenson.
What do you do when you take on the 37th ranked golfer in the world, the one who counts the 2016 Open Championship as one of six PGA Tour wins?
For the Tampa Bay Lightning forward, you do two things: bring you're A-game, and see if you can cut a deal before the first hole.
"I played a couple of weeks ago with Henrik," said the 29-year-old Killorn. "That was one of the cooler experiences I've ever had. He's buddies with [Lightning teammate] Victor Hedman. It just came about that he was in Orlando and the season was over. We went to Lake Nona and he was a very gracious host. It was a fun round. He gave me nine strokes and we ended up tying. It was definitely a fun day."
Ending up on even terms with Stenson was especially rewarding when you consider Killorn (admittedly) doesn't boast a well-rounded golf game.
There is, however, one saving grace in his repertoire.
"The best part of my game is my iron play," said the left wing. "I'm not really good with my driver and not too good with my putter. I save shots with my ball striking."
Which happened to be par for the course in his round with Hedman and Stenson.
When it comes to other pro golfers he'd like the opportunity to hit the course with, Killorn opted for some of the more notable names on the PGA Tour.
"I guess everyone would say Brooks Koepka," he said of the No. 1 golfer in the World Rankings. "I think it would be fun to play with Dustin Johnson, just to see how long he hits it. I saw an interview with Kevin Kisner and I think he'd be a lot of fun to play a round with. But I guess you'd have to pick Tiger Woods. I know that's an obvious choice. If I had one round to play, it would be with Tiger at Augusta."
No surprise there, with over 24% of NHLPA membership selecting iger Woods as their favourite non-hockey playing athlete in the 2018-19 NHLPA Player Poll.
Soon enough, Killorn will be seeing less time on the fairways and more time on the ice.
The 77th overall pick of the Lightning in 2007 is already in training mode ahead of the 2019-20 NHL season.
"I've been golf playing quite a lot. I consider myself a decent player, but it's one of those games that can humble you no matter how good you're feeling on a certain day. I guess that's the fun part about it. You just always hope to go out there and play better each time you do.
"So, it's been a lot of golfing and a few trips. I went to Austin, Texas, for four days. I've never been out there, but it was such a great vibe. Everyone was so relaxed and it was a lot of fun. But now, I want to get in the best shape possible before I start skating."
Perhaps he'll use his tie with Stenson as motivation at the rink.
"Maybe I'll do just that," said Killorn.