Acceptance the real family tradition Reaves wants to pass down
Fatherhood might be keeping him on his toes, but Ryan Reaves isn't complaining one bit.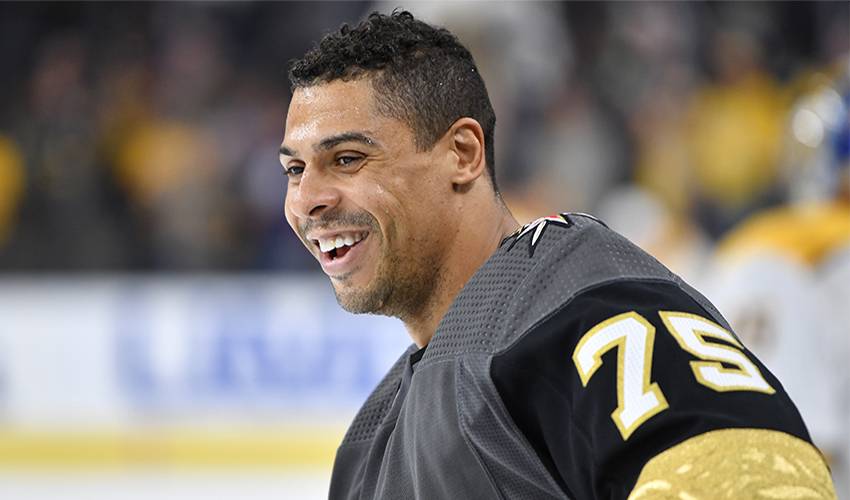 Fatherhood might be keeping him on his toes, but Ryan Reaves isn't complaining one bit.
Making sure everyone gets a turn in the backyard bouncy castle, ensuring there's no major stick infractions with the piñata, keeping his teammates entertained – kids birthday parties can be a lot of work.
Not a problem for No. 75 of the Vegas Golden Knights. He's got this.
"A bunch of the guys came over, which was great," started Reaves, of the gathering at his home in Vegas earlier this year (before the COVID-19 pandemic brought the global sports world to a pause. "We rented a bouncy house and had a lot of fun things going on. We didn't have a theme for the party, but everybody had a great time. He [Reaves' son, Kane] loved it. He had a blast."
And Reaves is having a blast being a father.
The 33-year-old forward, nearly 650 NHL games into his professional career, is thoroughly enjoying the family life. He and his wife, Alanna, are also parents to a 13-month-old daughter, Kamilla.
"Oh, they keep you busy," said Reaves with a laugh. "But it's all good. Every day, you realize how lucky you are."
There haven't been any indications, at least not yet, as to whether Kane will follow in his father's NHL footsteps.
"Not yet," offered Reaves, who has a tattoo featuring an image of his son. "My boy, he doesn't like hockey too much. He started skating a little bit, but he stopped. He kept on falling and he didn't like that. So far, he's not into hockey, but I think he's going to start back up. He's been mentioning it a little bit, so we might get him back out there soon."
During road trips, the right wing does his best to keep up on the latest happenings back on the home front. FaceTime is a must.
While Kamilla is too young to grasp the concept of FaceTime, Reaves is happy to grab a few minutes to catch up with everyone.
"She doesn't understand, but I try and talk with my son as much as I can when we're away. I think the biggest change for me has been that you want to be home all the time, not really want to miss out anything. Before, you always wanted to be out and about, just doing something outside of the house. Now, I just want to hang out with the family, stay home, or go out and play. That's the biggest change… I didn't think it would happen that quickly, but it definitely has."
Known for his physical style of play, Reaves, just two shy of reaching a career-best in goals, gets plenty of practice – and a good tussle – when he hangs out with his son.
"He likes to roughhouse all the time. He really enjoys doing those wrestling moves. He also loves his remote control cars – we were just playing with those a few minutes ago. He also has a big scooter that he always likes buzzing around on, and he has this little electric orange car that he likes to drive. He likes to drive around the neighbourhood in that."
Kamilla is starting to motor around, too, but in a much different way.
"She's crawling and she's standing now… I think she's trying to walk. So, I've been waiting for that to happen. Really, it's just nice to see them develop, to see them smile for the first time, things like that. You never forget those moments."
And Reaves hasn't forgotten one particular bit of advice he learned from his parents, something he is intent on passing along to his kids.
He's thought about those words more often in recent years.
"I think accepting everybody for who they are is a really important message. My parents made sure to let me know that no one is different. I think I've carried that with me my whole life and I think that's a big thing for kids these days. They look at somebody who is different, and with social media, it can get pretty brutal. I want to make sure they are accepting of everybody."