After the Buzzer | Jason Zucker
Jason Zucker is ready to play his part in the march of the Penguins.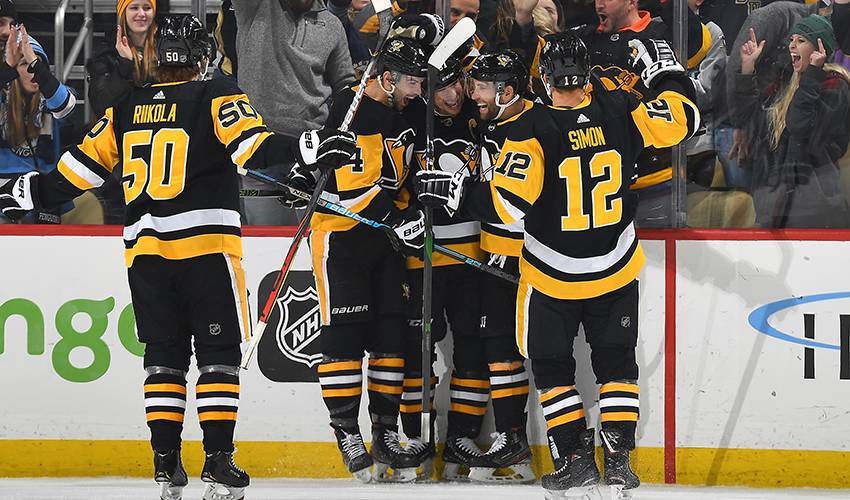 Feature photo: Getty Images
From their bond with fans to their efforts in the community – and everything in between – 'After the Buzzer' is a weekly series taking readers beyond the rink to shine a light and provide insight on players' lives away from the game.
---
Jason Zucker is ready to play his part in the march of the Penguins.
Despite a hectic past week, one that saw the forward traded to Pittsburgh from Minnesota, the 28-year-old Zucker found a few minutes to connect with NHLPA.com.
From what it feels like to play with a three-time Ted Lindsay Award recipient, to how he and his family have been welcomed into the Penguins family, to a family member who loves seeing him in a Pittsburgh uniform, Zucker shares some insight into his life and on and off the ice.
WELCOME WAGON
Almost immediately after his trade was announced, several new teammates got in touch Zucker, offering their support not only to him, but also for his wife, Carly, and their three kids.
"I heard from pretty much everybody. Almost everyone reached out and asked if they could help in any way. Anything that I needed, they were great about that. A ton of the wives reached out to my wife, which is amazing. The wives, they unfortunately get stuck figuring out all the details of these things. Other than us just packing up and leaving, they're stuck with everything else. The wives have been great, helping out in any way they can."
HATS OFF TO CARLY
Knowing he can concentrate solely on helping the Penguins make a run at the Stanley Cup is a huge plus for Zucker, who netted two goals in his second game with the team.
"Carly is the rock of the family. She has everything figured out. No matter what happens, she's on top of it. Making sure the kids are all set up, everyone is where they're supposed to be with their activities, and all those sorts of things – she's on it. She's really the brains of the operation. She's always been great about making sure I can focus on hockey. I can't thank her enough for all of that."
And it turns out that Carly is a much better hat model.
Recently, she took to social media to show off some sweet new headwear for Give16, the couple's charity initiative.
Who wore it better?
"Her, 100 per cent. I did wear it in the video that I posted on social media before it was launched. But I don't look nearly as good as she does in it. I'll let her take the reins on the modeling career as well."
BUSY TIMES
To say that the first couple of days after the trade were a whirlwind would be a major understatement.
"I'm going out with a few of the guys tonight," said Zucker, two days after his first game with Pittsburgh. "I flew in the day of my first game and played that night. The following night, we had a team event at the arena, a charity event. We had dinner at the rink prior to the event, so I had the chance to get to know the guys a little bit.
"I didn't have one second to relax over those first couple of days. But this is a very exciting opportunity, and I'm just going to try and roll with the punches here. I'll adjust as quickly as I can."
OH, BROTHER!
Zucker doesn't have to worry about familiar fan support when it comes to his new team.
In fact, there's someone he's very close to who is thrilled to see him donning the Penguins colours.
"I've worn a black and red hockey sweater before, in Las Vegas, for minor hockey, but I've never worn these colours until now. I can tell you that I've had a lot of those colours growing up in my parents' house. My younger brother, Cameron, is the biggest Pittsburgh Penguins fan I've ever seen. I don't think anybody in the world could be happier than him right now."
PARTING SHOT
"They're not too bad, huh? These are fantastic guys. So many guys reached out to me and welcomed me to the team. They're awesome people, and that goes a long way in getting you acclimated and adjusted to a new team and a new city. It was really nice to have them do that." Zucker, on how Sidney Crosby, Evgeni Malkin, Kris Letang, and other Pittsburgh players have made the transition to a new team much easier.