After the Buzzer | Ryan O'Reilly
Stanley Cup champion. Three-time All-Star. Alternate captain. Ryan O'Reilly is living the hockey dream.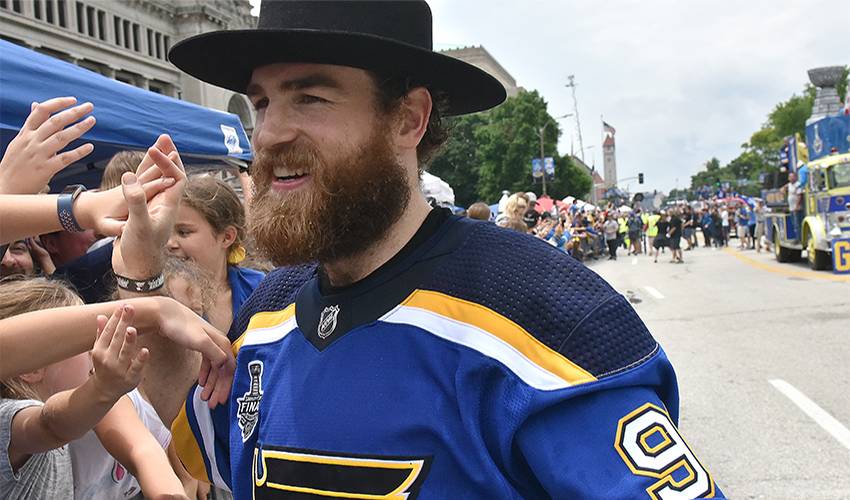 Feature photo: Getty Images
From their bond with fans to their efforts in the community – and everything in between – 'After the Buzzer' is a weekly series taking readers beyond the rink to shine a light and provide insight on players' lives away from the game.
---
Stanley Cup champion. Three-time All-Star. Alternate captain. Ryan O'Reilly is living the hockey dream.
The 28-year-old centre, less than 20 games shy of 800 for his career, is still sporting a smile after helping deliver St. Louis its first championship banner in 2018-19.
But O'Reilly has plenty of other things to be grateful for, including the upcoming NHL All-Star Game, where he'll share the hometown spotlight with three teammates (Jordan Binnington, David Perron and Alex Pietrangelo). He'll also have 13 people cheering in stands cheering him on.
The 33rd overall pick of the Colorado Avalanche in 2009 also has something big to look forward to this off-season, as he puts the finishing touches on a special project in southwestern Ontario.
BUILDING UP
When the NHL season comes to a close, O'Reilly will make his way back to Ontario to complete work on his cottage.
The forward recently headed back home for a brief visit with family and friends prior to the All-Star Game.
When summer arrives, O'Reilly will have a new place to soak up the sights and sounds surrounding Lake Huron.
"It was just a quick visit back home before the All-Star Game, but any time you get that chance, you take it. Home is about two-and-a-half hours west of Toronto… Goderich. We're building a cottage there, so we'll check that out and then we'll head back to St. Louis.
"The cottage should be done for the summer. We should be able to get in there by July, which is what we want to do. I have a lot of family back there, and it's a nice spot on Lake Huron. It's always nice to escape the hustle and bustle of the city. It's where I trained growing up, and I want to continue to do that. It's going to be awesome. It's right on the water, in a nice small-town area."
SEEING STARS
When O'Reilly was growing up, he always made sure to tune-in and check out all things All-Star Game.
One player in particular always managed to grab his attention.
"I really liked Wayne Gretzky, watching him and all the amazing things he could do. It was really cool to see. He was a guy – not just in the All-Star Game, but everywhere else – that I used to watch and follow. Just seeing him out there playing with the top guys in the game, watching how quick there were and all the skills they had – it was just cool to see all the stars in one place."
A FANTASTIC FIRST…AND SECOND
O'Reilly has several fond memories from his first two All-Star experiences, including last year, when he scored seven points (2 goals, 5 assists) for the Central Division All-Stars. He was also one of four finalists for MVP.
"It's always such a big honour to be an all-star. To be amongst the elite of the NHL… that first All-Star Game (2016, with the Buffalo Sabres) was just awesome. You look around the room and see the names of the guys that you're with. I remember saying to myself, 'Am I actually part of this group?' It's still a big surprise to be in it. I'm very lucky that we're having this one in St. Louis, so we get a couple of extra bodies to go to the game.
"It's pretty crazy to see the amount of talent and the biggest names in the game get together. It's nice to get to know some of the guys you haven't met yet in a not-so-competitive environment. It's more relaxed and it's a great chance to meet the guys, say hello, and learn more about them."
FAN MAN
When he's not taking part in a skills competition event, O'Reilly enjoys taking a front-row seat to watch the players put their talents to the test.
Which event tops his list of favourites?
"There's a couple that I really like. I love the hardest shot event. It's cool to see the guys step up and put everything they have into that shot. I don't think I'd ever be in that one. The shooting accuracy is one I always want to do. I'm not a very hard shooter, but I'm pretty accurate. That's one I always like to see, how the guys pick their places and hit the targets. That's a fun one."
PARTING SHOT
"It's crazy how things have unfolded and I still can't believe that I've won a Stanley Cup with this great group. You always dream of it, hope for it and train for it, but to actually have it happen – it's very tough to describe. We're playing well again and have another opportunity. You throw in the All-Star Game, at home, and playing with my teammates – you really never know where your career will turn. Being able to come to St. Louis has changed my whole career. I always hoped and dreamed stuff like this would happen, but when it does, it's unbelievable. I really just try to enjoy every minute of it." – O'Reilly, on his hockey fortunes.