After the Buzzer | Blake Lizotte
The Los Angeles Kings rookie talked about what he's thankful for, the advice from his late father that's stayed with him, and how his teammates have helped him adjust to NHL life.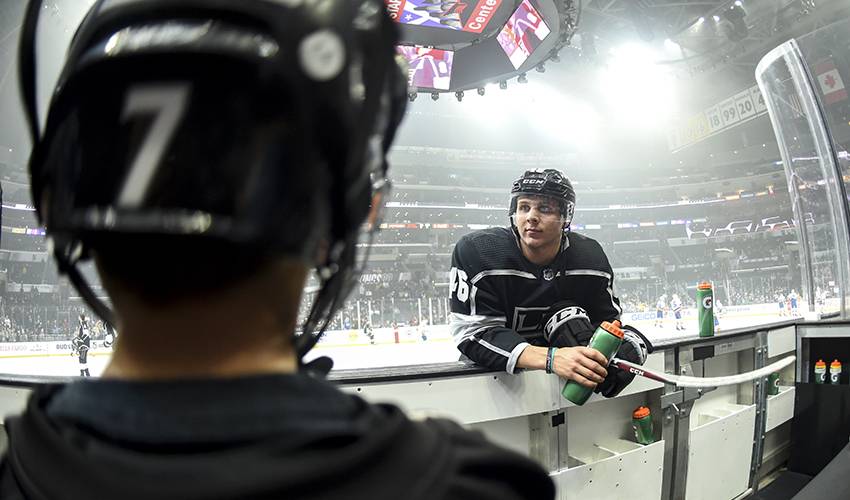 Feature photo: Getty Images
From their bond with fans to their efforts in the community – and everything in between – 'After the Buzzer' is a weekly series taking readers beyond the rink to shine a light and provide insight on players' lives away from the game.
---
There was a point in time when undrafted Blake Lizotte was a longshot for an NHL career. But hard work, the support of his teammates, and a belief in himself helped deliver his childhood dream.
The Los Angeles Kings rookie recently stopped by NHLPA.com and talked about what he's thankful for, the advice from his late father that's stayed with him, and how his teammates have helped him adjust to life on and off the ice.
AN EARLY BRUSH WITH LORD STANLEY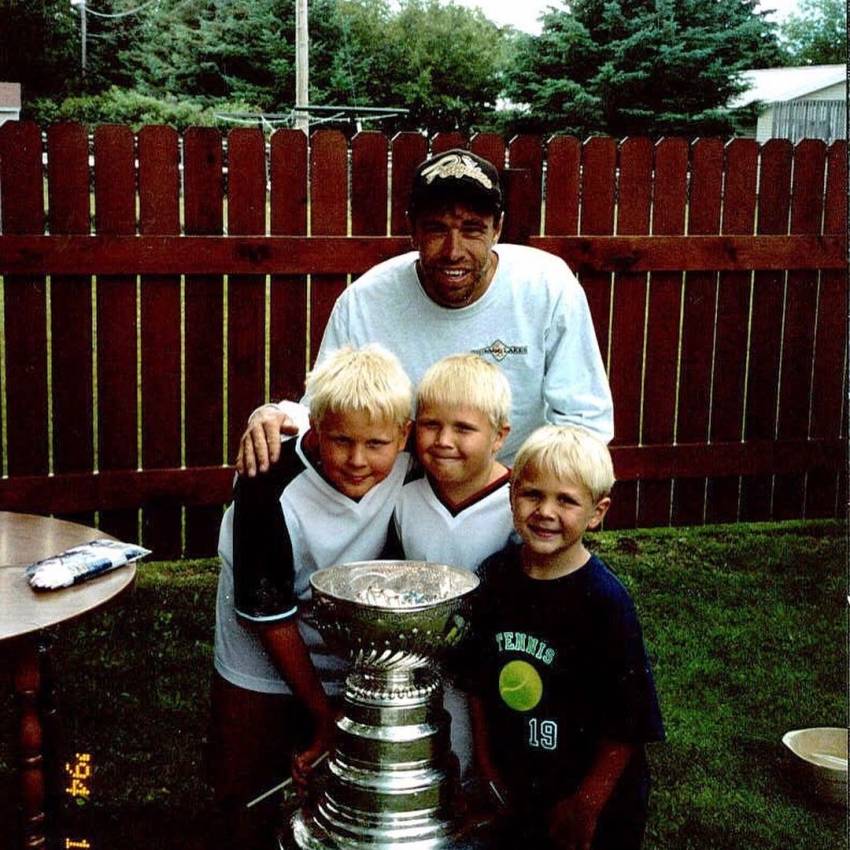 The kids left to right, brothers Brett and Brock with Blake posing with their father, Mike, and the Stanley Cup.

"My grandparents were neighbors with Jamie Langenbrunner's parent so everytime he won the cup he'd have the neighbor kids over."
TIME FLIES
It's been a hectic – and very rewarding – start to Lizotte's NHL career. From making the team, to scoring his first NHL goal, the Minnesota native has been soaking all of it up.
"It's kind of been a whirlwind. Coming out of college, I wasn't a really huge prospect, per se, but I was able to make the team out of camp, which not a lot of people thought I could or would. I knew I had a chance and obviously I was able to accomplish that. From there, it was about making a role for myself in this league. I wanted to stay and make an impact each night."
RIGHT AT HOME
Lizotte has had plenty of players in his corner, including some highly respected veterans. Their mentorship and helpful words of wisdom has made the transition from the NCAA ranks to the NHL go much easier for the centre.
"Away from the rink, I'm living with Mikey Anderson, who is a rookie as well. He's in the American Hockey League right now. He played college in Minnesota as well, with Minnesota-Duluth. He's been great to have around. It's been nice to have a guy from the Midwest around – we have similar upbringings."
"At the rink, the Kings locker room is filled with guys who have played 800, 900 and 1,000 games. It's hard to pinpoint one player that's helped me along the way, but I sit next to Jeff Carter and Trevor Lewis in the locker room. Those two guys have been really helpful to me, going through the growing pains of being a rookie and adjusting to the NHL. Also, Dustin Brown – he's been nothing but great to me."
THIS ONE'S FOR DAD
Lizotte lost his father when he was 14. Mike Lizotte taught Blake how to play tennis, and was his hockey coach before high school. When Blake scored his first NHL goal (November 19, 2019), he immediately thought of his dad.
"It's obviously a dream come true, to score that first goal. I've been imagining scoring that goal since I was probably three years old, skating on the pond in the back yard. So when it happened – I couldn't have asked for it to happen in a better place, Montreal, against Carey Price, an all-world goaltender – I thought of my father. That one meant a lot for me and my family for sure."
WORDS TO LIVE BY
Lizotte has no shortage of fond memories of his father. He's also kept some of his father's words with him along his journey to the NHL, including one bit of advice that he continues to lean on.
"His big thing was, 'You can only control what you can control, and that's the work ethic and energy that you can bring every day.' For me, that's understanding you can't control the scoreboard, scoring goals, getting an assist – what you can control is how hard you work."
THANKFUL
Lizotte hasn't taken any of his NHL life for granted, as he works to improve every facet of his game, with the goal of team success at the top of his list. What's stood out about his relatively short time in the bigs so far?
"I think the biggest thrill – I don't know if it's one thing – but putting on that NHL jersey, the Kings jersey, every couple of nights, is something that never gets old for me. It's truly an honour to be able to do that. It was awesome to put it on for the first time. I played one game last year when I signed, so that was the first moment I did that. It was a childhood dream. I had NHL jerseys when I was growing up and you always hoped you could put one on for real one day. That's a moment I'll never forget. There is definitely a lot to be thankful for."
PARTING SHOT
"Growing up in Minnesota… it's such a great hockey state. I think humbleness is one thing that you really learn growing up there. There are a lot of good players in this league and I'm fortunate to be here. I just don't want to take anything for granted. Remaining humble is very important, and I think that's a value I've taken from my life in Minnesota." – Lizotte, on what he's carried with him from his time in The North Star State.