Regardless of season, Jenner always up to make a fan's day
Whether it's painting a picture or putting a smile on a kid's face, Boone Jenner always manages to create something special.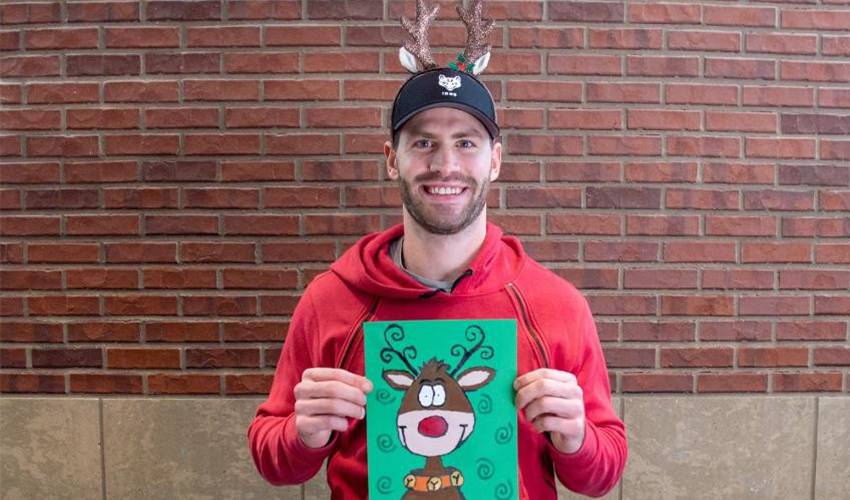 Whether it's painting a picture or putting a smile on a kid's face, Boone Jenner always manages to create something special.
Call it sweet redemption or stepping up his artistic game.
This past November, Jenner, along with some of his Columbus teammates, revealed their hand-painted holiday card creations as part of a popular initiative that benefits the Lady Jackets' charitable endeavors.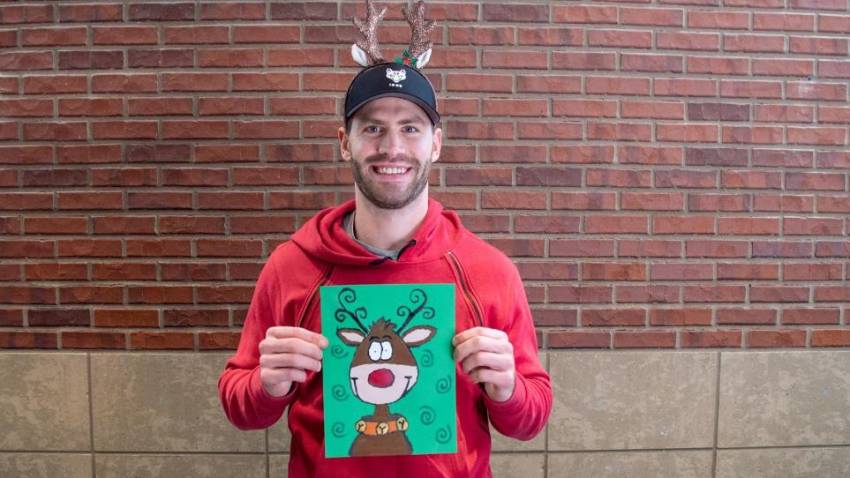 The limited-edition cards then go on sale, giving fans the chance to get into the Holiday spirit.
Jenner was pleased with his finished product.
"We've done the Christmas cards the last couple of years, a little painting where you try and come up with your best Christmassy thing on the canvas," started the 26-year-old forward. "It all goes to a great cause, so it's fun to be part of it. Mine actually didn't turn out too bad this year. It was a lot better than the year before. I did a reindeer – kind of a cartoon-looking reindeer this time. Last year, I think I did a Christmas tree and it didn't turn out so well. I tried to challenge myself this year."
The 6-foot-2, 208-pounder won't be trading in pucks for palettes any time soon.
"Definitely not. I'm certainly not at a top level when it comes to art."
Jenner is, however, rather adept at making a lasting impression with fans.
A recent team visit to Nationwide Children's Hospital as part of Hockey Fights Cancer month gave Jenner the chance to meet some young Blue Jackets fans.
"We really enjoy going there," he said. "You get to meet really amazing kids and see the fight they're going through. It's inspiring for us. We're lucky enough to be able to go there, put a smile on their face, and spend some time hanging out with them. Maybe it helps them stop thinking about what they're going through for a little bit. It's very heartwarming when you get to go there."
The players, who were divided into six, played games with the kids, brought care packages and had the chance to find out more about the kids' interests.
Jenner took away a lot from his visit.
"You realize what these kids are going through, but you also realize what the entire family has to endure. Brothers, sisters, parents – it's a tough time for everyone that's affected. It's so inspiring to see the fight these kids have in them, to have the courage to get through it, and to do everything they can to beat it."
It's not just through team efforts in the Columbus community where Jenner is winning new fans.
During a recent home game, a young Blue Jackets supporter held up a sign with a picture of Jenner's face on one side and one of media personality Kylie Jenner on the other side.
In the middle was a 'greater than' symbol… in the hockey player's favour.
"I saw that and I gave him a puck," said Jenner. "I was pretty impressed with that sign. Definitely hadn't seen anything like that before. I got a chuckle out of that – he absolutely deserved something. It got my attention. He was happy and I was laughing about it."
Do his teammates feel the same way as the fan?
"They were laughing about it, too. I'm not sure they agree with him, but for the most part they did."
The important thing, noted Jenner, is in creating connections with the Columbus faithful.
"You're always grateful for the support you get and we're lucky to have such great fans," said the native of Dorchester, Ontario. "Whenever you have an opportunity to do things like the hospital visit, or giving a puck to a fan, you're happy to do it."
And as Jenner has shown, the gesture doesn't always have to be a work of art.