After the Buzzer | Chris Tanev
When it comes to gift giving over the holidays, Chris Tanev is a man with a plan… sort of.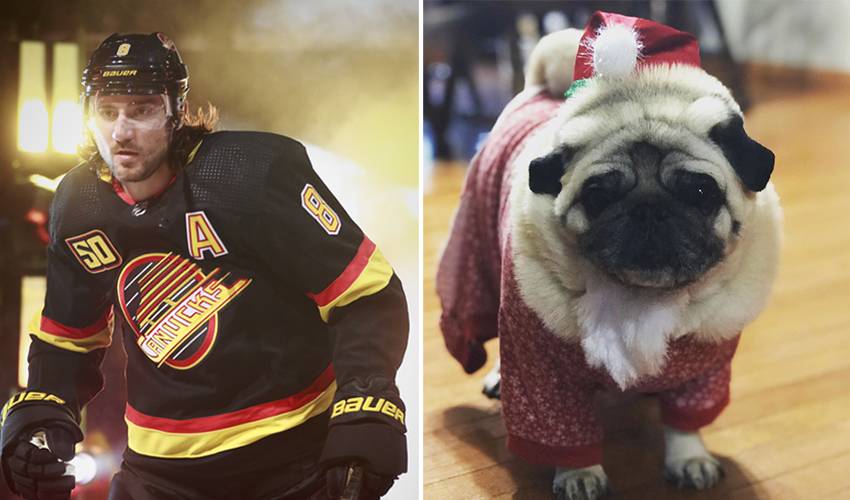 Feature photo: Getty Sports / Instagram/@tanevchris
From their bond with fans to their efforts in the community – and everything in between – 'After the Buzzer' is a weekly series taking readers beyond the rink to shine a light and provide insight on players' lives away from the game.
---
When it comes to gift giving over the Holidays, Chris Tanev is a man with a plan… sort of.
Although he knows what he'll be getting for a few people / pooches in his life, the 29-year-old Vancouver Canucks defenceman is putting his present-purchasing plans into high gear soon.
Tanev recently dropped by NHLPA.com to talk about holiday plans, the pug life, and a masterful Christmas prank hatched by his parents.
DOG DAYS OF WINTER
Tanev, who recently joined the world of Instagram, used his first two posts to highlight Riley, his adorable pug.
"My fiancée got a dog about eight years ago – her family adopted a pit bull from a shelter. Her and her brother took Riley in three or four years ago. His owner had passed away. His partner couldn't take care of the dog any more, so they took him in, and now Riley's with us full time.
"We've had him for a few years now. He's a cute little guy and he loves to eat. He doesn't like to exercise too much, but he likes to sleep a lot. He's always fun to have around because he's so entertaining and he's always smiling. He loves us and always puts a smile on your face."
PRESENT TIME
While he hasn't had the time to head out and do his Holiday shopping quite yet, the veteran of nearly 500 NHL regular season games is getting his gifting game plan ready.
"We have to go shopping for Riley. We'll get him some bones and treats. There's no shortage of food with him, so I think you could feed him for days and he would still be hungry. As far as food goes, he'll eat pretty much anything at any time. I'm still looking for something nice for my fiancée. I'm going to go soon. We usually don't get each other anything crazy for Christmas. Usually, it's a few small things. We just enjoy that time together. We're going to be staying in Vancouver this year."
BROTHERLY LOVE
As for his brothers, Kyle, the youngest of the three Tanev boys, and Pittsburgh Penguins forward, Brandon, Tanev also has their names on his 'nice' list.
"I will get something for my youngest brother, Kyle. Brandon, he's fine now. I don't need to worry about him. I might get him a bottle of wine, or something like that, where he can sit down and enjoy it with some buddies."
OPENING GIFTS, TIMES TWO
With a birthday on December 20 and Christmas five days later, Tanev didn't get his gifts all rolled into one day growing up. While his parents made sure both days were celebrated, they also made sure to pull off a pretty good Christmas prank when he was a kid.
"They [birthday and Christmas gifts] were always separated when I was growing up. One Christmas, my parents played a little prank on me. I wanted a PlayStation 2 really badly. I guess they were sold out everywhere – and I think, for a while, they actually couldn't get me one. Eventually, they did find one, but they went along with that they didn't get me one. When I opened my Christmas gifts – I was eight or nine – I was devastated that I didn't get a PlayStation 2. I don't know what I was doing – probably pouting for a while – and they came downstairs with the actual gift. That's one Christmas I'll always remember."
OPENING DOORS
As a respected team leader for the Canucks, Tanev is always there for his teammates, on and off the ice. This Christmas, he's upped his hosting game, as he and his fiancée will be welcoming Vancouver players and significant others for some holiday food and festivities.
"We're going to have a bunch of teammates over for Christmas. It'll be fun. It'll be nice to enjoy the company of some teammates and younger players who don't have family around. It will be a really good time."
PARTING SHOT
"I might delete my account, haven't decided yet. I don't think it's for me, but the boys like that I'm on it." – Tanev, on his foray into Instagram.