Shore sticks with commitment to studies, earns degree
Whether it was skating in the NHL or earning his university degree, Devin Shore was committed to making the grade.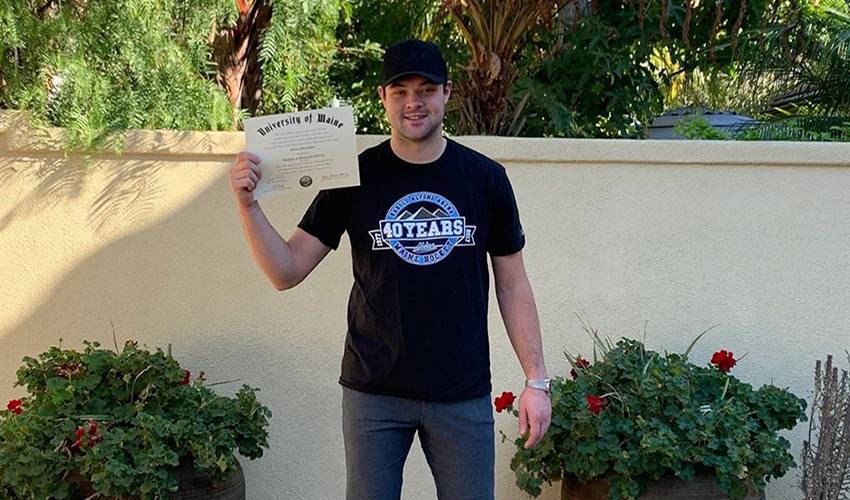 Whether it was skating in the NHL or earning his university degree, Devin Shore was committed to making the grade.
Nearly five years ago, Shore, who had an outstanding career as a member of the University of Maine's men's hockey team, inked an entry-level contract with the Dallas Stars soon after the Black Bears' 2014-15 campaign had come to a close.
Elated at the opportunity to one day earn a roster spot with the big league club, the Ajax, Ontario, native hadn't forgotten another one of his goals – an objective that would have go on the back burner, at least for the time being.
But Shore's pursuit of his degree was never far from his thoughts. Not when he began his full-time NHL life in 2016-17 and not until he attained it earlier this month.
"When I was at school, I was taking finance," started Shore. "I had three years towards a finance major under my belt. When I left to sign pro, my only option was to do it online. Unfortunately, I wasn't able to get my finance degree online because there was a component of class participation - presentations, interviews and other elements.
"So I ended up getting a general Bachelor of Arts in university studies, basically, a general degree saying that you did four years of undergrad university and you have the diploma to show for it. It wasn't the finance degree that I was taking there, but it's nice to cap it off and have that piece of paper. Just that degree alone, it hopefully shows that you have a head on your shoulders and you were able to learn. People can see that I got it done while playing pro hockey too… I think that in itself is almost as important as what the degree is actually in."
Shore, who was traded to Anaheim from Dallas January 14, 2019, had to log some serious hours to see his dream come to fruition.
And like a typical NHL shift, it involved plenty of hard work with a few twists and turns along the way.
The forward hit the books, usually in the offseason, to complete his courses. He did the same during his summers at Maine.
When he left the Black Bears, Shore had just under 10 courses to finish.
In December of 2015, when he was with the Texas Stars of the American Hockey League, he suffered a serious shoulder injury that required season-ending surgery. Shore dedicated some of that time to completing more courses.
Over the years, whether it was by choice or circumstance, he meticulously picked off courses one by one until he finally finished what he started.
This summer, he completed a science course and final thesis paper. They were his last two classes.
Shore, whose parents Kyle and Andrea early on instilled the importance of education to both him and his brother Darin, also got a huge assist from a certain person at his alma mater.
"I did a lot of the courses in the offseason, one or two courses a summer," started Shore. "I think my second year pro, I did one in the fall while I was playing. It wasn't terribly demanding, so I was able to do that. I had an academic advisor at Maine – her name is Cristina Kerluke – and we still kept in touch when I left. She was a godsend. I wouldn't have been able to get it done without her. She helped me pick out which courses I should take. She would tell me which ones were more demanding and would require a lot more of my time, so that would help me know I could do those ones in the summer. She was instrumental in me being able to accomplish this."
Kerluke, who worked in Academic Support Services for Student-Athletes for the previous 16 years at Maine as Assistant Director & Tutor Coordinator, was responsible for the ongoing planning, development, and implementation of a comprehensive academic support program for NCAA Division I student-athletes.
Her husband, Dan, is a former Black Bears hockey player and men's hockey coach.
"As soon as Devin got his diploma in the mail, he texted me," said Kerluke, who joined the Learning Commons team at the University of Southern Maine in April. "That really meant a lot to me. Devin was always very passionate about getting it done, even before he signed [his first pro contract]. I knew it was important for me to stay in contact. It can be hard because you get very busy as a professional athlete. Sometimes, you might need to take a semester off, but he chipped away at it – a course here, a course there, two courses here. It's a credit to his dedication."
For Shore, it's not the piece of paper – which he had mailed to the Honda Center, home of the Ducks – that holds the most meaning.
"The day I got it, looking at the paper was pretty cool. To be really honest – I'll definitely frame it – it's more the sense of pride in knowing that I got it done. That's enough for me."
It's a view that Kerluke can appreciate.
"Absolutely. There are some that don't stick with it. Devin is a very special individual. He's the epitome of the student-athlete at the University of Maine, not just a leader on the ice, but in the classroom and in the community. He's truly a genuine person. Academics were always a priority for him. I'm just so happy for him."
The smile on Shore's face in the November 9 Instagram post shows just how thrilled he is to have made the grade.
"My first and ultimate goal was always to play pro hockey, but you do have to be realistic, and know how important education is. Just the value of work ethic and finishing something you started is important to me as well. If you have an open mind, a willingness to learn, if you have a good commitment and work ethic, I think that can take you far no matter what you do. Hockey is no different."