Raffl ready to win; Global Series bonds Flyers team early
Michael Raffl checked all the boxes at the 2019 NHL Global Series.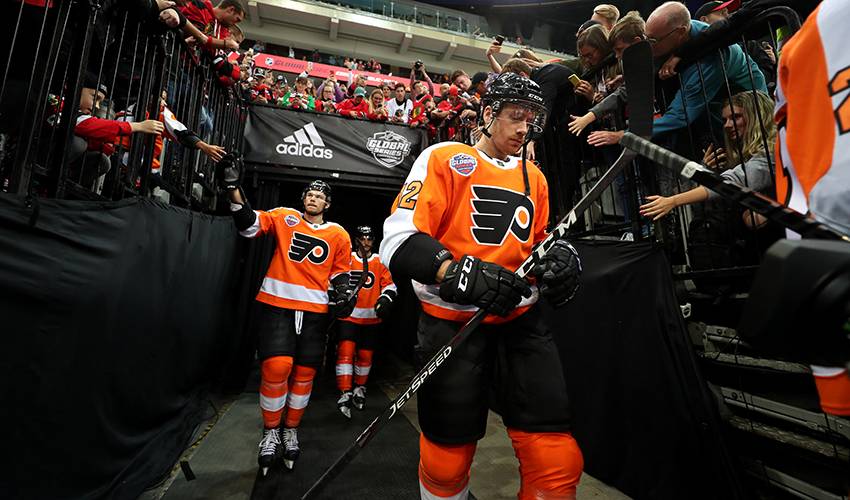 Feature photo: Getty Images.
Four shots.
One hit.
One takeaway.
The game-winning goal.
Team bonding.
Michael Raffl checked all the boxes at the 2019 NHL Global Series.
He's been quite the jetsetter in the young 2019-2020 NHL season, with his hockey travels taking him and his teammates to Switzerland (for training camp) and Czech Republic, before heading home to Philadelphia, and then off to Vancouver.
"It's been a lot of fun, a really good way to start off the year," Raffl told NHLPA.com.
That's a hardly a surprise response considering what the 30-year-old accomplished in the Flyers' first game of the campaign.
On October 4, Raffl and his teammates faced off against the Chicago Blackhawks at O2 Arena – home to HC Sparta Prague of the Czech Extraliga – as part of the NHL's Global Series.
For his part, the Austrian native, in 18 shifts and 10:11 minutes of ice time, netted the game-winning tally in a 4-3 Philadelphia win in the season-opener for the clubs. He was also a plus-1, and earned third star of the game honours for his performance.
"I loved the whole experience," said Raffl, who has been with the Flyers since his first NHL season in 2013-14. "It was great in so many ways, including team bonding. To get away from your usual routine, to be with the boys for an extended time – I loved it. There was a bunch of good stuff we did. "Jakey" [Jakub Voracek] showed us around Prague quite a bit, took us to some cool places. We had a great, great time. I love the city. I've also gone there to visit "Jakey", and I played there in the World Championships before. I know Prague quite a bit, and I know I love the city. I was even more excited to go there for this game."
As for the game itself, the undrafted left wing thoroughly enjoyed the up-tempo atmosphere and upbeat crowd inside O2 Arena.
"It was crazy," said Raffl. "It was unbelievable the day before, when there were about 10,000 people watching the practice. You knew right there that the game was going to be sick, and it was. I was lucky to put one in there… it was a nice feeling, for sure."
Raffl also appreciated the presence of "Gritty," the wildly popular Flyers mascot.
"Everybody's talking about that guy – they love him. He was with us on the trip. He was jumping around in Lausanne, and doing his thing in Prague."
Raffl, who has played 43 games as a senior, and 15 games as a junior with the Austrian national team, is feeling somewhat Gritty-esque himself these days.
He's pumped about the current edition of the Flyers, a group he views as capable of making some noise this season.
"It was a different vibe on the bench, to be honest," said Raffl of the opening game. "The boys were going at it, playing for each other. That's always a good feeling, and it helps you win. Everybody is ready to win.
"There's a different feeling this year. The only way you win in this league is if you are doing it together. It's been a pretty good vibe in training camp, and beyond that. It's a pretty good feeling in Philly right now."
Raffl is ready to do his part for the Metropolitan Division club.
"I want to find my role so that I can help this team win. I would love to have some success with this group, and go deep in the playoffs. That's the goal."